10 Songs Guaranteed to Put You in a Good Mood This Wednesday!
A great song has the power to elevate the spirits like nothing else! Multiply that with 10 songs – that can toss and turn you with a rollercoaster of emotions! Music exists to touch our emotions. After all, the perfect song at the right moment can make you feel a thousand times better than any other grand gesture, no matter what you're going through! So, check out our top picks to liven up your Wednesday!
1. Alpha Mare: Wilderness Begins
Izé Yeng Goodfriend and Andrew Fowler are members of the indie folk/pop duet Alpha Mare, which was formed as a result of their relationship. Goodfriend is known for her inventive lyrics and acrobatic vocals (bass, electric guitar, keys, drums, and percussion). The Colt of the Virgin, Alpha Mare's debut album, was primarily recorded over the course of several sleepless weeks on the Hawaiian island of Maui, in the upper foothills of the peak Haleakal.
In 2019, when Andrew Fowler traveled from his native Lake Tahoe, California, to Maui, where he met Haiku-native Izé Yeng Goodfriend, Alpha Mare was born. The two grew close over a number of strange similarities, including the fact that they were both raised by hippies, took music seriously when they were five, and both picked up the guitar by leafing through Beatles songbooks.
Fowler was working as the sound engineer for Goodfriend's solo singer/songwriter project when The Colt of the Virgin first started. However, Fowler was formally welcomed in to join a duo after several weeks of harmoniously focused work and many jars of kimchi. Soon after his parts were found, Goodfriend moved to upstate New York. As a result, throughout the course of the following year, Fowler's contributions to the record were arranged virtually. The entire album was mixed utilizing live-streaming video calls.
On this album, no two tracks were created using the exact same technique. While taking pauses from the intended tracks, several songs that were not on the schedule were accidentally played for pleasure. Other tracks were painstakingly demoed, mapped, and then carefully reassembled. There are various coincidental times when geckos' clicking applause can be heard.
2. Zoe Hines: BIRTHDAY (feat. CJ Run)
With the release of "BIRTHDAY," her most recent song featuring CJ Run, Zoe Hines is commemorating another trip around the sun. On her 25th birthday, the brand-new song, which was produced by Eric Matthy, is out now. On the brand-new song, the Brooklyn-based musician is hazy, open, and inquisitive as she tries to determine whether the sentiments she feels for the person she is thinking about endure in the same way. Following the explosive pop-punk song "CAMERA SHY," which was published in May, comes the new tune. Both songs will be on her second EP, which will be released later this year.
3. Olsen Umbrella: When I Die, Dance
Nathan Talbot, also known as TUNA, is a Melbourne-based producer and DJ who performs at some of the greatest venues and companies in the city. His stage name is Olsen Umbrella. He now showcases his broad taste with a personal investigation of sound through minimal electronica, house, and progressive breaks. While label boss Zayler rounds out the release with a downtempo beat, File Explorer makes a remix comeback that explodes with trancey speed house and bass.
Sometimes Wednesdays can feel like Mondays, but don't forget you're halfway to the weekend! Forget the dull moments and have an uninterrupted good time as you play our recommendations, one by one!
4. Connor Terrones: Ain't No Sunshine (feat. Mxlcxlm Z) (Cover Single)
The Connor Terrones rendition of "Ain't No Sunshine" provides an answer to the hypothetical question: what would happen if you fully altered a timeless soul song from the 1970s into an R&B/hip-hop single created in 2022? The original's sadness and sense of loss are still there in the cover, but it is done so in a more contemporary sound setting with influences from artists like Flying Lotus, Hiatus Kaiyote, and Moonchild. Mxlcxlm Z joins in towards the bridge of the song with a tearjerking verse. It gives us a close-up view of what happens to a person once their heart is broken.
Connor Terrones has always liked music, having grown up in a house where The Beatles and Motown songs were constantly played. In his teenage years, Connor devoted the most of his free time to playing guitar and studying the music of legendary 70s rock bands like Led Zeppelin, Pink Floyd, Deep Purple, Black Sabbath, and many others. His musical preferences changed over time, and he finally fell in love with the music of various funk, jazz, hip-hop, and soul performers, including James Brown, John Coltrane, J Dilla, and D'Angelo. These days, Connor combines all of his different influences to craft a distinctive style all his own.
5. Gaetan Bouchard: Random Scenarios
Gatan Bouchard, a pianist and singer, and Ian Chouinard, a bassist, collaborated to establish Arrivals in Trois-Rivières, Canada, in 2020.
6. KEVIN BAILEY: Water Crsp
Blue Angel is a flexible hip-hop offering that features various sounds created, mixed, and mastered by Kevin.
7. Mike West: Mothman
Mike West is back with a brand-new single that pushes his sound even further in the eerie tale of the Point Pleasant Mothman, after the release of his debut album The Next Life in 2020.
Mike is a self-assured songwriter who draws inspiration from all facets of life, including small town desperation, love, and friendship. With "Mothman," Mike lends his genuine and distinctive voice to the legendary and paranormal while firmly grounding it in a grounded and human perspective as only he can.
Based on sightings in the late 1960s, "Mothman" catches the mythology and history and wraps it up in pounding drums and soaring violin over West's piercing vocals. In the last verse, the trio elevates the Alt Country sound Mike is known for to new heights.
Okay, you're right, it's still not Friday. But it's never too late to put a smile on your face, play these incredible mood lifters because we believe in making the best of our day. With a glass-half-full kind of energy, you'll see that Wednesdays can be wonderful too!
8. WOoodZ: Freedom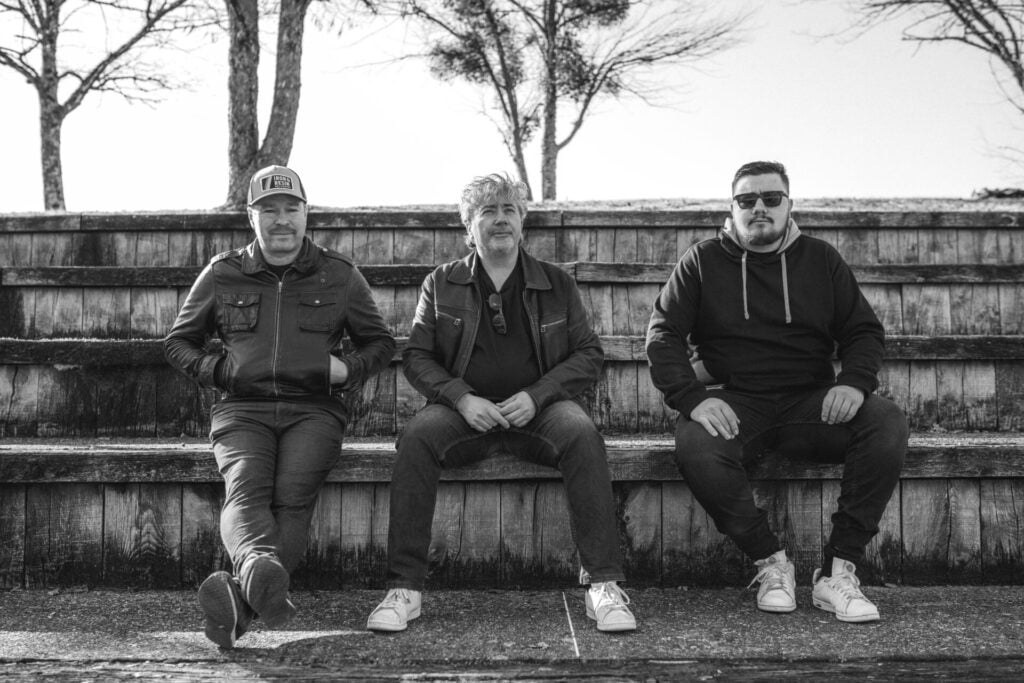 In the midst of the French Alps, in Aix-les-Bains, WOoodZ was established in 2021.
Childhood friends and stage regulars Lo and Sid eventually collaborate on this genuine Folk Rock project with the help of Lo's talented son Axel, who grew up "falling asleep next to the drums" at all of his father's performances. From September 2022, Franck, a sound engineer and close friend of the group, will play keyboards with WOoodZ.
It is a family story with a strong love for music rather than just a project for pals. Our neighborhood interprets the sounds as a struggle for love and freedom.
9. Reverent Cavaliers: 2 Sassy
The music of The Reverent Cavaliers is a fantastic fusion of indie rock sounds that delivers a lyrical message that is both positive and inspiring. The members of The Reverent Cavaliers are husband and wife Rick & Trish Hammond, Dustin Briones on percussion, & Aubrey Shamel on bass. Their music combines hard rock, pop rock, and some Americana. Imagine a musical mashup of Jack White's different bands, the Black Crowes, Volbeat, Foo Fighters, and more. The band's second annual concert at BB King's in Nashville was one of the live performances from 2017. Other notable performances have taken place at Nashville's Spring Water Supper Club, which is regarded as one of the country's top 10 dive bars. They were given a weekly spot there. They sincerely enjoy performing there every three months to support the incredible work that the Nashville Rescue Mission does to help the city's homeless. More than 80 times since the beginning of 2017, the band's music has charted on radio stations all over the world, including 30+ times in the top 10 and 6 times at #1. Four of their songs have also been included on various compilation CDs and license agreements. The Reverent Cavaliers were the subject of a 10-minute article by Nashville Entertainment Weekly and Steven Tyler, who had previously worked with well-known acts like Cheap Trick. They also agreed to a two-year license agreement with Selective Records in the beginning of 2018 for their entire song repertoire. Their track "120" peaked at #1 on the U.K. charts for two weeks as the year came to an end. They discovered that their song "Chattanooga TN" has peaked at number one on a Los Angeles country chart in 2019. Notably, a number of other tracks have reached radio station charts in 2019 including "Candy Coated Dreams," which peaked at #5 in Canada, and "Freedom," which they covered from Bebe Cool. Their song "120" peaked at #4 on Los Angeles' Indie Star Radio in October 2019. The band will top the charts in Australia and Los Angeles in 2020. "Dancin' In The Sun," 2021's most recent single, is now performing at number five in the UK. In 2022, new music is released. Join the band on Twitter, Facebook, and Instagram. You can also find their music online at places like I-Tunes, Amazon, Bandcamp, and other places.
10. Cold Comforts: All Wrong
A trio called Cold Comforts is dragging Alt Rock kicking and screaming into the twenty-first century.
They have already accomplished the following in their three years together: – Self-released their debut album, "Living in Relative Obscurity" – Undertaken a 9-date tour across the UK. Played support roles for musicians such as Thumper and Mother's Cake – Been placed on the longlist for Glastonbury's Emerging Talent Competition
The group is about to release its sophomore album, "Kill the Momentum," and is not one to sit back and do nothing. With this, the debut track "All Wrong" is released, a brief but incisive riff-fest about the perils and hypocrisy of being gaslit by a former love.
New Single "All Wrong" Drops on August 19th
Got a friend who's been sulking right by you? Make them plug in those earphones to one of these new Indie hits on the horizon and turn their frowns to smiles in an instant! You'll feel the same rejoicing as us when you add our top suggestions to your Wonderful Wednesday playlist!
KEEP IN TOUCH:
FACEBOOK | INSTAGRAM | TWITTER | PINTEREST | REDDIT | YOUTUBE | SPOTIFY | GROOVER | MUSOSOUP