ARTIFICIAL BRAIN To Host Gimme Metal Guest DJ Show + European Tour Nears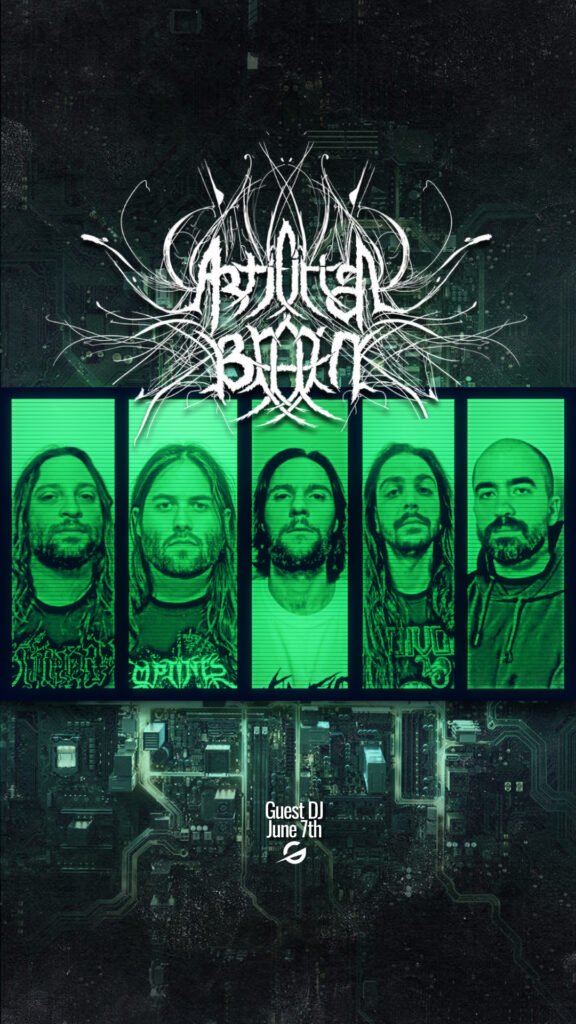 ARTIFICIAL BRAIN, a New York-based progressive death metal band, will conduct a Gimme Metal guest DJ set tomorrow, Tuesday, June 7th, at 7 p.m. ET/4 p.m. PT. At gimmemetal.com, you may listen in and participate in the chat.
Last week, Profound Lore Records released ARTIFICIAL BRAIN's eponymous third album. Artificial Brain is the final piece in a trilogy that includes 2014's Labyrinth Constellation and 2017's Infrared Horizon, and is the group's final recording with founding vocalist Will Smith (Afterbirth). Smith's lyrics on this self-titled album take a look back at the sci-fi mythology he established on prior albums, using these notions to examine themes of solitude, madness, and nature's inexorability. Death metal legends Mike Browning (Nocturnus A.D.) and Luc Lemay (Gorguts), as well as long-time colleagues Paulo Paguntalan (Miasmatic Necrosis) and Colin Marston (Miasmatic Necrosis), round out the album (Krallice).
The members tracked the guitars, bass, and vocals for Artificial Brain remotely over the course of 2021, while Finn Jansen recorded the drums at Lava Studios in Copenhagen, Denmark. Colin Marston mixed and mastered the album at The Thousand Caves in Queens, New York, and Adam Burke designed the artwork, which was laid out by Chimère Noire.
Artificial Brain is available now on CD, cassette, and digital platforms, with the LP following in early July. RIGHT HERE is where you may order from Profound Lore Records.
The band's first ever European tour will take them across the continent for more than half of July, with shows scheduled from July 12 to July 31. For the tour, the band will be joined by their friends Devoid Of Thought, and Inter Arma vocalist Mike Paparo will be handling vocals for ARTIFICIAL BRAIN. Check out all of the confirmed dates below, and stay tuned for more updates in the coming days as the last few dates fill up and the band continues to announce fresh live shows.
ARTIFICIAL BRAIN Tour Dates:
7/12/2022 Pumpehuset – Copenhagen, DK
7/13/2022 Skjulet – Goteburg, SE
7/14/2022 TBA
7/15/2022 1000 Fryd – Aalborg, DK
7/17/2022 Krzywy Gryf – Szczecin, PL
7/18/2022 Katofonia – Katowice, PL
7/19/2022 Collosseum – Kosice, SK
7/20/2022 Escape – Vienna, AT
7/21/2022 Modra Vopice – Prague, CZ
7/22/2022 Trainstation Subart – Kranj, SK
7/23/2022 Barrio's Café – Milano, IT
7/24/2022 Traffic Club – Roma, IT
7/25/2022 Freakout Club – Bologna, IT
7/27/2022 TBA
7/28/2022 Städelschule – Frankfurt, DE
7/29/2022 Little Devil – Tilburg, NL
7/30/2022 Brat Cave – Lille, FR
7/31/2022 MTC – Koln, DE