Alan Caruso is an Irish singer-songwriter who released the quirky country-folk EP "Caruso – Is Like So."
The spirit of the EP, which was written and recorded during lockdown, is really one of solace and companionship through music. designed to be worn on headphones late at night, acting as a melancholy but amusing and welcome friend. Check out this EP and the exclusive interview below: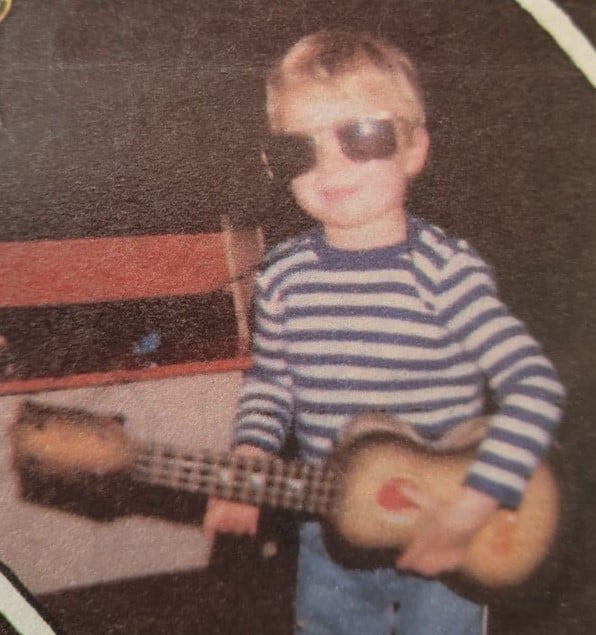 1. Can you tell us a bit about where you come from and how you got started?
ALAN CARUSO: I'm from Northern Ireland, but have lived in London for many years now. I'm an older man and honestly didn't think about doing music until just before lockdown… I've always loved music, but just didn't have a huge urge to make any myself until then. I guess one good thing about lockdown was that it gave me a lot of time to write songs and I ended up writing loads, and most importantly, I thought they were pretty good.
2. Did you have any formal training or are you self-taught?
ALAN CARUSO: Completely self-taught… Which is probably very apparent to anyone who listens to me! We had a battered Spanish guitar in the house when I was a kid and I taught myself all the "cowboy" chords on that. I never improved beyond that, which I suppose put me off making my own music, but they always say you only need three chords to write a song… So eventually I decided to put that to the test.
 3. Who were your first and strongest musical influences and why the name 'ALAN CARUSO'?
ALAN CARUSO: I was lucky enough to grow up hearing lots of really amazing music. My mum had a solid record collection – ABBA, Beatles, Bowie, Motown – and she was playing stuff all the time. My grandad was a big country, bluegrass and folk fan and I heard all of that too. He instilled a love of Roy Orbison into me that persists to this day. Also, my big sister was listening to brilliant 80s pop like Madonna and Erasure, so I grew up digging everything. I still do!
I would say the biggest influences on the music I make now are Leonard Cohen, Daniel Johnston, Lou Reed (Velvets and solo), Judee Sill, Ted Hawkins, Carole King and a lot of 80s/90s US indie stuff like Beat Happening, Pavement and Silver Jews. My current favourite is Faye Webster – I think she's the best songwriter in the world.
Alan Caruso is my name. I'm descended from Italian ice-cream makers who came to Ireland. You could say I'm the heir to the hundreds and thousands…
4. What do you feel are the key elements in your music that should resonate with listeners, and how would you personally describe your sound?
ALAN CARUSO: Well, I'm not an especially good singer or guitarist, I'm very outsider-y. But I think some people really respond to that. I'm very honest and intimate in how I sound. I also write very simple, catchy songs about things I find funny, sad and true… Maybe other people will feel the same way?
I would say my sound is country-folk, but then I'm definitely a huge fan of pop, so that finds its way in there too.
6. What's your view on the role and function of music as political, cultural, spiritual, and/or social vehicles – and do you try and affront any of these themes in your work, or are you purely interested in music as an expression of technical artistry, personal narrative and entertainment?
ALAN CARUSO:
Because I'm so influenced by folk music, it seems natural to me that music should be very political and spiritual too. I suppose the music I've written so far is more what might be considered personal than political, but then as we've all seen over the last couple of years or so through the pandemic, the personal and the political are often one and the same. Really, I think you can be political, personal and entertaining all at once. I've definitely got lots of opinions, thoughts and feelings on things, so that will probably always come across in what I write.
7. Do you feel that your music is giving you back just as much fulfilment as the amount of work you are putting into it, or are you expecting something more, or different in the future?
ALAN CARUSO:
I love writing songs. It's my favourite thing in the world now. I hope I get to keep writing and recording and honestly any success I might be hoping for is really only to ensure that I can keep recording.
8. Could you describe your creative processes? How do usually start, and go about shaping ideas into a completed song? Do you usually start with a tune, a beat, or a narrative in your head? And do you collaborate with others in this process?
ALAN CARUSO:
I normally start with a couplet. A neat little lyric will pop into my head that will suggest a larger idea or theme. Then I'll get out my guitar and see if I've got a bit of a tune or a riff or chord sequence that the lyric will fit on to, work it out a bit and then go away and think of the rest of the lyrics… Everything I've written so far has come about in that way. I've so far only collaborated with others when it comes to recording.
9. What has been the most difficult thing you've had to endure in your life or music career so far?
ALAN CARUSO: Ugh… I've had a pretty tough life so far, in a lot of ways. I grew up in Northern Ireland during the Troubles, which wasn't always great, as I'm sure you can imagine. In terms of making music, getting over the fact that I'm not an especially great singer or guitarist took a lot of work, but both of those things feel like an advantage now, in a way. Probably growing up in an intense and politically charged environment has helped me to express myself too.
10. On the contrary, what would you consider a successful, proud or significant point in your life or music career so far?
ALAN CARUSO: Aside from actually being able to write songs that I'm happy with, recording music has been such a highlight, something I really enjoy. Like I say, I'd love to keep doing it, and I want to make an album soon. That's the dream.
KEEP IN TOUCH:
Photo credits: Alan Caruso's Mum