A Croatian rock group made up of four members. The band members were a part of a number of noteworthy regional and influential bands prior to starting Ape Revolution Bell.
Two sentences make up the song "Smile," which is an ode to life and individualism. With the assistance of American singer Kim Loverin, it was recorded in Florida. Ron Mesh, the road manager for Guns N' Roses, said the band has a world-class hit on the album after hearing the song from his friend Bobby Croft. In order to increase its chances of success, the band decided to record a music video for the single and release it through the Italian record company Altro Records. Check out the exclusive interview below:
1. Can you tell us a bit about where you come from and how it all got started?
APE REVOLUTION BELL: We come from Dubrovnik, Croatia. A mall city that is flourishing with talent. And that's how it all got started, every creative individual has a local heroes to look up to and someone to work with. So after years of creating, and many successful projects, when the opportunity arised, we've gathered this specific group of heroes to represent Dubrovnik in the world. Hope you like the results.
2. Did you have any formal training or are you self-taught?
APE REVOLUTION BELL: Self taught, all of us.
3. Who were your first and strongest musical influences and why the name 'APE REVOLUTION BELL'?
APE REVOLUTION BELL: We all fell in love with performing watching strong live acts we've had in Dubrovnik. First and strongest musical influences were mostly legendary bands but also anybody you would see burning and dying on the stage or in the video. I believe everybody has that antenna to distinguish real and honest from fake, and that's what famous bullhiters cannot buy, no matter how expensive the studio and the arrangement are – we know you're fake. So, the opportunity to be creative is everywhere just be real. And that's the story of how we've come up with our name.
4. What do you feel are the key elements in your music that should resonate with listeners, and how would you personally describe your sound?
APE REVOLUTION BELL: Well answering this would mean we take ourself too seriously. The reason why I enjoy any artist has no reason, it cannot by taken away from him by removing guitar from his albums, or whatever. The key element in any music is honesty and that works like a magnet. People recognise it. Ofcourse, you should have something to say.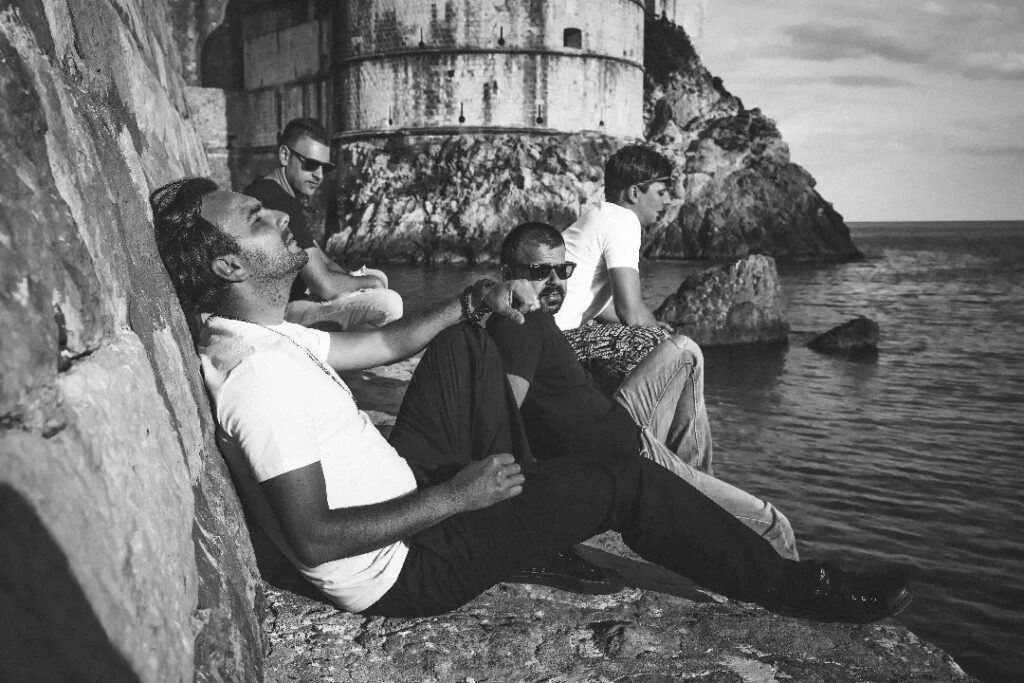 5. What's your view on the role and function of music as political, cultural, spiritual, and/or social vehicles – and do you try and affront any of these themes in your work, or are you purely interested in music as an expression of technical artistry, personal narrative, and entertainment?
APE REVOLUTION BELL:
It sound like you can choose where you want your music to go, but I think it cannot be stoped to go where it wants to go. Writing lyrics is traveling through time in both directions. Sometimes it will be a message sent and sometimes it will be discovered or uncovered as something that once participated in reality. So peronal narrative is best I can do, technical artistry is the aspect you will enjoy and entertaintment is the thing that ends up traveling the world.
6. For most artists, originality is first preceded by a phase of learning and, often, emulating others. What was this like for you? How would you describe your own development as an artist and music maker, and the transition towards your own style, which is known as ROCK?
APE REVOLUTION BELL:
Oh yes, we've been through covers, tributes, gigs of that can. I think it is a double-edged sword. It is very useful to go through that and learn you craft, but don't end up being student for ever. We've obviously stayed in the same old legendary genre, but if there's anything interesting that we as individuals have to say, the album will feel like a brand new experience. Because it is, rooted in something that we all respect.
7. Do you feel that your music is giving you back just as much fulfillment as the amount of work you are putting into it or are you expecting something more, or different in the future?
APE REVOLUTION BELL:
Well the work that we put in is the music, so we're good already. To get the opportunity to go and play it around the world a provide for our families that way, yes that would be nice too.
8. Could you describe your creative processes? How do usually start, and go about shaping ideas into a completed song? Do you usually start with a tune, a beat, or a narrative in your head? And do you collaborate with others in this process?
APE REVOLUTION BELL: For me the proces starts with the final shape of an idea. So it's kind of backwards. I don't think the most beautiful poetry works in a song that does not compliment it with a perfect melody, or vice versa. It always feel forced. That's why the only way for me is to create it simultaneously in the only way that will make them both work perfectly. I imagine full arrangment, vocal expresion, even the stage. And then the band takes that and turns it into Ape signature sound, and most of the time gives better arrangement solutions. So by the time you hear it everybody worked on it.
9. What has been the most difficult thing you've had to endure in your life or music career so far?
APE REVOLUTION BELL: Nothing we couldn't take.
10. On the contrary, what would you consider a successful, proud or significant point in your life or music career so far?
APE REVOLUTION BELL: Well, trip to Florida was something we'll remember.
11. With social media having a heavy impact on our lives and the music business in general, how do you handle criticism, haters, and/or naysayers in general? Is it something you pay attention to, or simply ignore?
APE REVOLUTION BELL: That is a good topic, since every branch of creative activity is now opened for people with no interest or clue to talk trash about you. We haven't encountered any criticism yet, but first the should always be who is saying and then what he is saying. So I filter all the criticism I read about the others as well.
KEEP IN TOUCH:
FACEBOOK | INSTAGRAM | SPOTIFY |  YOUTUBE