Chappell Roan (born 1998) is a Los Angeles-based American singer and songwriter. She is a pop singer who writes the majority of her own songs and describes her sound as "dark pop with ballad undertones."
Roan's song "Die Young," which she uploaded to YouTube when she was 17 years old and in eleventh grade, caused Atlantic Records to contract her to the label. In the summer of 2020, she released a song called "Pink Pony Club," which Vulture later dubbed "the Song of Summer 2021." She was an independent artist as of 2022.
Chappell Roan writes the majority of her songs herself, but she has collaborated with other songwriters on a few. Her style was defined in Interview after the release of her debut single as "pop sound […] mixed with a dark and eerie tone that accentuates her powerful, sad lyrics." Her musical style, she defined in 2018, as a mix of organic and electronic elements with a pop tone "With ballad undertones, this is a gloomy pop song.
According to Atwood Magazine, she wrote her first songs as a teenager "with a candor and vividness rarely seen among her classmates, she brought the hardships and volatility of our adolescent years to life.
Roan has cited Abbey Watkins, the film The Beguiled, and musical acts alt-J, Stevie Nicks, Lorde, and Lana Del Rey as influences; a 2017 PopCrush review of her debut EP compared her sound to the latter two. She has also mentioned that Rihanna's song "Stay" encouraged her to start writing music. Check out the exclusive interview below:
1. Can you tell us a bit about where you come from and how you got started?
Chappell Roan:
I come from The Ozarks (yes, like the show) in southwest Missouri. I grew up pretty much complete opposite of how I am now. Very shy, modest, prude vibes. I did school talent shows, auditioned for America's Got Talent, The Voice etc. Eventually I got major label recognition whenever I released  my song"Die Young" at 16. Signed to Atlantic when I was 17, was signed with them for 5 years, then eventually got dropped in August 2020. Here I am now as an independent artist, happier than ever. 🙂
2. Did you have any formal training or are you self-taught?
Chappell Roan: I took piano lessons for a few years, but refused to learn theory because it was boring and learned by ear and copying my piano teachers hands. I also took vocal lessons for a couple years, but not classically. She taught me how to really belt and sing with confidence. It was more of a pop approach to vocal lessons.
3. Who were your first and strongest musical influences and why the name 'Chappell Roan'?
Chappell Roan:  My strongest influence is definitely 80's synth pop. I love weird sounds. I love dance and anthemic pop. Queen and Madonna Vibes. But, my biggest idol is definitely Alanis Morisette. She's so so amazing. Everything about her I love.
As for my name, Chappell was my grandfather's last name. I told him I would be Cahppell in his honor because we both knew he wouldn't make it to see my career because of his brain cancer. His favorite song was "The Strawberry Roan" which is this old country wester song about a pinkish horse. It took me YEARS to find a last name, but Chappell was always 100%.
4. What do you feel are the key elements in your music that should resonate with listeners, and how would you personally describe your sound?
Chappell Roan: Queerness, acceptance, nostalgia, and sparkle.
I always describe my music as slumber party pop, because it's fun and anthemic, but also heavy and somber at times. Just like when you're all lying there talking.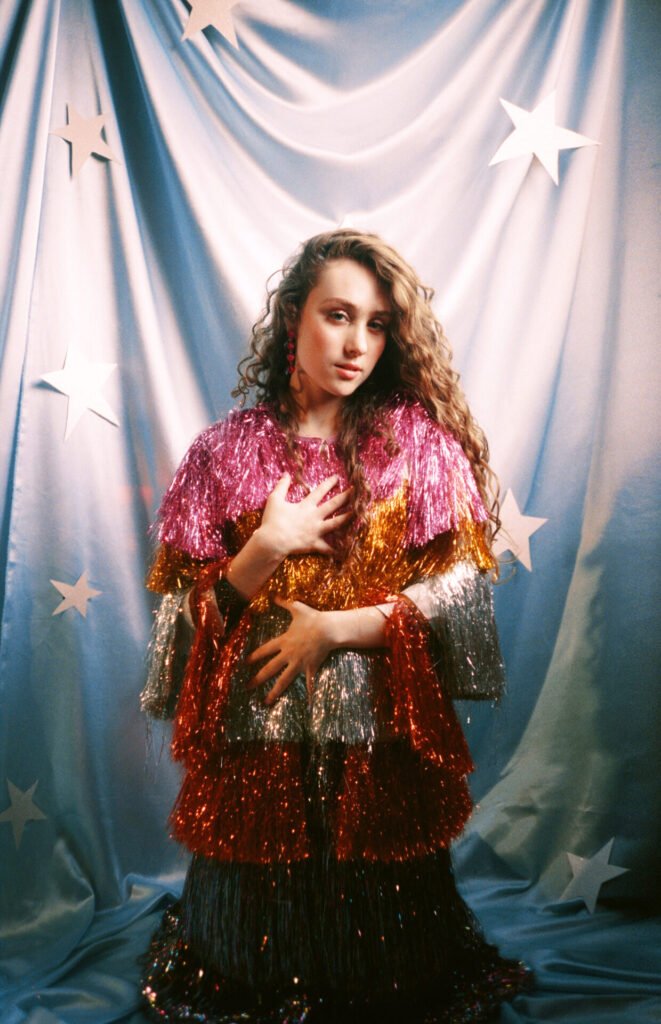 6. What's your view on the role and function of music as political, cultural, spiritual, and/or social vehicles – and do you try and affront any of these themes in your work, or are you purely interested in music as an expression of technical artistry, personal narrative and entertainment?
Chappell Roan:  I think you should use music and say whatever you want to say. Regardless if it'll ruffle some feathers. I definitely try to approach sex in a positive open way in my music, and queerness. I don't mind making listeners uncomfortable. I'm definitely not a technical artist haha. I just like singing fun pop songs and creating different aesthetics and makeup and outfits to go along with them. It's like playing dress-up and arts and crafts.
7. Do you feel that your music is giving you back just as much fulfillment as the amount of work you are putting into it, or are you expecting something more, or different in the future?
Chappell Roan: Absolutely. I mean, I would love to make money as well hehe. But yes, absolutely fulfilling, all the way.
8. Could you describe your creative processes? How do usually start, and go about shaping ideas into a completed song? Do you usually start with a tune, a beat, or a narrative in your head? And do you collaborate with others in this process?
Chappell Roan: I usually have a strong emotion are idea for a song, find some chords I like, then write lyrics from there. Edit, hate it, rewrite it, edit some more, then maybe I'll get something I like.
9. What has been the most difficult thing you've had to endure in your life or music career so far?
Chappell Roan:
Definitely firing management. Firing people you love and have worked with for years, is one of the worst feelings. Also whenever my label shelved my album that took me three years to make. That stung.
10. On the contrary, what would you consider a successful, proud or significant point in your life or music career so far?
Chappell Roan:
My headline show last Thursday and opening for Olivia last Friday was pretty insane. Honestly, everything my friends and team and I have created independently, has been a huge success in my head. It's really fucking hard and I'm so so grateful for everyone's commitment to my project.  I am exactly where I wanted to be. I couldn't ask for more. It's not perfect, but it's amazing. It's absolutely a dream come true.
KEEP IN TOUCH: