Cisco Guerrero is a musician, songwriter and producer from Italy. With the songs of Santana, Coti Sorkin, Juanes, Ricky Martin, Enrique Iglesias, and many others, he first fell in love with latin music many years ago. Many singers from Latin America are featured in this international project. His music primarily consists of latin rhythms with catchy vocal melodies and intricate guitar parts, and his songs are in both English and Spanish.
With "Puerto Grande," an international project in Spanish that features the best independent latin singers, Cisco Guerrero makes his public debut. His final musical inspiration can be heard in this song, which features catchy vocal melodies in the vein of Coti and Juanes, lyrics about happy buskers who play for girls who stop to listen, intricate guitar riffs gleaned from Santana albums, and irresistible rhythms influenced by Ricky Martin and Enrique Iglesias. Cisco Guerrero enjoys rock music as well, as evidenced by his appearance and demeanor on stage. Cisco is a guitarist, producer, and songwriter who aspires to excite people in the same way that latin music did for him. Check out the latest single and the exclusive interview below: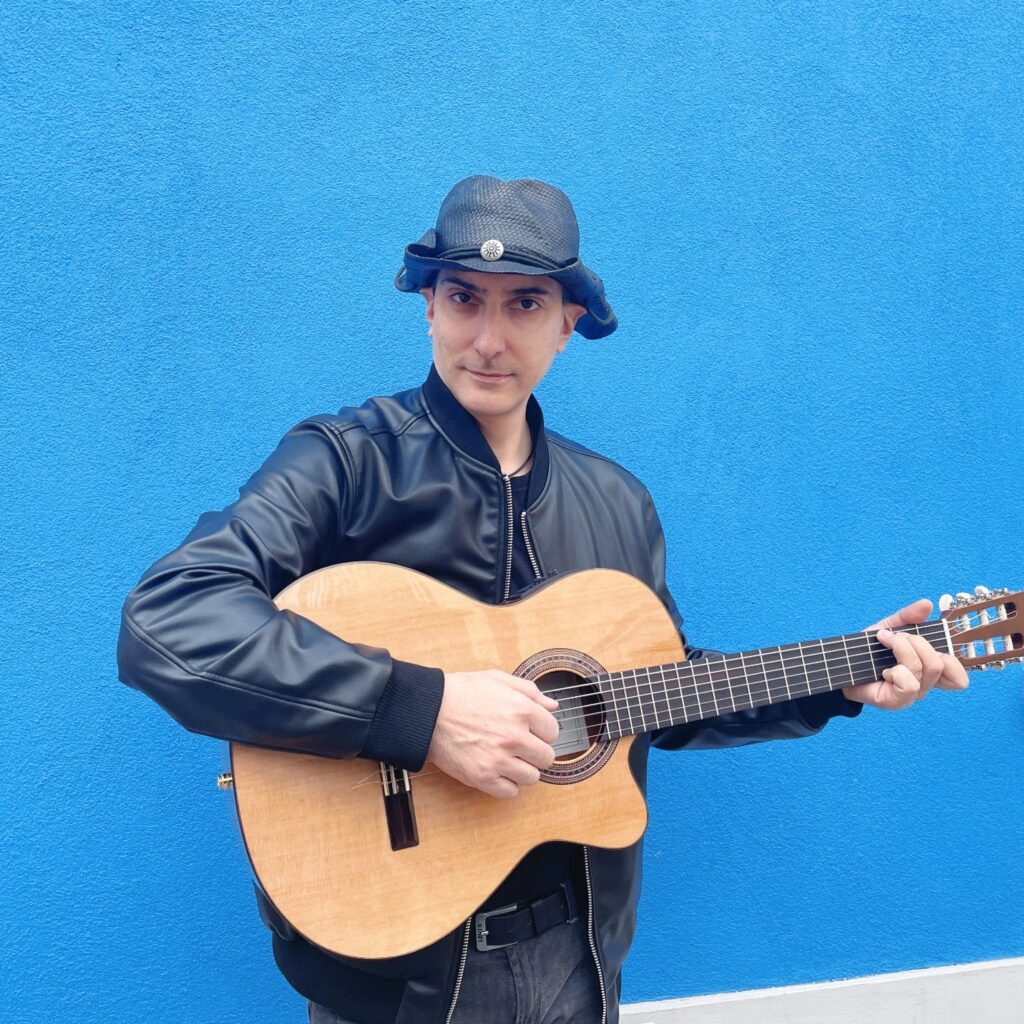 1. Can you tell us a bit about where you come from and how you got started?
CISCO GUERRERO: I come from Rimini, Italy. I am a professional for many years. I started very young with a band and an album for a great major, but the project couldn't work due to in-fighting amongst the group's members, so it was short-lived. Since that time I didn't do other jobs exept the musician. Performer, teacher, songwriter. Cisco Guerrero and Puerto Grande were born by chance less than a year ago.
2. Did you have any formal training or are you self-taught?
CISCO GUERRERO: I started as self-taught but when I understood my limits I realized to begin a real training.
3. Who were your first and strongest musical influences and why the name 'CISCO GUERRERO'?
CISCO GUERRERO: Santana, Juanes, Coti, Enrique Iglesias, Alvar Soler, Efecto Pasillo, Ricky Martin, Dani Martin, Coldplay, U2, Twenty One Pilots. The name "Cisco Guerrero" I chose after I completed to write the song "Puerto Grande". Thinking about a spanish name I remembered an italian singer who used that name "Cisco" and "Guerrero" I liked the sound of the word. There was a great wrestler with that surname "Eddie Guerrero", even if I'm not a fan of that sport.
4. What do you feel are the key elements in your music that should resonate with listeners, and how would you personally describe your sound?
CISCO GUERRERO: The key elements of my music are latin rhythms with catchy vocal melodies and refined guitar parts. "Puerto Grande" is my first single. It's a latin pop song with reggaeton rhythm. "Puerto grande" is an imaginary town in South America, where a street artist sings his tunes to the people. One day he meets a girl and falls in love with her, dedicating his best love song. Metaphorically, "Puerto Grande" is the place where you always want to be.
6. What's your view on the role and function of music as political, cultural, spiritual, and/or social vehicles – and do you try and affront any of these themes in your work, or are you purely interested in music as an expression of technical artistry, personal narrative and entertainment?
CISCO GUERRERO:
I'm purely interested in music as an expression of entertainment. I have my own thinking and ideas about politics and current events, especially about the future of Earth, global warming and ecology. I think people can think for themselves, and I don't pretend to impose my thought that it might be wrong.
7. Do you feel that your music is giving you back just as much fulfilment as the amount of work you are putting into it, or are you expecting something more, or different in the future?
CISCO GUERRERO:
Hard work pays off. I'm putting my heart and soul into it and I'm expecting to reach many people, but it takes a lot of luck. I'm happy of what people are saying about my first song, and I look forward to release many other tracks.
8. Could you describe your creative processes? How do usually start, and go about shaping ideas into a completed song? Do you usually start with a tune, a beat, or a narrative in your head? And do you collaborate with others in this process?
CISCO GUERRERO:
I like jamming with guitar on a random chord progression until I find a good melody. Then I develop the full song with lyrics who talks about personal experiences. But "Puerto Grande" was born as an instrumental piece about 6 years ago with the title taken by the town of an italian movie. Many times after I tried to write lyrics making up a story about this imaginary place. Lastly, I contact a singer on a freelance web site to sing it, and that's it.
9. What has been the most difficult thing you've had to endure in your life or music career so far?
CISCO GUERRERO: get anyone to listen to my music and have an unbiased opinion. As long as you are nobody you will be treated like nobody.
10. On the contrary, what would you consider a successful, proud or significant point in your life or music career so far?
CISCO GUERRERO: My 8 years daughter loves "Puerto Grande" and listen to it every day in a playlist among trending songs! And some memorable responses from media in Latin America.
A blog from Argentina said: "El tema es específicamente espectacular. La guitarra suena bárbaro. En el tono de la voz me hizo acordar a Juanes. Excelente, adelante", ("The song is specifically spectacular. The guitar sounds great. The tone of the voice it reminded me of Juanes. Excellent, go ahead").
KEEP IN TOUCH:
FACEBOOK | INSTAGRAM | SPOTIFY | WEBSITE | YOUTUBE