Tal Yaniv, an Israeli musician and producer, performs under the stage name Croptal. Croptal's second album "Variations" takes the listener on a wonderful musical voyage across neoclassical, electronic, British folk, and dance music genres. This is a concept album, the artist's take of the Variations genre in classical music. A brief piano theme is followed by eight variations, each of which mentions the preceding variation, ending to a dramatic Finale. Croptal blends recordings of live piano and string ensemble with synthesizers, altered rhythms, and tape loops. "Blacksmith," a traditional English folk ballad, is one of the versions. This song has been performed frequently over the years. The most prominent ones are by Maddy Prior, a renowned folk singer. In 2000, she released a live a cappella rendition of this song as one of her records. This performance drew Croptal's attention, and a modern rendition including Prior's great vocal track was included on the album as a result. Check out the album and the exclusive interview with Croptal below:
1. Can you tell us a bit about where you come from and how it all got started?
CROPTAL: I started learning the piano at the age of 6. I began with classical music, which has always been an inspiration for me. Later when I was 15, I was totally into Rock and Prog, and did my first steps with synthesizers, though these were terribly expensive at that time. Together with some highs school friends I formed a rock band, "Avtipus". We thought that it would be dead easy, just to record a few demos and singles, perform here and there and get signed by a record label. The reality was a long and unrewarding journey until we were finally signed 10 years later. Our debut album was released in 1995 and was an overnight success, hitting the top of the charts and getting a platinum. In the meantime, I started my solo career, mostly writing film scores, jingles and doing gigs. My current career as an electronic solo musician was a late blooming, it started just a few years ago when I decided to compile my recordings into my first solo album.
2. Did you have any formal training or are you self-taught?
CROPTAL: I learned playing the piano for seven years and then dropped. Since then, I am mostly self-taught.
3. Who were your first and strongest musical influences and why the name 'CROPTAL'?
CROPTAL: When I was a child, my older brother introduced me to progressive rock. I was immediately hooked on names like Pink Floyd, Genesis and Yes. Then one day he came with an album, where its cover was a weird painting of a metal tube, bent into a triangle, located over a rough seashore. "You have to listen to this guy", he said. "He plays all instruments by overdubbing. He recorded it when he was 17 years old". This was Mike Oldfield's Tubular Bells. I guess this was my biggest inspiration to start writing and recording my own music. Since then, without him noticing, I have a musical correspondence with Oldfield.
The name Croptal is a made of "Crops", a rough translation of my Hebrew surname "Yaniv", and my first name "Tal", which means "Dew" in English. Croptal is shorter and sounds better than Cropsdew…
4. What do you feel are the key elements in your music that should resonate with listeners, and how would you personally describe your sound?
CROPTAL: I am trying to tie together many contradicting styles. I mix between expressive, dramatic and cinematic arrangements, and minimalistic, repetitive and impressive music that gradually builds tension. I try to combine both ends into one coherent musical journey, and this is the experience I want take the listener through.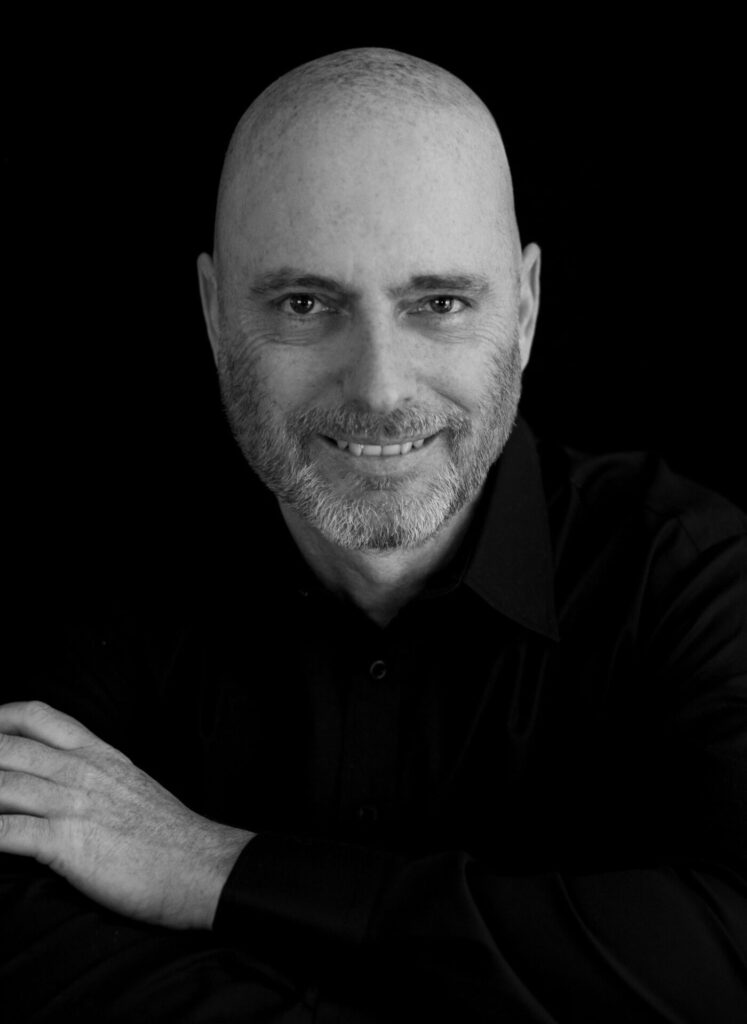 5. For most artists, originality is first preceded by a phase of learning and, often, emulating others. What was this like for you? How would you describe your own development as an artist and music maker, and the transition towards your own style, which ranges between neo-classical and electronic?
CROPTAL:
I have a secret to share – I shamelessly copy from other artists. There's another secret I can't share – I know what and how to copy without infringing intellectual rights while keeping my music sounding as original as possible. I can share that it doesn't necessarily the harmony or the melody that musicians copy from each other. It can be the structure, the dynamics or even a synth preset. There is a track in my previous album called "Impressed", which started as a remix for a DJ track. I used this DJ's original audio tracks and added my own ones on top of them. Then I gradually replaced the original tracks with mine, one by one. It was like this philosophical question – if one replaces a hammer's handle, is it still that same hammer, and then if they replace its head, is it still the same hammer. Well sometimes this is the exact method I exercise and no, it's not the same hammer anymore.
6. What's your view on the role and function of music as political, cultural, spiritual, and/or social vehicles – and do you try and affront any of these themes in your work, or are you purely interested in music as an expression of technical artistry, personal narrative, and entertainment?
CROPTAL:
I think that instrumental music, by itself, is free of any social motivation for its listeners. Many times, the composition process and the artist's thoughts are motivated and biased with political and social views, but once the music is out there, only the listeners can decide how to interpret it. A perfect example is Shostakovich's music. Shostakovich started as a Soviet patriot and was later pursued by the communist regime. During that time, his music was banned as subversive. Unless you have this information in mind, you may just enjoy his music from that period won't bother yourself about how and why it was tagged this way. It's just good music. It's totally different wherever there are lyrics involved. Most of my solo music is instrumental, while my band, Avtipus, does convey social and political opinions through our lyrics. I guess that this puts things in balance for me.
7. Do you feel that your music is giving you back just as much fulfillment as the amount of work you are putting into it or are you expecting something more, or different in the future?
CROPTAL:
The biggest fulfillment for me happens when I hit the "play" button, listen to the result and curiously ask myself – "did I make this? Not bad!". Otherwise, I honestly don't expect anything in return. I deeply cherish every Spotify listen, playlist add, social media like and comment, good or bad. But I don't need them in return for what I do. I do expect, when I write music for others, is to be fairly paid for my work, which I usually do. There is a myth about Bach, who was a devout Christian, that once God was revealed to him and told him, Johann, I am happy you enjoy the gift of talent that I gave you, and Bach replied – dear God, it's the opposite way, music is my gift to you.
8. Could you describe your creative processes? How do usually start, and go about shaping ideas into a completed song? Do you usually start with a tune, a beat, or a narrative in your head? And do you collaborate with others in this process?
CROPTAL:
For me it's like a single-cell embryo that starts dividing itself, and without the mother noticing, a microscopic heart starts beating inside her. Similarly, musical ideas are incepted in my head without me noticing. Then they call for me to do something with them and develop them into a track. These tiny heartbeats may be a melody, a chord progression or a synth sound, which take me to the piano or to the studio to start experimenting. I cannot put my finger on the exact moment this embryo turns into a tune. It's magic. I love collaborations. Good collaborations are usually more than the sum of talents combined. In "Variations" there are a few of them. The most obvious one is The Blacksmith, which is a virtual collaboration with a vocal a-cappella recording of British folk singer Maddy Prior, to which I composed a new track. And there were a few other collaborations with musicians who played acoustic instruments for this album – Clarinet, Flute, Bass, Percussion and Strings.
9. What has been the most difficult thing you've had to endure in your life or music career so far?
CROPTAL: my band broke in 1997. It was a terrible period. At some point we just couldn't get along with each other and it was inevitable. I remember myself walking through each stage of Kubler-Ross's five stages of grief, especially the anger one. 15 years later we reconciled and reunited, and it was a huge joy for us.
10. On the contrary, what would you consider a successful, proud or significant point in your life or music career so far?
CROPTAL: I count the composition, arrangement, production and conducting the string orchestra variation (2nd track in this album) as a significant point for me. I did orchestral arrangements before, both for film scores and for other artists, but not at this scale. Although it's a variation over the album's piano theme, it's a complete musical piece standing on its own. It took me a just a few hours to compose and arrange, and then it took me many days to practice conducting to perfection. I had a very short session time with the musicians, so I had to get fully prepared. I am very proud of the result, and I see myself doing more orchestral music in the future.
11. With social media having a heavy impact on our lives and the music business in general, how do you handle criticism, haters, and/or naysayers in general? Is it something you pay attention to, or simply ignore?
CROPTAL: Luckily, I don't face such approach with my art. I do run into political and social debates here and there, and sometimes can become very sensitive to reactions in social media.
12. Creative work in a studio or home environment, or interaction with a live audience? Which of these two options excites you most, and why?
CROPTAL: I am more of a studio animal. I could spend the rest of my life with my gear or recording with musicians. Then again, once you are ready to go out there and perform, nothing compares with the immediate audience interaction.
13. Do you think is it important for fans of your music to understand the real story and message driving each of your songs, or do you think everyone should be free to interpret your songs in their own personal way?
CROPTAL: Most artists will tell that they want to free their audience to interpret the work anyway they want. But as a listener, once I understand a certain musical maneuver or manipulation that the artist has done, I feel transcendence. As a musician, I hope that my listeners will have that same feeling. Sometimes it's important to tell this story. It doesn't mean one has to feed their listeners with a spoon. This album is called Variations, and like the classical format, each track is a variation over the previous ones or the opening theme. I hope that once one hears this relation in a certain track, they will feel this rewarding aha moment.
KEEP IN TOUCH:
FACEBOOK | INSTAGRAM | TWITTER | SPOTIFY | TIKTOK | WEBSITE | YOUTUBE