Fairytales is about womanhood and magic. They are exploring music, femininity, freedom, acceptance and a strong desire to let go of daily pressure. Always exploring many different styles, the album has touches of electro, artpop, experimental (they go as far as a fully atonal/dodecaphonic song), slam/spoken words and even ends with a folk song. Check out the exclusive interview below: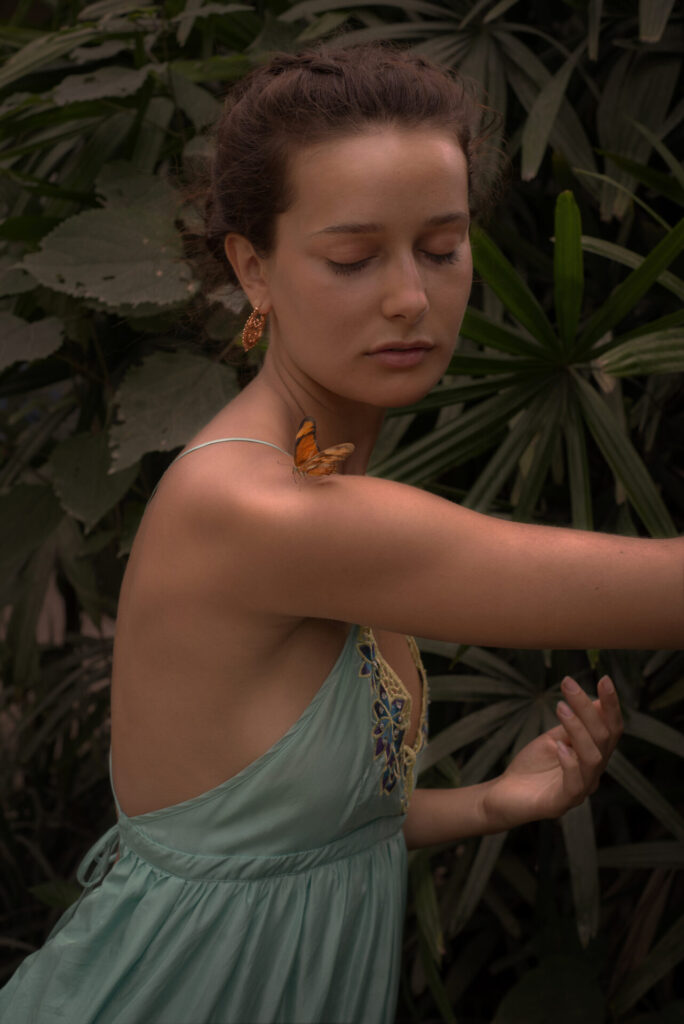 1. Can you tell us a bit about where you come from and how it all got started?
DAME ZINA: We are a family band, I write and sing, and Y, my dad, composes and mixes. Of course we were a family long before a music band, but music always had an important place in our house. Dad had all these CDs, rock and hard rock mostly, and I had a player in my room, I would listen to Metallica, Pantera or Soundgarden… all the time ! I shaped my perception of music with his taste, and even today, having my own tastes, we still agree on a lot, when it comes to music. The Dame Zina project in itself, our band, started because dad was directing a documentary, and he decided to do everything about it himself. He filmed, interviewed, edited, and made the music himself. At some point, he wrote a melody for one of his songs, and asked me to try and sing it, just to see if it was any good (he can NOT sing!). That same week, we recorded something like ten original songs, using the instrumentals he made the previous months, and poems I wrote, that I started to sing. The next year, in 2020, we released our first 16 tracks album ! Since then, we never stopped, continuing to do pretty much everything ourselves, up to the music videos !
2. Did you have any formal training or are you self-taught?
DAME ZINA: We are both a bit of both, academically speaking, I studied at a conservatory for theatre, dance and singing. I took opera, drama, dancing and singing classes as well as writing for 10 years when I was a teenager. I then kept learning these arts in Paris at the conservatory and La Sorbonne. Dad always played instruments, mostly piano when he was a boy, and studied to be a sound engineer at Louis Lumière, a famous cinema school in Paris. We both know our craft, but we learned together, by experimenting, to make it unique and our own.
3. Who were your first and strongest musical influences and why the name 'DAME ZINA?
DAME ZINA: My first influences were 70-90s rock bands. Pink Floyd, Queen, Metallica, Nirvana, David Bowie… but my name actually references sci-fi. Zina is a character from the book Valis Regained by Philip K. Dick, symbolising sacred femininity. In French, Dame is a word like Lady, which is often associated with medieval myths, witches, fairies, and "Dame Nature", which is French for "Mother Nature". Y uses this letter as his name because his music started by asking questions, and he defines himself by his habits of questioning everything all the time. Even reality is a question to him.
4. What do you feel are the key elements in your music that should resonate with listeners, and how would you personally describe your sound?
DAME ZINA: Personnaly, id say the lyrics, because unlike some other artists who write words solely because of how they sound (which is absolutely valid by the way), I need to write things to say something, to change something inside my fans. Of course, the music itself, the sound, the mood, the world we create when we play music is essential, otherwise it wouldn't be music. I believe the more different your music is from mainstream music, the more it has a power to impact deeply the person who listens. This is why it's so important for us to keep making unique musique.
5. Do you think is it important for fans of your music to understand the real story and message driving each of your songs, or do you think everyone should be free to interpret your songs in their own personal way?
DAME ZINA: Both. Songs are speaking to the soul and the heart, but also to the brain. I make a point to try to explain my songs to my fans so they can always understand where I'm going. I usually write my songs as metaphors of strong messages, and sometimes they are easier to understand than others, but I always write so I can touch someone somewhere who will understand exactly what I feel.
6. What's your view on the role and function of music as political, cultural, spiritual, and/or social vehicles – and do you try and affront any of these themes in your work, or are you purely interested in music as an expression of technical artistry, personal narrative, and entertainment?
DAME ZINA:
Music is definitely political, "everything is fucking political", to quote Skunk Anansie. I write songs that aim to have an impact on my listeners. I usually am very implicated in feminism, and LGBT rights. as a lesbian woman, I try to use my voice and my words to fight, and normalise my experience, so that others can be more accepted, or feel less different. I also write about emotions, anxiety as per example, and struggles there as with feelings. I think when we listen to music, we are very vulnerable, and it's important to help transmit positive messages trough art. I try to make the world a better place, song by song. Of course, music is an art that aims to be beautiful I think, so I always try to combine my messages with nice sounds !
7. What has been the most difficult thing you've had to endure in your life or music career so far?
DAME ZINA:
For me, i'd say without hesitation my social anxiety. This prevents me from performing my songs on stage. I have acted a lot on stage in my life, even professionally, but singing is another step I have had a hard time to overcome yet. We did a few concerts, but it is really hard for me to sing on stage. I hope one day it will get easier !
8. Could you describe your creative processes? How do usually start, and go about shaping ideas into a completed song? Do you usually start with a tune, a beat, or a narrative in your head? And do you collaborate with others in this process?
DAME ZINA: We usually proceed this way : dad has an inspiration, writes it down, starts a tiny bit of a composition, instruments, a melody, and puts it in a folder. I usually, by myself, write stuff, emotions, ideas that come through my mind regularly. Regularly, I listen to his new songs, and I see what inspires me, or matches with something I wrote already. We work on the instrumentals, creating an evolution in the songs, and deciding where to put lyrics, and I arrange my text to fit right in… And then we record it !
9. On the contrary, what would you consider a successful, proud or significant point in your life or music career so far?
DAME ZINA: I think i'd say our originality ? Im proud that we make a type of music that is unique, I'm proud to be able to truly express myself, being in a totally safe environment when I record with my dad.
10. Creative work in a studio or home environment, or interaction with a live audience? Which of these two options excites you most, and why?
DAME ZINA: Well obviously now, the studio excites me most ! I feel so safe I can fully express myself. I know other people will later listen to me, and it doesn't scare me because I can be completely vulnerable in the studio.
KEEP IN TOUCH:
FACEBOOK | INSTAGRAM | SPOTIFY | TIKTOK | WEBSITE | YOUTUBE