Pompy is the stage name of Miami, Florida native Joshua Roiz. While a student at Florida State University, he got his start in the electronic scene by spinning records at bars in Tallahassee. On May 27, "WYWD," his first genuine electronic dance tune, was released, and we think you'll dig it. Enjoy by turning up the volume! And look below for an exclusive interview: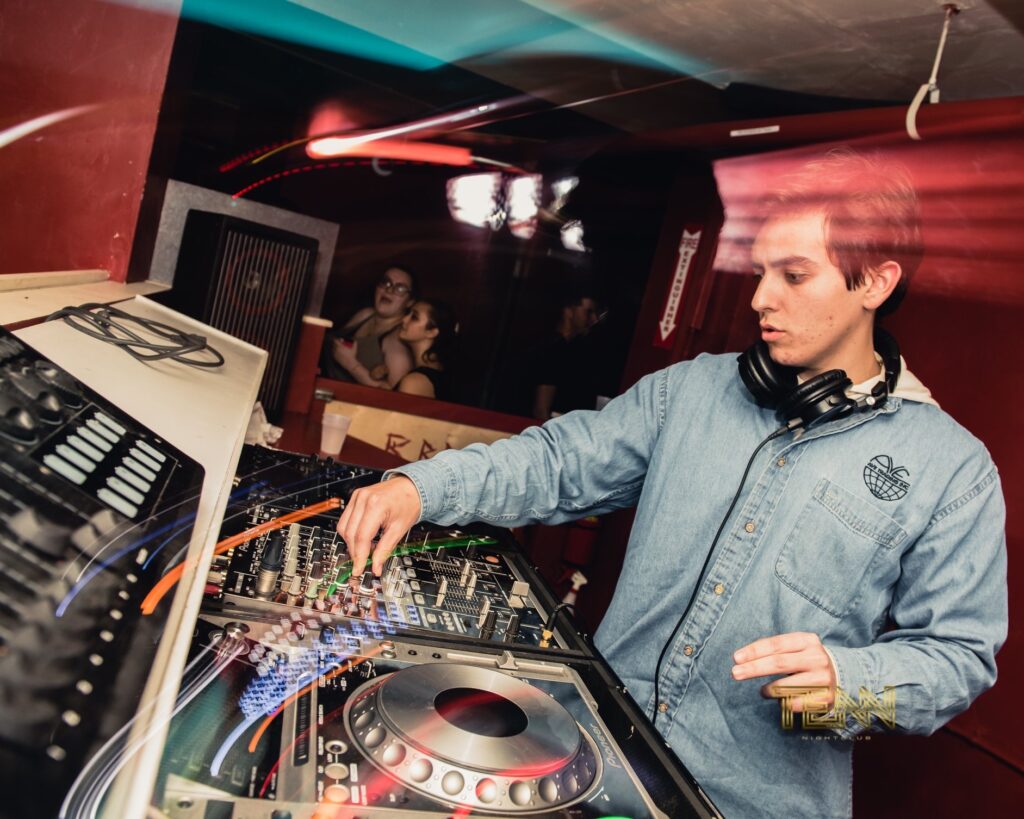 1. Can you tell us a bit about where you come from and how you got started?
POMPY: I was born in Miami, FL and moved to Tallahassee to attend Florida State University in 2016. While at Florida State, I attended my first festivals as well as picked up DJing and quickly began playing in clubs around Tallahassee such as Potbelly's, Yianni's, Tenn, and The Standard. After DJing for a couple years I began to dive into production in 2020.  
2. Did you have any formal training or are you self-taught?
POMPY: I have no formal training for DJing or music production. Everything I know has been self taught from what I like to call "Google University."
3. Who were your first and strongest musical influences and why the name 'POMPY'?
POMPY: My love for music began with Rock music when I was in early elementary school. I loved everything from Led Zeppelin, Van Halen, Rage Against the Machine, Sublime, Three Days Grace, Linkin Park, the list goes on. But as far as the biggest influence for me as a young music fan were the Foo Fighters and the Red Hot Chili Peppers. These were two of the first bands where I became obsessed with everything they did. I began to learn more about the background and history of the band and it's members rather than just listening to the music.
As far as the name Pompy goes, it started when I was a kid as an inside joke between me and my dad where we would call people "Pompy." We said it so often that my friends picked it up and began calling me Pompy as a nickname. Fast forward to college, my friends still called me Pompy and would often introduce me to people as that. Everyone loved it and when it came time to pick a stage name there was no other choice that felt right.
4. What do you feel are the key elements in your music that should resonate with listeners, and how would you personally describe your sound?
POMPY: Two key elements that are special to me in the writing process are sampling and drums. Drums and percussion have always been fascinating to me and was the first instrument I ever played as a kid. For me, drums are one of the most important aspects of the song as it drives the feel and pace of a track. The second element, sampling, is also another key element to my production. I have always been into music but have dipped in and out of playing instruments throughout my life so sampling is a way for me to pay homage to older music as well as get certain sounds and feels that I would never be able to articulate through instruments.
I wouldn't say I have a certain sound yet and probably will never have a sound that is easily identifiable due to the variety of music I produce and my use of drums and sampling.
6. What's your view on the role and function of music as political, cultural, spiritual, and/or social vehicles – and do you try and affront any of these themes in your work, or are you purely interested in music as an expression of technical artistry, personal narrative and entertainment?
POMPY: I believe everyone has a different relationship with music and can serve many purposes, such as all the ones you listed. Music has taken many shapes in my personal life, but I would mostly consider it to be a form of entertainment although it has been more than that for me at times. As far as using music as a vehicle for the reasons mentioned above, I choose to have the listener interpret it for themselves. The beauty of art is that it can evoke different emotions and thoughts depending on one's perspective. Just because it means one thing for me doesn't mean it can't mean something else for the next person. 
7. Do you feel that your music is giving you back just as much fulfilment as the amount of work you are putting into it, or are you expecting something more, or different in the future?
POMPY: Without a doubt, creating music has been the most fulfilling thing I have ever done in my life. My entire life I have loved finding and listening to new music but never in a million years would I have thought that I could create my own music. Outside of my friends and family, music is the #1 thing that gets me up in the morning.
8. Could you describe your creative processes? How do usually start, and go about shaping ideas into a completed song? Do you usually start with a tune, a beat, or a narrative in your head? And do you collaborate with others in this process?
POMPY: I tend to make many small ideas and then finish the ones I really like. When it comes to starting tracks, I am all over the place. Sometimes I have an idea of what I am trying to create and other times I just slap random things together until I find a groove or melody I enjoy. The three most common ways I start tracks is either with drums, writing a chord progression/melody, or starting a with a sample and building around that. I collaborate with others whenever I get the chance. I often collaborate with two of my best friends, Alex and TJ, as we split a studio space together. Collaborating with them both has taught so much as they have more traditional songwriting backgrounds being in bands and not making electronic music.
9. What has been the most difficult thing you've had to endure in your life or music career so far?
POMPY: The hardest thing for me is everything required of an artist outside of creating, such as social media and curating releases. Everything it takes to get your music out there can sometimes become draining.
10. On the contrary, what would you consider a successful, proud or significant point in your life or music career so far?
POMPY: I believe I'm only starting to scratch the surface in my musical journey. I always expect myself to grow and become better, not only with music but in my life outside of music. My success is not measured by anything or anyone else but myself. Yes, I want to share my music with as many people as possible, but as long as I can create the music I love with a roof over my head, food on my plate, and with my friends and family by my side, nothing else matters. 
KEEP IN TOUCH:
SOUNDCLOUD | YOUTUBE | INSTAGRAM