Elviise debuted in August 2020 and has since consistently released music. The debut album 'Fairy tales' was released in November 2021, and Elviise's image and sound underwent additional development in 2022. Behind the masks, we find Fear, Anxiety, and Trauma in Elviise.
Elviise has been interviewed and played on local radio stations and written about by worldwide music blogs including A&R Factory and Keep Walking Music over the years. In 2022, Elviise competed in Emergenza Event, the world's largest music festival for unsigned artists and bands, where the crowd votes on which bands and musicians advance in the competition. Elviise qualified for the Stockholm final, which was held on 5/6 at Fryshuset, Klubben in Stockholm.
Elviise are now striving to complete their new album, and the second song from it is titled "Will we survive." The song is filled with dread and fear. Fear of missing out on something and concern over understanding how to regain hope. Sometimes it's about ending relationships, and sometimes it's about standing up to our world leaders and saying no. Check out the song and the exclusive interview below:
1. Can you tell us a bit about where you come from and how it all got started?
ELVIISE: We're based in Stockholm, Sweden and we found each other through a music page. After a few auditions and constellations we ended up in what we have today.
2. For most artists, originality is first preceded by a phase of learning and, often, emulating others. What was this like for you? How would you describe your own development as a group and music maker, and the transition towards your own style, which is known as ROCK?
ELVIISE: Yes, Elviise definitely started out like that, emulating others in a genre way. Mostly due to outer expectations or beliefs in what kind of music Elviise would be and not what kind of music we really liked. Elviise's first songs can be defined as pop/pop rock but as time passed they gradually moved towards rock/metal and it was all natural as we were all into heavy music. 'Will we survive' is just a peek of our new trail, just wait and see what we have in store for you during 2023. 🙂
3. Who were your first and strongest musical influences? 
ELVIISE: Since Elviise has a pop origin, the very first influences were artists like P!nk and Jessie J with some inspiration from heavier bands like Metallica, Queen and Against The Current. 
4. Do you think is it important for fans of your music to understand the real story and message driving each of your songs, or do you think everyone should be free to interpret your songs in their own personal way?
ELVIISE: We want the listeners to interpret our songs in their own personal way, that's what music is all about in our opinion. Even though we might have a special theme or feeling in mind when we write a song, we know that every single human interprets the world from their own point of view and we want those views to stay free.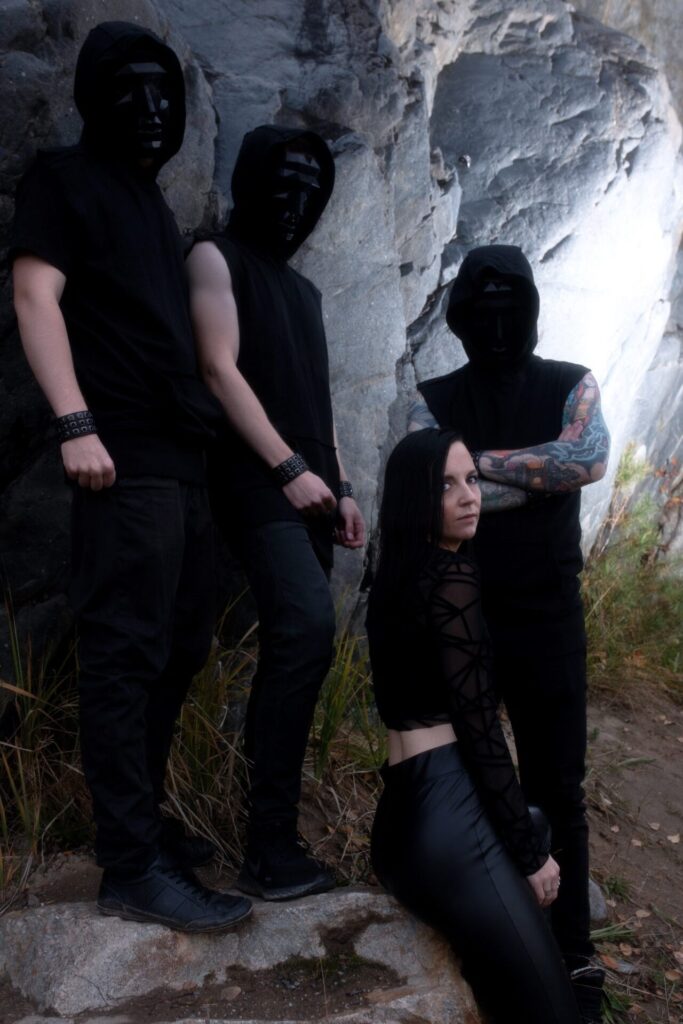 5. What do you feel are the key elements in your music that should resonate with listeners, and how would you personally describe your sound?
ELVIISE:
We bend the rules for song structures. We don't think in terms of traditional music theory or structure when we write our music, in fact, it can be the opposite. We like moments of unpredictability. We write music that we want to listen to and sometimes it's more heavy, sometimes it's more commercial and sometimes its' a mix of several styles. Another unique aspect of our sound is the contrast we're creating between the darkness (the harsh instrumentation) and the light (the delicate vocals). That's what Elviise is about, the never ending battle between "the good and the bad".
6. What's your view on the role and function of music as political, cultural, spiritual, and/or social vehicles – and do you try and affront any of these themes in your work, or are you purely interested in music as an expression of technical artistry, personal narrative, and entertainment?
ELVIISE:
Music is a powerful tool to reach and connect with other people and we are very interested in social behaviors so that is where we want to inspire people. Our music is mostly about how we treat ourselves and/or others due to our inner demons. We represent them through our masks as Trauma, Fear and Anxiety.
7. Creative work in a studio or home environment, or interaction with a live audience? Which of these two options excites you most, and why?
ELVIISE:
Interaction with a live audience, without hesitation. Our music are based on our own experiences and with them we want to connect with others that might go through or feel similar things. We want them to know that they're not alone. By playing live, we believe that connection is at its strongest.
8. Could you describe your creative processes? How do usually start, and go about shaping ideas into a completed song? Do you usually start with a tune, a beat, or a narrative in your head? And do you collaborate with others in this process?
ELVIISE:
It depends on which of us that starts to write a song. Sometimes it starts with the lyrics, some chords and a vision/feeling. Sometimes someone come up with instrumental demo and the lyrics are written afterwards. Sometimes it's just a drum beat or guitar riff spawning in the rehearsal room that we just happened to like. We have worked with the same producer since the release of the single 'Lucid Dream' and he adds the final touches to the songs.
9. What has been the most difficult thing you've had to endure in your life or music career so far?
ELVIISE:
Well, being human? We all struggle bigger parts of our lives to figure out who we are, where our places are, what our purposes are and what we want. Our debut album 'fairy tales' was written during a period when all of these thoughts were challenged.
10. With social media having a heavy impact on our lives and the music business in general, how do you handle criticism, haters, and/or naysayers in general? Is it something you pay attention to, or simply ignore?
ELVIISE: We have not been affected by any negative comments as a group but we are aware that the negative opinions or actions of other people are their way of coping with their inner fears and has nothing to do with us. We will continue to do things in our way despite what other people might think or say about it.
KEEP IN TOUCH:
FACEBOOK | INSTAGRAM | SPOTIFY | BANDCAMP | WEBSITE
Photo credits: Jytte Lindberg