Natives of New Haven, Connecticut In their guitar-driven, catchy pop songs, Hawkns, an indie pop rock band, deliver out-of-the-box production while capturing the untrained and unpolished vocal abilities of lead singer Hawkins French. Hawkns draws inspiration from both historical and contemporary transgressive artists, aiming to produce work that is both timeless and modern. Their debut song has generated over 115,000+ streams in just the first year of their career. Nick Fradiani, Eddie Money, Noel E. Monk (former manager of the Sex Pistols and Van Halen), and Michael Caplan are just a few of the people who have praised their talent (former VP of Sony Music).
The group has performed on a huge variety of East Coast stages. Mohegan Sun Casino, The Bitter End, Foxwoods Casino, and the Pleasantville New York Music Festival are a few venues where notable performances have taken place. They performed on stage at Pleasantville alongside legendary performers like Blues Traveler, Suzanne Vega, and Living Colour. Over 4,000 people watched them perform in Wallingford, Connecticut in October 2021 at the renowned Toyota Oakdale Dome.
The band's most recent single, "Head and Heart," and a music video were both released on April 29, 2022. Check out their latest single and the exclusive interview below:
1. Can you tell us a bit about where you all come from and how it all got started?
HAWKNS: We're a four-piece Indie Pop-Rock band based out of New Haven, CT. On the instrumental side of things, our band consists of three brothers Joe (guitar), Josh (drums), and Rick Frank (bass). On lead vocals is Hawkins French. Us three brothers performed music with our friends over the years, some serious projects and others more for fun and experience. That was back in like 2015. However, for our singer Hawkins, this group is actually the first band he's ever been in! We all met at a local music school/studio that we had worked at. Hawk walked in to try out vocal lessons and we heard his voice and loved it. We began to all jam together during that week. Once we started practicing together we instantly knew we had something very special when it came to our chemistry.
2. Did you guys have any formal training or are you self-taught?
HAWKNS: We are all pretty much self-taught musicians.
3. Who were your first and strongest musical influences and why the name 'HAWKNS'?
HAWKNS: We chose it because we thought our singer had a very unique name and we had never met someone else actually with the name before, so it seemed different and fitting. We removed the "i" out of our band name because we were inspired by the artist "MASN".
4. What do you feel are the key elements in your music that should resonate with listeners, and how would you personally describe your sound?
HAWKNS: In our music we aim to communicate with those who feel lost. The underdogs. We want to be a voice to the many who currently don't feel heard in the overwhelming state that the world is in right now. Spreading love and hope is also very important to us; it's what we all need right now isn't it? Healing. As for our sound, lately we've been drawing tons of inspiration from artists like Bruce Springsteen, Blur, Peter Gabriel, Bon Iver, and many others. Overall we try to constantly evolve our sound and just like the music tastes of our band, it's always progressing. We all listen to so many different genres and artists and when we get together we get to throw that all into one pot and see what happens, so it's an ever changing process for us.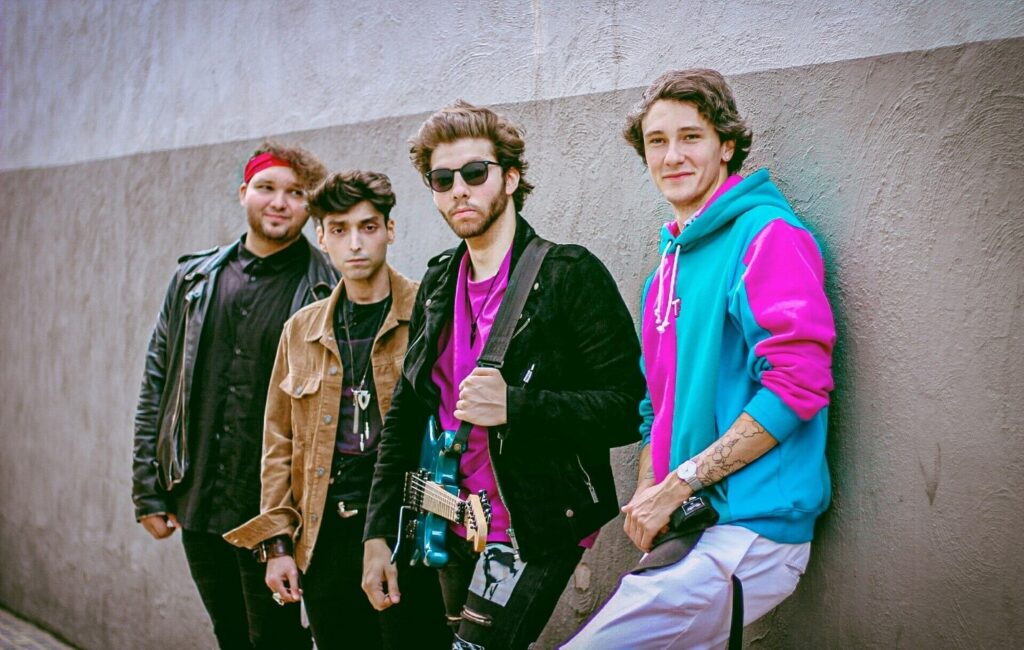 6. What's your view on the role and function of music as political, cultural, spiritual, and/or social vehicles – and do you try to affront any of these themes in your work, or are you purely interested in music as an expression of technical artistry, personal narrative and entertainment?
HAWKNS:
Our naturalistic perspective allows us to perceive music as what it is: emotive human organized sound that imitates that by using a beat. We believe in breaking down music in its simpler elements so we can then understand it at a higher level. Music intertwines in all areas as it's cultural, political, spiritual, etc. What we try to do at heart is tell our own earnest truth and share our stories with our listeners. We as a band have been through so much alone and together and these stories hopefully in the end can provide our listeners with the feeling of connectedness. Creating, we believe, should be to further art in a new way along with relating to people in a way that lets them know they aren't alone in this crazy world. That's one of the many beautiful things about art.
7. Do you feel that your music is giving you back just as much fulfillment as the amount of work you are putting into it, or are you expecting something more, or different in the future?
HAWKNS:
No matter what level you're at, finding out that people drove over 45 miles to see you, tried to sneak into the venue, or hearing that it motivated them to play guitar – those are the things that make it all worth it so, we're balanced!
8. Could you describe your creative processes? How do you usually start, and go about shaping ideas into a completed song? Do you usually start with a tune, a beat, or a narrative in your head? And do you collaborate with others in this process?
HAWKNS:
Our songs usually come from us having a writing session together. Joe usually develops the core riff or sound. We then play it back and try to find the melody. Once we have it we then try to feel out where the song is taking us and where it's telling us to go. Finally during the lyric writing process, the narrative for us is autobiographical. From that point it's just building.
9. What has been the most difficult thing you've had to endure in your life or music career so far?
HAWKNS: What we've realized is good art is often a side effect or direct cause of conflict in life. Our singer Hawk had issues with addiction growing up early on and since then he's overcome it and been living clean ever since we started our band. Our bass player Ricky was diagnosed with a rare muscle disease called Dermatomyositis ultimately leaving him bedridden for years until his recovery. This made our family really close as we had to take care of Ricky and each other.
As kids us brothers grew up in a very abusive household so trying to have a career in music felt like something that was totally impossible, but once we started to grow as musicians, we knew despite what everyone had told us and all of the trauma and obstacles in our lives, this was something that all of us felt we were called to do.
10. On the contrary, what would you consider a successful, proud or significant point in your life or music career so far?
HAWKNS: Finally being able to play a show at the Toyota Oakdale Dome was a big moment for us. We filmed the video for our single "Head and Heart" while we performed our set there. It was incredible to be able to perform at a place we grew up seeing all of our favorite artists at.
KEEP IN TOUCH:
FACEBOOK | INSTAGRAM | SPOTIFY | TIKTOK | WEBSITE | YOUTUBE