A talented pop rock singer, songwriter, and music producer, Kit Citrine. Kit's music is "raw emotion mixed with poetic and clever imagery," and audiences describe her as "a powerhouse with a strong voice and a stronger message." Kit creates deeply vulnerable, honest music that speaks to your soul, ranging from upbeat earworms to somber yet hopeful anthems of self-actualization. Kit is a multi-award-winning artist with more than 25 years of experience in the entertainment industry; they made their stage debut as a munchkin in a stage production of "The Wizard of Oz" when they were just six years old. Kit is new to production and songwriting. Under their legal name, Kit has performed extensively across the country at events ranging from festivals and concerts to important sporting occasions for groups like the Miami Dolphins, Florida Panthers, Miami Marlins, Baltimore Orioles, and Tennis Fed Cup and Davis Cup. Of course, Kit also took the stage in countless musicals, and they are not at all embarrassed to discuss their background in the theater. It plays a significant role in how they approach songwriting, putting storytelling first. Kit has fervently forged their own way forward and will keep on making relatable music that embraces real-life issues with a kind, sincere touch, and humanity at its core.
The first single from Citrine's album, also called "Midnight Masquerade," which will be released in its entirety on September 16, 2022, is titled "Midnight Masquerade." The following two singles from the album are "Stardust," a sultry pop rock ballad about lonely love, which will be released on July 15, 2022, and "Hollow," a harrowing rock song about the effects of loss, which will be released on August 19, 2022. Check out Kit Citrine's debut single "Midnight Masquerade" and the exclusive interview below: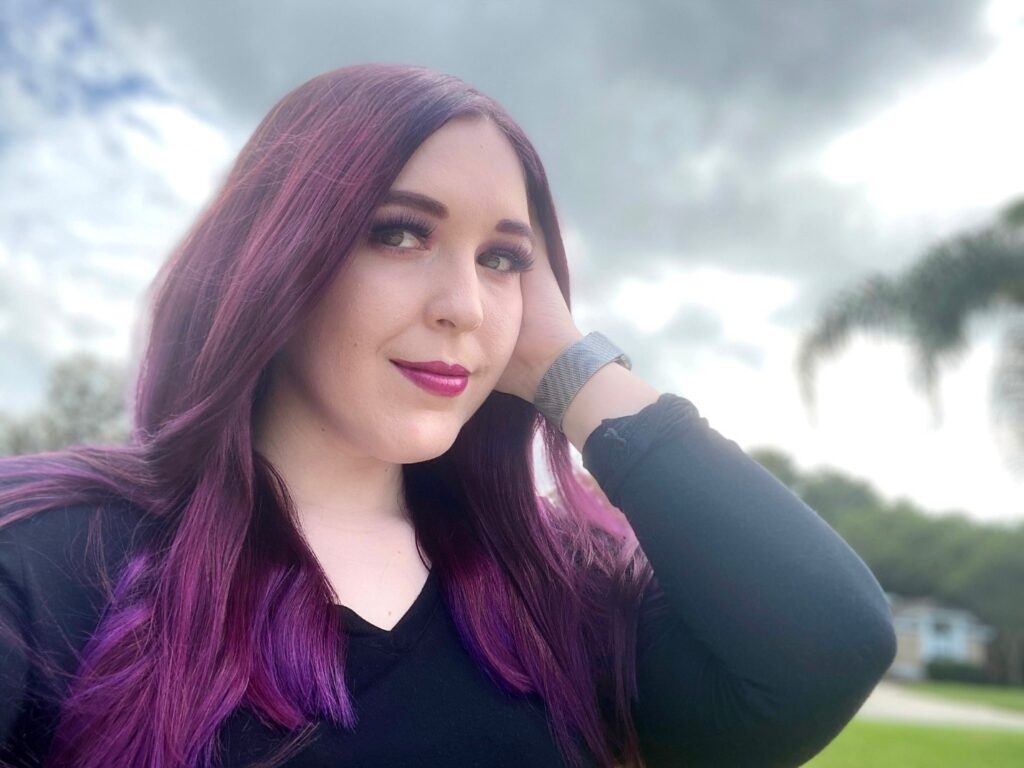 1. Can you tell us a bit about where you come from and how you got started?
KIT CITRINE: I was born and raised near Fort Lauderdale, Florida, and I'm currently based in Orlando, Florida. I got my start very young. My family jokes that I've been singing since before I could talk. My first stage performance was when I was 6 years old. I started taking singing as a career seriously when I was around 11 and pursued it through the time I went off to college. I went on a hiatus for a while, but a few years ago, I decided to work on all the skills I'd need to pursue music full time and get back into it.
2. Did you have any formal training or are you self-taught?
KIT CITRINE: I have formal training in singing, and I had a little formal training in guitar and piano when I was a child. Everything else – including songwriting, music production, arrangements, etc. – has been self-taught, and/or through self-directed learning opportunities.
3. Who were your first and strongest musical influences and why the name 'KIT CITRINE'?
KIT CITRINE: My first musical influences were probably Celine Dion, Martina McBride, and Whitney Houston. I loved singing their songs and I was obsessed with their music when I was a kid. They shaped the kind of singer and performer I wanted to be. My strongest musical influences though are probably Taylor Swift, Sara Bareilles, Lin-Manuel Miranda, and a handful of other songwriters who also perform their own material, work across genres, and wear various other hats in their projects. Their versatility and drive inspired me to become the artist I am.
I chose Kit Citrine for several reasons. Firstly, Kit is a gender-neutral nickname, which was important to me, and it's also a play on words. A "kit" is a set of equipment for a specific purpose, and I thought it was especially appropriate for a one-stop shop indie artist who acts as their own musical "kit" of tools to create tracks from start to finish. Citrine is my birthstone, and it has a similar sound to a last name that's in my family heritage. I have a few other reasons I chose the name, but they would only make sense to close family and friends.
4. What do you feel are the key elements in your music that should resonate with listeners, and how would you personally describe your sound?
KIT CITRINE: I try to evoke certain emotions with each track, and I hope that's what resonates with listeners most. I'm a bit of a word nerd so the lyrics are a big deal to me (I know melody is king, generally speaking) and I hope my songs resonate with people who appreciate rhetorical devices, word play, and lyrical double meanings.
I'd personally describe my sound as "pop rock meets Broadway" – it's a slightly modified version of listener feedback I've received. My music has an indie pop rock soundscape in general, while powerful vocals, lush harmonies, and storytelling will always be key pieces of my music like they are in musical theatre.
6. What's your view on the role and function of music as political, cultural, spiritual, and/or social vehicles – and do you try and affront any of these themes in your work, or are you purely interested in music as an expression of technical artistry, personal narrative and entertainment?
KIT CITRINE:
My view is that music has shown itself to be critical to society in political, cultural, spiritual, and social matters throughout history. My music definitely has political, cultural, and social commentary. It's woven into my personal narrative because those aspects impact me, the people I care about, and my community. I don't think you can separate music from those aspects and contexts.
7. Do you feel that your music is giving you back just as much fulfilment as the amount of work you are putting into it, or are you expecting something more, or different in the future?
KIT CITRINE:
I don't want to look at my music as transactional in that way (precisely quantifying what it gives me versus what I'm putting in), especially since I'm just getting started with releasing my original material and it's hard in the beginning to gain traction. I will say the journey of working on this whole album has helped me in such important ways. I don't know how I would've gotten through this time in my life, or started processing my grief, without this album. That alone is priceless, and worth all the effort and time I've spent.
8. Could you describe your creative processes? How do usually start, and go about shaping ideas into a completed song? Do you usually start with a tune, a beat, or a narrative in your head? And do you collaborate with others in this process?
KIT CITRINE:
My creative process can vary. Most of the time I start with an overall concept, a tagline or hook, a general musical style, and/or a feeling I want to evoke. I let my instincts guide me and try to take breaks between listens so that I can come in with fresh ears and not get too attached to what I've created. So far, I've worked completely alone, but I look forward to collaborating with other artists in the future. 
9. What has been the most difficult thing you've had to endure in your life or music career so far?
KIT CITRINE:
The grief from personal loss compounded with all the events of the past few years. This was not the exact path I thought I'd be taking when pursuing music as a career, but the global pandemic and the political climate have certainly changed things for musicians.
10. On the contrary, what would you consider a successful, proud or significant point in your life or music career so far?
KIT CITRINE: Releasing my first single was a huge point of pride for me. Knowing I had written it, performed it, recorded it, produced it, and worked hard to get it out there into the world was amazing. Seeing my name on streaming services was a big deal. My friend texted me a photo when my song came up in her car radio; it blew my mind with gratitude and pride. It's such a wonderful feeling.
KEEP IN TOUCH:
FACEBOOK | INSTAGRAM | TWITTER | SPOTIFY | BANDCAMP | TIKTOK | WEBSITE | YOUTUBE
Photo credits: Kit Citrine