Lewis Poole, a 28-year-old musician from the South-West of the United Kingdom, just adores writing music. If you enjoy bands like The 1975, Against the Current, and Blink-182 his music is for you! He primarily writes Modern Rock and Pop-Rock.
Since his initial release in 2017, he had more than 35 songs available. which are all available on every digital streaming service. Happiness in Heart Machines, the first album, was released in 2019 and is more experimental and emo, while I've Been Learning to Meditate, the second album, was released in 2021 and is more pop/rock focused. A third modern-rock album is currently being created, and singles will be released in 2022 and 2023.
Lewis Poole and his band adore a melodic hook that jives well with synths and other instruments! It's mainstream music with some edge that the alternative crowd will also enjoy.
The second single from Lewis Poole, titled "ANYTHING," will be released soon. Like the first single, "ALONE 2.0," which was released last month, "ANYTHING" is more geared toward the radio-friendly crowd and is a bop that will have you singing along. Check out "ANYTHING" and the exclusive interview below: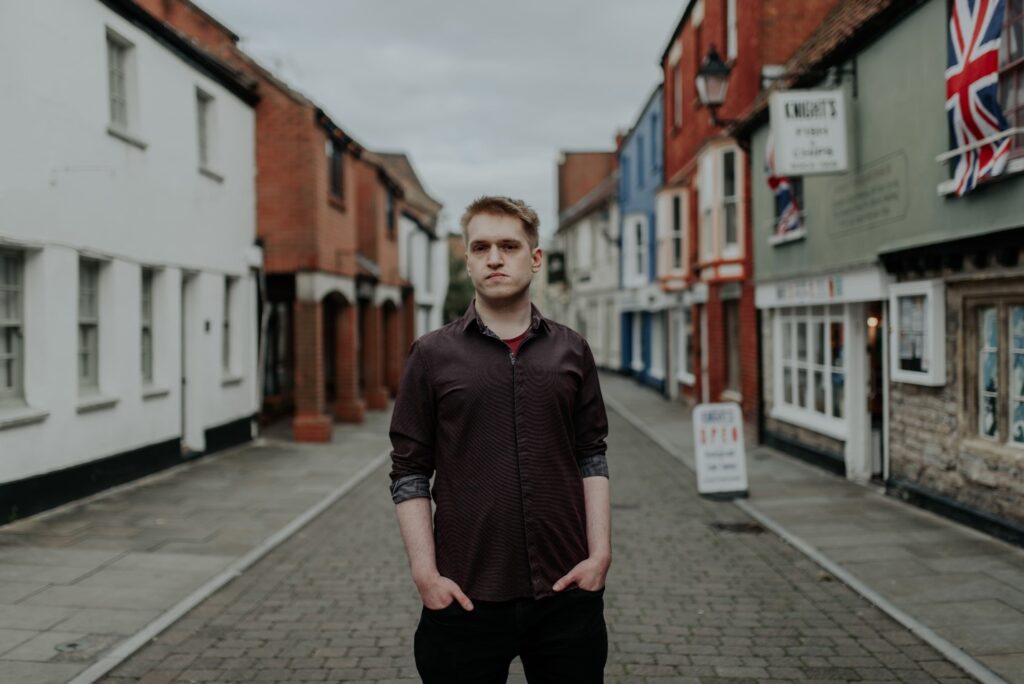 1. Can you tell us a bit about where you come from and how you got started?
LEWIS POOLE: Yeah sure. I started playing guitar when I was eleven and shortly began writing songs in Somerset, UK. However, after being in a couple of bands I started properly releasing songs in 2017.
2. Did you have any formal training or are you self-taught?
LEWIS POOLE: Yeah I had guitar lessons when I first started for about six or seven years. However, when it came to singing and playing keys I'm self taught.
3. Who were your first and strongest musical influences and why the name 'LEWIS POOLE'?
LEWIS POOLE: My first and strongest influences had to be Busted in the early 2000s followed by Blink 182, Sum41 and the rest of that pop-punk era that was popular. I chose Lewis Poole simply because it's my name and it didn't feel right using an alias.
4. What do you feel are the key elements in your music that should resonate with listeners, and how would you personally describe your sound?
LEWIS POOLE: Personally I'd describe it as a weird mix of synths, loud distorted guitars and catchy hooks. The catchy hooks take center stage, but I always like to have the synths in the background as I feel it adds a little bit more emotion and polish.
6. What's your view on the role and function of music as political, cultural, spiritual, and/or social vehicles – and do you try and affront any of these themes in your work, or are you purely interested in music as an expression of technical artistry, personal narrative and entertainment?
LEWIS POOLE:
I try not to bring politics into my music, since I prefer to use my music as another form of story-telling whether it's talking in detail about something in my life or me just trying to get my thoughts across about a particular subject.
7. Do you feel that your music is giving you back just as much fulfilment as the amount of work you are putting into it, or are you expecting something more, or different in the future?
LEWIS POOLE:
Yeah I love music, writing music, playing music and even marketing music. I enjoy everything related to it. Some artists will complain about the marketing and admin-side of things, but I really enjoy that side too. The main struggle seems to be finding to do all the things I want to do, because there's only so many hours in a day and sometimes you're waiting on things.
8. Could you describe your creative processes? How do usually start, and go about shaping ideas into a completed song? Do you usually start with a tune, a beat, or a narrative in your head?
LEWIS POOLE:
I normally start by writing a melody or a tune with the keyboard. Once I find something I like I normally add bass & drums to what I've got and I normally end up with a verse or a chorus. I then fine tune it a little by adding the lead synths and string pads.
From that point I have a whole verse or chorus in front of me and using that I can add and remove parts from what I've got to build out the rest of the song. Only when all/most of the instrumentation is finished will I usually begin to write the lyrics.
9. What has been the most difficult thing you've had to endure in your music career so far?
LEWIS POOLE: I think the general hardships that come from being an unknown independent artist who no-one's heard of. It can be quite difficult to start from nothing and to just find people (that aren't friends/family) who are willing to listen to a stranger's music. I'm really grateful to people like that, especially if they've stuck around and followed my music for a year or two.
10. On the contrary, what would you consider a successful, proud or significant point in your music career so far?
LEWIS POOLE: I think it was the release of the second album last year, because after spending the whole year releasing singles and promoting the album I finally had the whole album released. I also feel it had some better & more upbeat songs on that album too which I think people really liked.
KEEP IN TOUCH:
FACEBOOK | INSTAGRAM | TWITTER | SPOTIFY | TIKTOK | WEBSITE | YOUTUBE
Photo credits: April Bishop / A.M Photography