Solo producer Smyles wants to liven up your day. The 10-track instrumental album 'Trans-Emotional' includes Latin, Reggae, Soul, and Hip-Hop styles. The album is about human growth, love, and humanity. Every song embodies a distinct mood. He wants everyone to travel with him on this adventure. The album is very colorful, playful, and stylistically ambitious. Check out the album 'Trans-Emotional' and the exclusive interview below: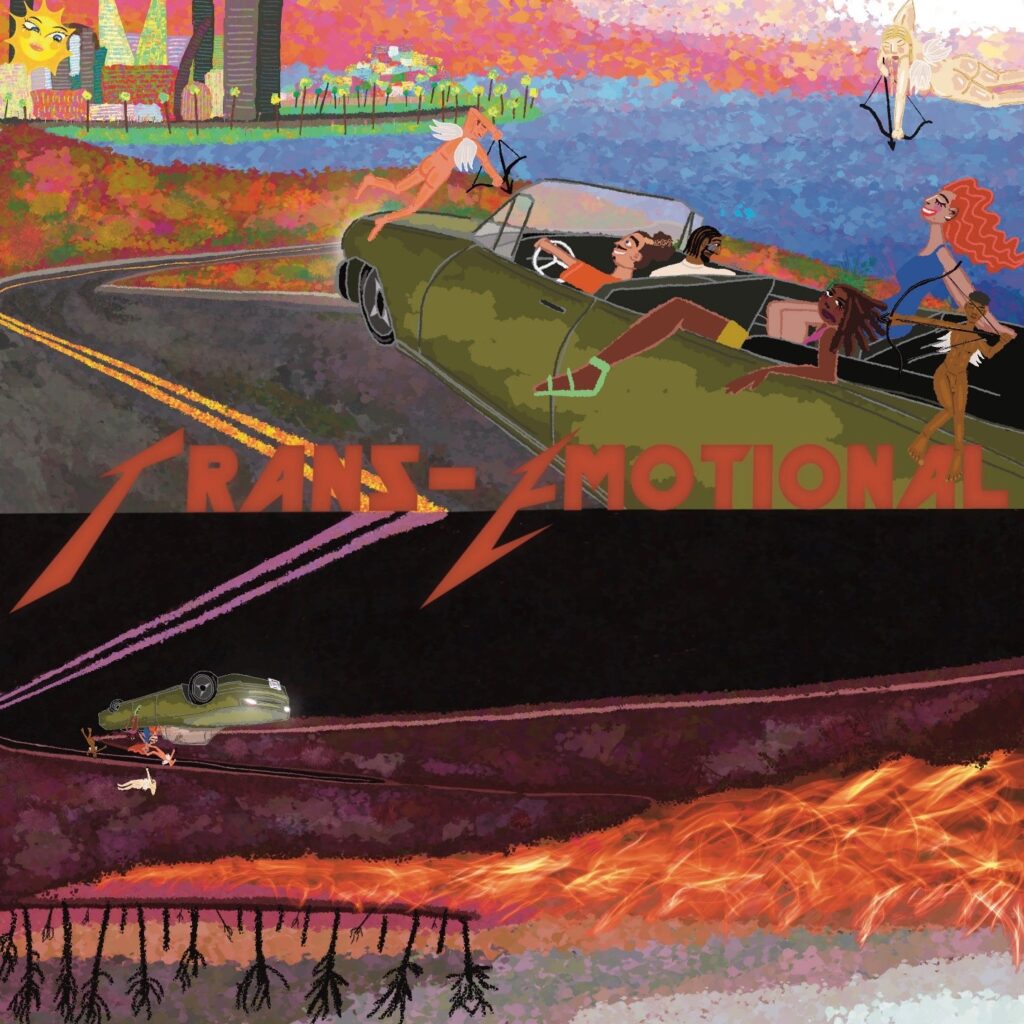 1. Can you tell us a bit about where you come from and how you got started?
SMYLES: I am from Maryland; I always had a love for music as a child. Music runs deep in my family but for me I use it as my weapon or my special ability. I started making beats after I graduated high school in 2013. I started getting beat ideas in my head as a child in middle school though. I would walk around and create little symphonies in my head. 
2. Did you have any formal training or are you self-taught?
SMYLES: Self Taught. I'm a proud DIY person.  I downloaded FL Studio and did not know shit about anything lol. I learned from trial and error honestly. I wanted to make my own music so I stayed consistent and dedicated and learned how to use FL.
3. Who were your first and strongest musical influences and why the name 'SMYLES'?
SMYLES: Kanye West is my biggest musical influence. There are other artists like Frank Ocean, The Beatles, Bon Iver, Panda Bear, Nas, Saba, Daft Punk, David Bowie, Joni Mitchell, Jay-Z,
Curtis Mayfield, and Sampha who have all influenced certain aspects of my music.  The list is really long but those would be my definitive artists. Kanye changed my life when he released Late Registration. I chose the moniker "Smyles" because I wanted a unique name that fits my overall sound. It's more of a movement type of thing because I want people to know who I am through the sounds they hear me use.
4. What do you feel are the key elements in your music that should resonate with listeners, and how would you personally describe your sound?
SMYLES: The Samples. I intentionally want people to discover new music they haven't been turned onto. The sampling is huge for me because I like using sounds/samples that can create a mood or atmosphere. My sound is universal.  I hate sounding like a certain type of genre. I want people to love the overall music and sounds I compose so they can appreciate the same things I do.  
5. For most artists, originality is first preceded by a phase of learning and, often, emulating others. What was this like for you? How would you describe your own development as an artist and music maker, and the transition towards your own style, which is known as JAZZ?
SMYLES: After my break-up with my ex, I wanted to love music again.  I wanted to bring new things to the table. We as Americans have a bad habit of loving saturated sounds. I look at saturated sounds and say "fuck you" I like using real instrumentation because it challenges me as a producer to want to look for more sounds that nobody else wants to use. I love improvisation because it gives me a chance to be free. My music represents an artist who is free of perception.  You can't listen to Smyles and be like oh yeah, this muhfucka only likes hip-hop/R&B. I listen to new records almost every day, I constantly find new music so I can continue to push my sound forward. My growth and development will continue but I want people taking this journey with me.
6. What's your view on the role and function of music as political, cultural, spiritual, and/or social vehicles – and do you try and affront any of these themes in your work, or are you purely interested in music as an expression of technical artistry, personal narrative and entertainment?
SMYLES: Music is expression. It's art. We as artists control our own narrative and for me, I say my music is about creating an image that never gets old. From a culture standpoint I try to represent not only myself but everybody else as well.  I think if more people took time to appreciate real music/artists nobody could be left out. Of course the industry itself is biased and they want to push certain images more than others, but the average listener wants to feel connected to the music they love. Trans-Emotional was an album meant for entertainment/personal reasons and the fact that the people who heard the album enjoyed it means more to me than anything else.  I want people to appreciate the wholesome nature of my music and this time around they did.
7. Do you feel that your music is giving you back just as much fulfilment as the amount of work you are putting into it, or are you expecting something more, or different in the future?
SMYLES: No matter how much I get, I want more, even when I talk my shit. I want to achieve more. I will continue to make records and push my music as long as others are enjoying and supporting it. I want to give my fans and other listeners an experience they won't get from anyone else. I put my heart and soul into making Trans-Emotional.  I smile and feel good when I ask people what their favorite song was or seeing publications such as yourself want to make me offers or to even interview me for this record. I'm grateful that God gave me an ability to touch people's lives with my ability to make music. 
8. Could you describe your creative processes? How do usually start, and go about shaping ideas into a completed song? Do you usually start with a tune, a beat, or a narrative in your head? And do you collaborate with others in this process?
SMYLES: Honestly, I just wing it lol. But for this album my intended purpose was to create things nobody else could or would. I usually start with loops/samples and from there I'll add more sounds or just craft the beat as I go.  When I made Vagina Poetry, I created the usher sample first.  I struggled making that songs at first because I hated the other sounds, I initially had for it. Once I got the Leroy Hutson sample and went on YouTube and found an actual poetry about pussy the song became easy because that idea worked. I usually will take a break during making a song if shit doesn't go my way or I hate the idea.  I will take a break and come back to it and finish it stronger. I collaborated with my friends on this record, and I will continue to do that in the future. Shoutout to Darnell, Devante, Kevin, Keith, Enid, and Aliah for being on this project and helping with it. I took my time with this project as well, some of my other stuff was rushed because I applied unnecessary pressure to myself.
9. What has been the most difficult thing you've had to endure in your life or music career so far?
SMYLES: Losing Kiana was very tough for me. I miss her every day. She was literally one of the nicest people you'll ever meet. She would be proud of my music and would probably critique my shit harder than I would lol. Besides losing Kiana in 2012, I would say seeing my music get rejected makes me want to work harder. I want to prove anyone who doubts me wrong.
10. On the contrary, what would you consider a successful, proud or significant point in your life or music career so far?
SMYLES: Coming up with the title " Trans-Emotional" and releasing it on all streaming platforms. I'm proud of myself for making this album and having it distributed by Distrokid. Another factor I'm proud of is the fans or people who listened to the record. I can't thank you enough and the last thing I want to say is I'll see you on the next record and thank you for listening to me.
KEEP IN TOUCH:
INSTAGRAM | SPOTIFY | BANDCAMP | WEBSITE | YOUTUBE
Photo credits: Aliah Fisher