THEIA, who identify as "the bastard sons of Royal Blood and Twenty One Pilots," combine Biffy Clyro's viscous sound with a stark lyrical honesty that reflects their cynically upbeat outlook. Frontman Kyle is the band's creative driving force and is in charge of the band's guitar tricks, vocal gymnastics, and lyrical musings, though not necessarily in that order. When he was about 12 years old, he picked up the guitar for the first time after discovering his father's dusty Ibanez electric hidden under a bed. After years of retirement, he couldn't withstand the guitar's call. Kyle has honed his craft through constant effort and improvement, using the knowledge gained from performing before tens of thousands of music fans over the years. He exclaims with pride, "THEIA is a project that's finally ready to show off the fruits of my labors now that the roots have really taken hold. At the tender age of eleven, Ash Lamley, the younger brother, began his THEIA journey as their roadie. He turned down a band position three years ago, but instead chose to spend a small fortune on a drama degree. This wasn't very helpful when he had to get back on the drums after five years away and learn the entire set list in three months before his debut performance in 2019. He has now gotten back into the swing of things and says, "I can remember the songs 40% of the time." Check out their latest EP and the exclusive interview below: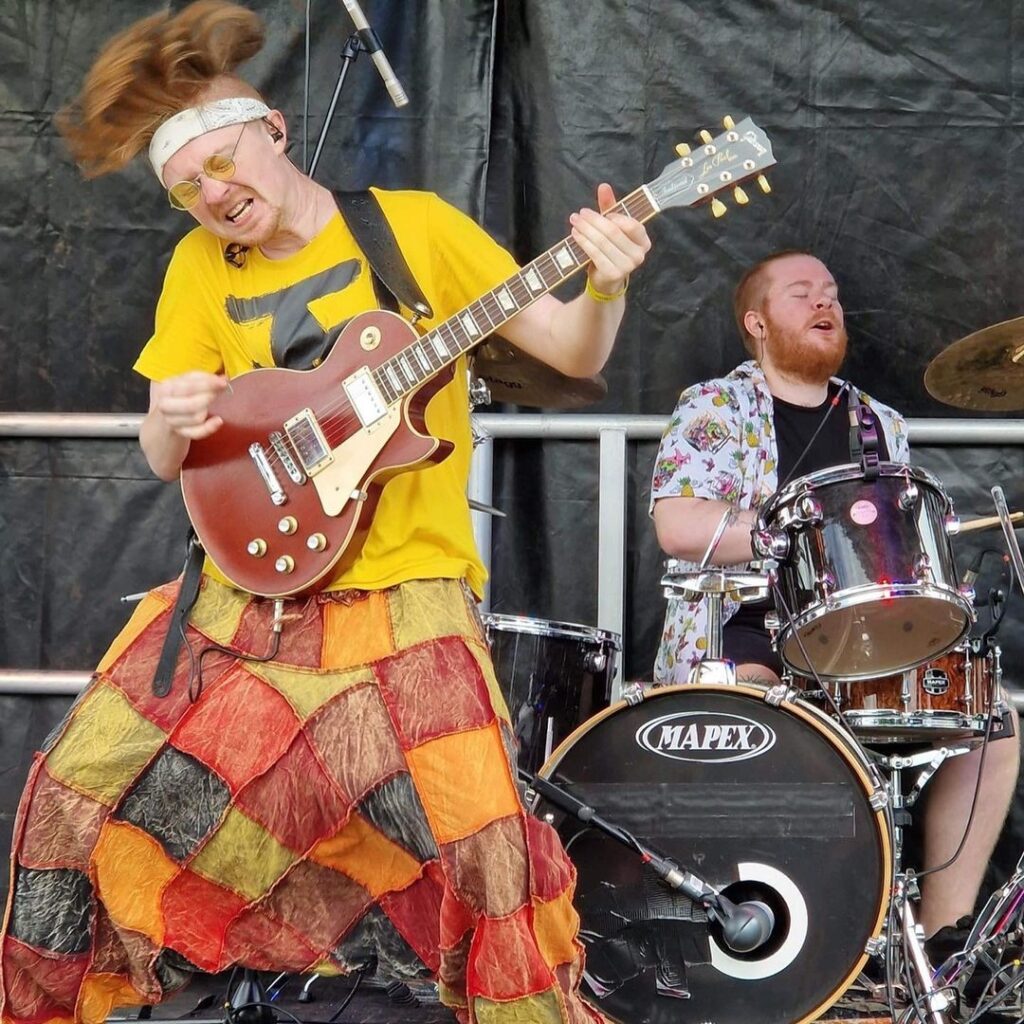 1. Can you tell us a bit about where you come from and how you got started?
THEIA: We're two brothers born of the same parents, but different generations. Raised in the brewing town of Burton where we cut our teeth on the live circuit in the pubs and clubs. THEIA is the expression of our brotherly souls and is the reason we get out of bed in the morning!
2. Did you have any formal training or are you self-taught?
THEIA: I (Kyle) had a few years of classical guitar tuition as a young teenager before discovering my Dad's dusty electric guitar under his bed – that started a journey of self-expression and experimentation. Ash had 5 drum lessons when he was 14 years old, then didn't touch a pair of drumsticks until he joined THEIA at the ripe old age of 21… we're both players who do what feels right and trust our instincts.
 3. Who were your first and strongest musical influences and why the name 'THEIA'?
THEIA: We were both raised on the likes of Marc Bolan/T.Rex and Alice Cooper – theatrical, indulgent, glamorous artists who were about more than just the music. We try to channel that idea of making every show a spectacle. THEIA was the top of a hastily scrawled list in one of Kyle's secondary school science books, amongst all the other names it was our favorite. One word, one simple idea and it sounded different to all of the other bands we knew at the time!
4. What do you feel are the key elements in your music that should resonate with listeners, and how would you personally describe your sound?
THEIA: Vocals that linger with you long after the music stops, beats that tap your feet for you and riffs and hooks, so mind-bendingly good you'll trap your own fingers in the car door just to feel something after we've stopped playing. Our sound is a continuous evolution and is something we liken to dangerous euphoria.
6. What's your view on the role and function of music as political, cultural, spiritual, and/or social vehicles – and do you try and affront any of these themes in your work, or are you purely interested in music as an expression of technical artistry, personal narrative and entertainment?
THEIA:
We believe music can and should be used as a critical extension of whoever is performing it. Music has always been a vehicle for change: you can change something simple like somebodies' mood… or you can change their perspective on something, with the strength of your convictions and the passion of your delivery. If you're singing about love, and you have never been in love, people will know. Likewise, if somebody is tackling political, cultural, or social issues in their material, it needs to come from a place of well-informed authenticity. With THEIA, we are merely reflecting our views and experiences back on the people who choose to listen – not to change minds and hearts, but to connect to those who might feel the same way. When you manage to make that shared experience entertaining in the process, something truly powerful happens.
7. Do you feel that your music is giving you back just as much fulfilment as the amount of work you are putting into it, or are you expecting something more, or different in the future?
THEIA:
We want to take THEIA as far as it goes and carry on beyond that, we never want it to feel safe or stale and will continue to evolve with the times. Since becoming a two piece, the growth and momentum we've picked up has taken us both and ran away with us and we couldn't be happier to be on this journey. In short; we will always push for "more", the next big thing, whatever that may be because the alternative would be to stand still and watch the world pass us by!
8. Could you describe your creative processes? How do usually start, and go about shaping ideas into a completed song? Do you usually start with a tune, a beat, or a narrative in your head? And do you collaborate with others in this process?
THEIA:
There has never been a formula with THEIA and our writing – for better or worse, we have found almost every song of ours was born of a slightly different element. Sometimes the melody comes before the words, sometimes lines come to mind faster than Kyle can write them down! Recently we have found ourselves writing lyrics for songs that are instrumentally developed and arranged first. It can be exciting and challenging to let the music express an idea all by itself before building on that with words that fit, although with some of the new songs we are working on we have deliberately written dark lyrical themes into upbeat tunes. We would welcome the challenge of collaborating with other artists, especially those who would bring something entirely new to the table. We're keen to experiment and keep reinventing our sonic identity.
9. What has been the most difficult thing you've had to endure in your life or music career so far?
THEIA: For Ash, it's being put into a box, being told you need to change x, y, and z to "make it", when in fact, we know how far we can take THEIA and that if we changed all those things, we simply would no longer be ourselves. Kyle once had an accident on stage after a bad kebab and had to finish the set in shame. He's vegan now though… out of fear? Maybe. We have no shame in admitting, the first half of the pandemic was a very stale time in our development. No shows to focus on, a lack of motivation to keep writing and a real sense of disconnect from our fans had us stuck in a rut. Thankfully, that was only a short chapter in our story and as it happens, turned out to be the catalyst we needed for our latest material. We have learned by now to trust in the process and to keep moving forward!
10. On the contrary, what would you consider a successful, proud or significant point in your life or music career so far?
THEIA: Ash says it's been coming to drumming completely fresh with little to no training (or natural skills) and proving to himself again and again that he can do it, no matter the crowd… or what his brother is wearing on stage to distract him. Kyle considers every cheer, round of applause and excited fan a significant moment in our career. The adrenaline rush that comes with a positive reception to what we do is more than enough to spark pride in the both of us… however, being asked to tour the UK with British rock legends Magnum does feel like a considerable success.
KEEP IN TOUCH:
FACEBOOK | INSTAGRAM | TWITTER | SPOTIFY | WEBSITE | YOUTUBE
Photo credits: Lee Hamilton-Cooper