PSY's 'That That' MV features BTS' SUGA, and 'He Looks So Good'. BTS Suga will be seen bopping to Psy's aggressive choreography in his new song video That That! The highly anticipated music video's releasing date and timing are listed below.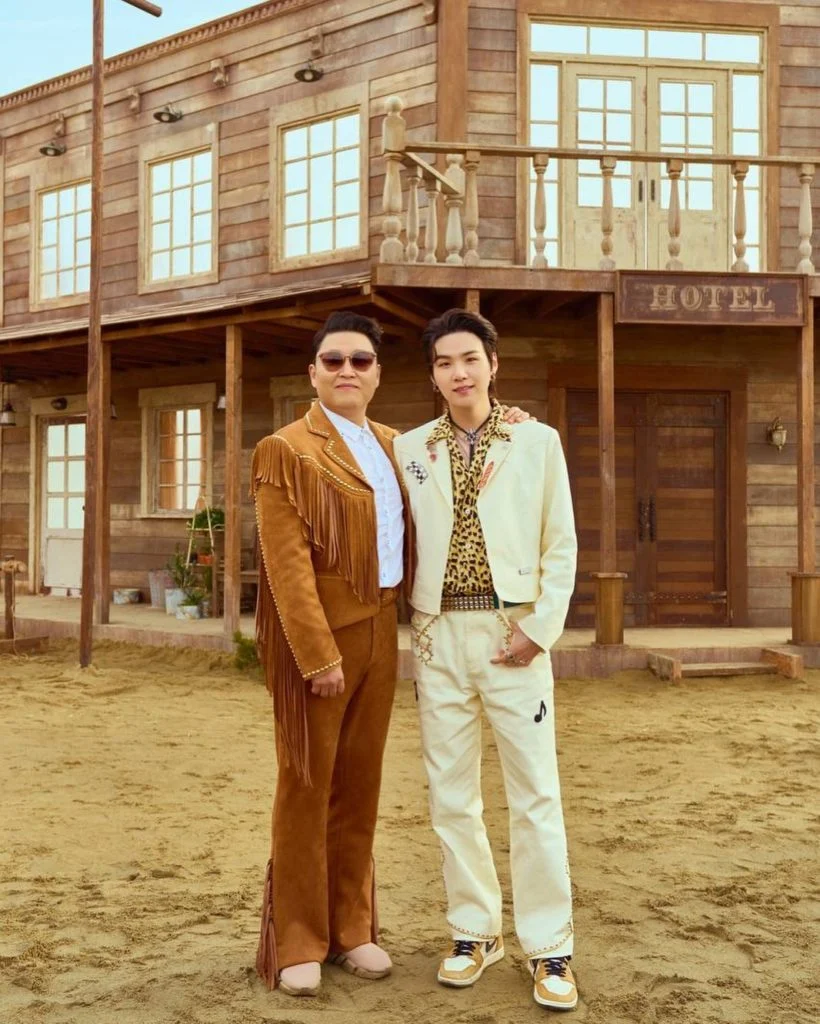 Psy's forthcoming album, named Psy 9th, is now trending on the internet due to its star-studded feature list, which includes South Korean hip-hop singer Jessi, Tablo, Mamamoo star Hwasa, and other well-known personalities.
But Psy's biggest revelation is the icing on the cake for BTS ARMY. In addition, the Gangnam Style singer has enlisted BTS Suga for a full-fledged cameo in the music video for his song That That.
Suga, aka Min Yoongi, revealed that he initially assumed he'd be producing the song just for Psy. However, after a few in-person sessions, the cooperation grew into a full-fledged project, requiring Yoongi to master extensive choreography.
RELEASE DATE OF PSY'S THAT THAT FT SUGA
Psy's That That will be released on April 29th, 2022, at 6 PM KST/ 5 AM ET. Check out the international release schedule below.
Pacific Time: 2 AM PT, April 29
Central Time: 4 AM CT, April 29
Eastern Time: 5 AM ET, April 29
British Time: 10 AM BST, April 29
European Time: 11 AM CEST, April 29
Indian Time: 2.30 PM IST, April 29
Philippine Time: 5 PM PHT in the Philippines, April 29
Japan Time: 6 PM JST, April 29
Australian Time: 6.30 PM ACST, April 29
Singapore Time: 5 PM, April 29
WHERE TO STREAM THAT THAT MV FT MIN YOONGI
The music video of That That will be released on Psy's Official YouTube channel on April 29th at 6 PM KST/ 5 AM ET.
The MV will be accompanied by his album, Psy 9th.
Watch the music video below.
BTS ARMY EXPLAINS HOW PSY PUSHED YOONGI WITH A 'BANG PD'

BTS Suga has been duped before, from dreaming of being a Bangtan music producer and rapper, as promised by Bang Si Hyuk, to really pulling off the most difficult choreography routines in K-pop.
Fans are now recalling how Psy used the same methods on Suga as Bang PD to entice him into a music video and force him to learn the difficult choreography.
Suga said: "I seriously didn't expect to be dancing with Psy. I thought I am only writing the song."
Psy added: "At the beginning, we met because he wanted to produce my music. Then he ended up featuring on the track. Then he ended up learning the intense choreography. Step by step, he got more involved, our Yoongi!"
Gushing on the collaboration, a fan wrote: "Psy really pulled the Bang PD technique of luring Yoongi in with promises of only producing but eventually making him dance!"
A second fan chimed in adding: "Psy really pulled a Bang PD on min Yoongi, he thought he was only going to produce the song but ended up featuring, starring, and even doing a choreo with Psy!"
Excited about Psy and Suga's That That? Watch the music video on April 29th at 6 PM KST/ 5 AM ET.