Abe Parker appeared on the For You Page of listeners all over the world in 2021. He is hardly a novice to the music world, despite his breakout song "Empty House" taking Tiktok by storm. Abe Parker has written and produced songs for Marc E Bassy, David Kushner, Lecrae, Crowder, Social Club Misfits, and Jaylon Ashaun, in addition to writing, producing, and mixing his own tracks, which have accumulated over 16 million streams. Anyone can be stopped in their tracks by his sincere voice and tunes that express deep emotions paired with raw lyrics. Abe's distinctive writing has his fans and the industry listening to him speak on topics ranging from social anxiety to breakups to love ballads. Check out the exclusive interview below: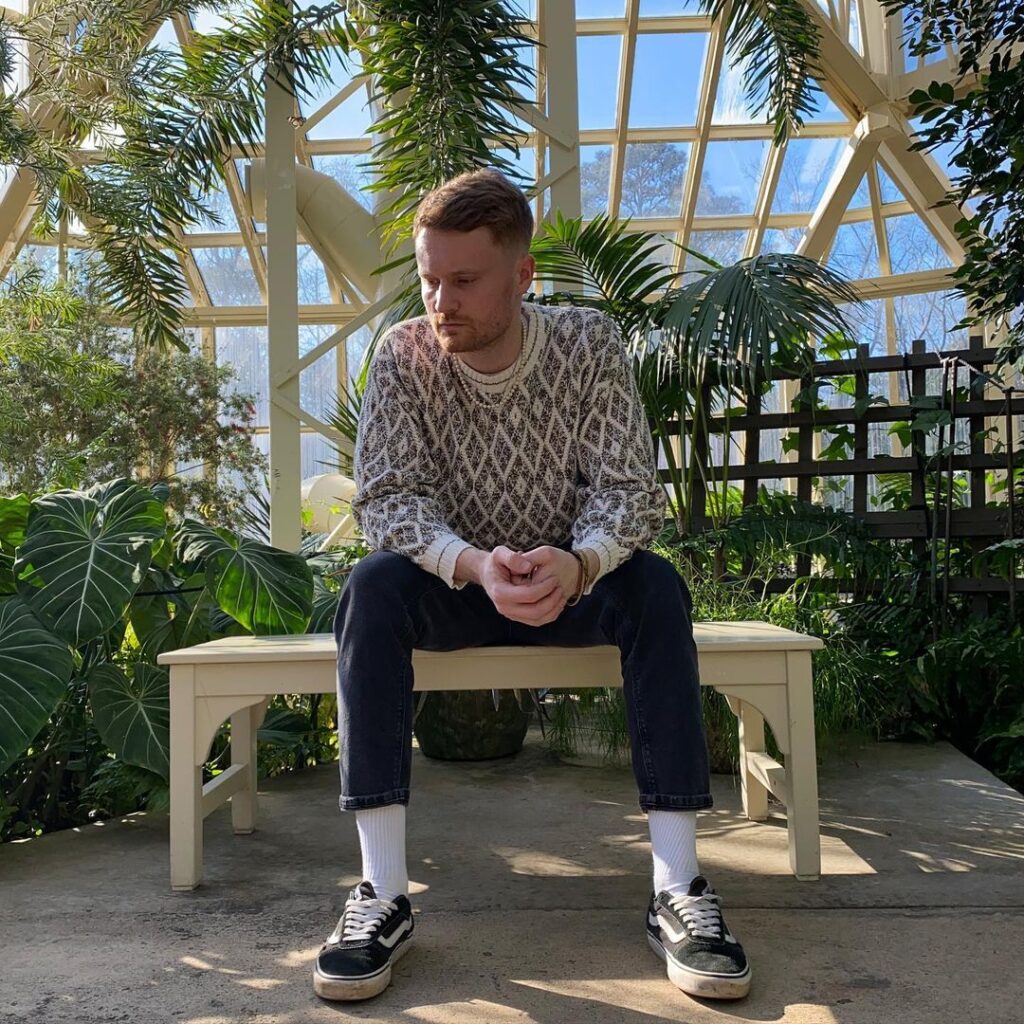 1. Can you tell us a bit about where you come from and how you got started?
Abe Parker: I am originally from a small town in rural Ohio. There were only two stop lights in my hometown and naturally not a whole lot to do except skateboarding and writing songs. Both of my parents played guitar and so starting a rock band in Jr. High came naturally. We were writing all our own songs and trying to play guitar solos behind our heads. Lol. It was a great time. Our band's name was named Artificially Flavored. I remember recording our first song on a little cassette tape recorder and playing it for all of our friends at a soccer game. It was so bad, but we thought it was incredible. I miss those days.  
2. Did you have any formal training or are you self-taught?
Abe Parker: I am formally trained on the guitar. I took lessons from my Mom and when I was 12 I took from an incredible teacher named Chuck Spires. I also took while in college. The ironic part is that most of my music now is piano based and I was almost 100% self taught for that. I used to sneak out of study hall in high school and go down to the school auditorium. There was an old piano there. I used to spend hours learning songs and writing melodies until a teacher would come and ask me what I was doing. The only formal training on piano I had was one intro to piano class in college… which I actually failed. The only class I've ever failed… however it was predominately due to the fact that it was an 8 am and as a college freshman I slept through nearly every class.
3. Who were your first and strongest musical influences and why the name 'Abe Parker'?
Abe Parker: Well.. you'll have to ask my parents why Abe Parker. lol. And my influences are ALL OVER THE PLACE. My parents were big 60's/70's folk music fans. I always loved hearing them sing James Taylor and John Denver tunes after they put me and my siblings to bed. In high school I was pretty into the Christian Punk and Rock scene. Relient K and Switchfoot were always on repeat play in my CD player. In college I got into it all. John Mayer, Lupe Fiasco, Kanye, Owl City, D'Angelo… so many more. Literally every genre and vibe that was out there. And ever since my tastes have pretty much stayed just as eclectic. However, I think the sad pop vibes resonate with me the most while I'm creating. Though, when I'm listening I'm alllll over the place… side note my current favorite is Bruno Major.
4. What do you feel are the key elements in your music that should resonate with listeners, and how would you personally describe your sound?
Abe Parker: I think people resonate with my honesty. I think adding little dumb specifics to my songs really helps listeners to know that what I writing about is coming from a real place. I think my voice has a unique tone you don't really find anywhere else. I did a lot to craft that but at the end of the day God gave me the voice type that I have. I also think my production and mixing is a key element in my sound. I really try not to overcrowd the lyric with the production as much as possible but also add lots of unique elements. For one of my recent songs I sampled a recording of my car engine and then pitched it down and slotted it out to make it the bass line. Things like that make me super happy and I think it gives people the feeling that what they are hearing has a certain newness to it.
6. What's your view on the role and function of music as political, cultural, spiritual, and/or social vehicles – and do you try and affront any of these themes in your work, or are you purely interested in music as an expression of technical artistry, personal narrative and entertainment?
Abe Parker: The best compliment you can give a songwriter is this… Wow, I've always felt this way, but it wasn't until I heard your song that I knew how to describe it. When music describes a feeling that someone else has always had but didn't know how to express it, I think that is where the real magic is. That's my goal with music. I'm so insanely grateful that I've been able to write songs about things like social anxiety, self-sabotage and breakups… to name a few… I'm so honored that my dm's are flooded with people opening up about the deep and dark parts of their lives to me, a complete stranger. I really think it's because I've given them a way to express a feeling they have never had the right words/sounds for. I'm so insanely humbled by this. As a musician this is my goal. As a Christian I want to give them the ultimate thing that has helped me through my social anxiety, depression, breakups ect. And that is having a relationship with Jesus. Knowing that the God of the universe cares enough for me to make a way for us to be together is an incredible way to get out of any hole I find myself in. I plan on having maybe 1 song out of every album to be about that. I don't want to be preachy but I also love sharing what was gotten me through my difficult times.
7. Do you feel that your music is giving you back just as much fulfilment as the amount of work you are putting into it, or are you expecting something more, or different in the future?
Abe Parker: I am definitely the type to set goals that are way out of my reach. I think music has given so so much to me but a lot of times it's hard to bring my expectations down to earth and smell the roses for bit. I am insanely lucky to get to do what I love!!!
8. Could you describe your creative processes? How do usually start, and go about shaping ideas into a completed song? Do you usually start with a tune, a beat, or a narrative in your head? And do you collaborate with others in this process?
Abe Parker: I used to start off with melody and harmony and then find the lyrics. Recently I've been doing lyrics first. I've found that melody comes much easier for me and when I have the concept and a line or two everything gets finished quicker! I try to jump in and write and track the whole song with thinking much about production. Most of my songs have the final vocals cut before I even start on production.
9. What has been the most difficult thing you've had to endure in your life or music career so far?
Abe Parker: I'd say the most difficult part of my career was my first 4 or so years in Atlanta. During that time I was essentially homeless and sleeping in my car for a good part of the time. I did a lot of street performing for tips and took a lot of river/lake/gas station bathroom showers. Yuck. I did have a lot of good friends and met several wonderful families that took me in for extended periods of time.
10. On the contrary, what would you consider a successful, proud or significant point in your life or music career so far?
Abe Parker: I think my last song Butterflies has been one of my proudest moments. I remember before the song came out there were fans who had taken the 15 second clip of the song I had posted on tiktok and had looped it out for like 20 minutes on YouTube videos. Before the song even dropped these YouTube videos were getting 20-30 thousand views!!! I think that's when I knew that Butterflies was going to be a big moment!
KEEP IN TOUCH: