AMONG THE MASSES are Swedish musicians who represent the country's musical tradition. Its members became close friends over their shared appreciation for dark masters like Depeche Mode and The Cure, as well as guitar-based bands like Radiohead, Pink Floyd, and Television. They also incorporate rock, new wave, nostalgia, and Eighties elements into their sound. The gold and platinum award-winning producer Andreas Ahlenius is the band's best kept secret (lovingly referred to as the fifth member).
THE MASSES INCLUDE: vocals by DAVID LIEBE backing vocals, keyboards, piano, and programming by ANDREJ ANDERZON MLLER Bassist MATS GABRIEL-BURMAN The lyrics of KENT ALFREDSSON. Check out the exclusive interview below: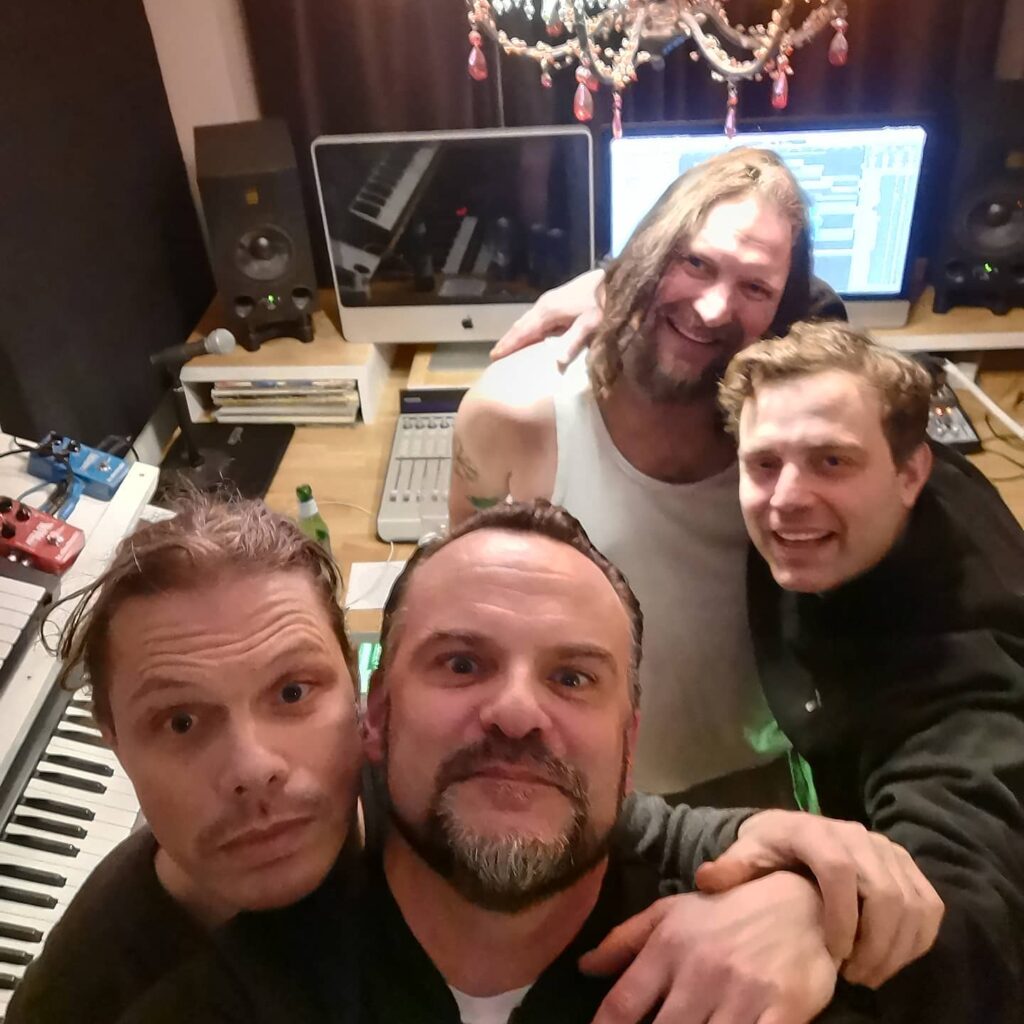 1. Can you tell us a bit about where you come from and how it all got started?
AMONG THE MASSES:  All the band members live in Stockholm and we met through mutual friends. It turned out that we had similar taste in music and it didn't take long before a band was formed.
2. Did you have any formal training or are you self-taught?
AMONG THE MASSES: We haven't much formal training besides shorter courses in music production.
3. Who were your first and strongest musical influences and why the name 'AMONG THE MASSES'?
AMONG THE MASSES: Our biggest musical influences are first and foremost Depeche Mode, New Order and The Cure. There are also other bands that have inspired us such as Pink Floyd and Radiohead, they are masters when it comes to crafting moody melancolic soundscapes. The band name Among the masses came from the notion that most people want to be famous but only a few will make it. Most people will be part of the unknown masses or be "Among the masses". It became a commentary about the culture of fame in a way
4. What do you feel are the key elements in your music that should resonate with listeners, and how would you personally describe your sound?
AMONG THE MASSES: The reason we make music in the first place is our passion for great melodies and also the love for a nostalgic blend of indypop and new wave of the 80s.
5. What's your view on the role and function of music as political, cultural, spiritual, and/or social vehicles – and do you try and affront any of these themes in your work, or are you purely interested in music as an expression of technical artistry, personal narrative, and entertainment?
AMONG THE MASSES: We decided early on to stay away from political and cultural issues because we don't think that music leads to any real changes. It's better if people become activists for a common cause or engage in a political party instead. We are a lot more interested in music that expresses the narrative of the individual and as an expression of technical artistry
6. Could you describe your creative processes? How do usually start, and go about shaping ideas into a completed song? Do you usually start with a tune, a beat, or a narrative in your head? And do you collaborate with others in this process?
AMONG THE MASSES:
The creative process can start from a beat, a couple of words in a lyric, a great sequencer, anything that can jumpstart our inspiration. Sometimes we collaborate with musicians outside the band, usually drummers or guitarists. It all depends on what we need to complete the song. We experiment a lot with different kinds of sequencers, it's a great launchpad when crafting a song. Most of our songs have been produced by Andreas Ahlenius, he have really shaped our sound in a great way and a few times we have also worked with other producers such as Nille Perned and Jerry Sillah.
7. What has been the most difficult thing you've had to endure in your life or music career so far?
AMONG THE MASSES:The hardest thing to endure for us is just a lack of time because we all have busy lives, we often complain about it and it's very bad for creativity.
8. With social media having a heavy impact on our lives and the music business in general, how do you handle criticism, haters, and/or naysayers in general? Is it something you pay attention to, or simply ignore?
AMONG THE MASSES: When it comes to social media we have decided to pay no attention to it. We can not please everybody all the time anyway. We have to trust our intuition instead, it is a good survival strategy for a band
9. Creative work in a studio or home environment, or interaction with a live audience? Which of these two options excites you most, and why?
AMONG THE MASSES: Among the masses is very much a studioband, we love the whole process of starting with an idea and expanding it through improvising and collaboration in a studio-environment. When you have a good flow, nothing can top that experience.
10. Do you think is it important for fans of your music to understand the real story and message driving each of your songs, or do you think everyone should be free to interpret your songs in their own personal way?
AMONG THE MASSES: We have the notion that most people want their own interpretation of a song and we make music from a subjective point of view to begin with. So our hope is that fans will make up their own mind about the real meaning of the song.
KEEP IN TOUCH:
FACEBOOK | SPOTIFY | BANDCAMP