BlimeyOhRiley are British musicians from the sleepy county of Devon. a group of musicians who, to name just a few, have performed on stages alongside Noel Gallagher, Frank Turner, and Megadeth. They combine more genres, styles, and influences into one punk-fueled performance than you can shake a rhythm stick at. Because of this mindset, their fans have dubbed their live performances "Adventures in SKA/ROCK/REGGAE" and labeled them as "NON-GENRE SPECIFIC."
In 2016, they finally released their long-awaited debut self-titled album, which was received with a somewhat mixed reception after several by this point rare and sought-after demos and EPs circulated in the local scene. Although this was disappointing for our heroes, in 2019 they made a comeback with a new version of the acoustic hit song "Living In The Unknown." With the release of this single, the group started to take a new, successful direction. Their brand-new EP, "Where we are merely imaginary," was released in July of 2022. According to bassist and group leader Deano, "This record will be so different from anything we have ever done, and that's not just because the songs are new."
Check out "Where We Are Merely Imaginary" and the exclusive interview below: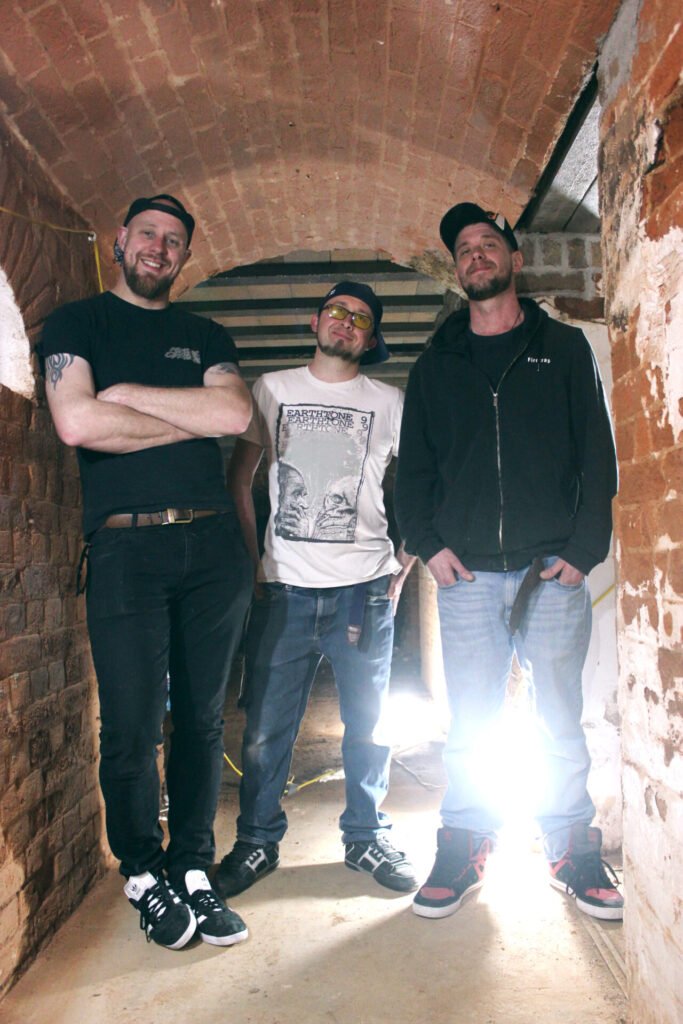 1. Can you tell us a bit about where you come from and how you got started?
BLIMEYOHRILEY: We come from a little sleepy town in the heart of Devon's lush rolling hills, called Honiton. Fairly quiet and very family orientated town. Come and visit, the ice cream at the dairy is awesome. As for how we got started, it's a fairly standard origin really. I was in a group that split up and I didn't want to stop playing gigs and also didn't want to wait to get a new band together or search to join something. No, if the opportunity to continue the next week occurred, I wanted to be able to do it. So, I just grabbed my acoustic and harmonicas and did exactly that, luckily for me, that singer songwriter thing was very popular at the time. It was good for a few years, I played some cool shows. I even had the privilege of playing before Frank Turner, who was up and coming. The other guys joined in 2011,. It was only supposed to be for one show. 10+years later I can't get rid of them, and believe me I have tried, I can tell you. Obviously the sound has changed dramatically since then.
2. Did you have any formal training or are you self-taught?
BLIMEYOHRILEY: Personally, I had guitar lessons when I was a lad. Never any singing tuition.Deano will always say that Fish taught him how to play bass.Oh, when he says that he means our drummer not aquatic life forms. Our drummer, Fish isn't even a drummer. He's a guitar player(amongst other things that I cannot mention) so figure that one out if you can.

3. Who were your first and strongest musical influences and why the name 'BLIMEYOHRILEY'?

BLIMEYOHRILEY: The name was carved in place when I was playing on my own.I remember setting up the MYspace page, which was a sort of beta Facebook thing back in the day.I sat there for an hour or so typing in my name, other variations on my name and then typed BlimeyOhRiley.I spelt weird. NOt sure why. Not many people can spell it right, Those who do, have a gifted skill of observation that surfaces the average human. Good for them, I say.We love to see the differentvariations of incorrect spelling, it makes us laugh..Some are hilariously inaccurate.I can only speak of my own influences really,apart fromI know Fish really likes Peter Andre.Love most msic, but im influenced bu a lot of Punk and Hardcore and progrssive music. Bands like Glassjaw, The Mars Volta and Pennywise are always circling my record player, or whatever I'm listening to music on. Thats to mention but a few, all the Ska, reggae and Swing in our music is something I love too. I can't pin myself down to one style. That's why everything is such a Frankenstein of moments I think our new EP "Where We Are Merely OImaginary" shows off a ton of different styles and influences. We should put out a competition for people to guess what those are, like an easter egg hunt. Deano can cook the winner dinner or something.

4. What do you feel are the key elements in your music that should resonate with listeners, and how would you personally describe your sound?

BLIMEYOHRILEY: We are non-genre specific and proud of that. It's what we decided to be and it keeps it interesting for us and the audience. Especially if they haven't seen or heard us before. It could go anywhere. That sounds great when you say it out loud, but realistically it doesn't help much when pigeonholing yourself into a box. At least it gets some laughs. We get complimented on the lyrics quite a lot. Which is humbling to say the least. I'm not sure if they are tapping into what the song is about or if they just like the choice of words and rhyme, but all in all I think the audience generally likes the change of pace form movement to moment in the songs. Personally, I think it just sounds like Punk Rock.
6. What's your view on the role and function of music as political, cultural, spiritual, and/or social vehicles – and do you try and affront any of these themes in your work, or are you purely interested in music as an expression of technical artistry, personal narrative and entertainment?
BLIMEYOHRILEY:
Music can bring like minded people together. Either through a shared belief or political view. I think Political views in music are important. A lot of people can find a voice to rally behind and maybe help from their own personal views about how the world is run. We got friends in a band who have roots with The Extinction Rebellion and their lyrics are very linked to that. It's cool if You have something like that. Your audience has something to relate to. I don't really have many political views apart from I don't trust any politician. Our lyrics and song are about day to day stuff. Washing the car, taking out the bins, that sort of thing. Well. maybe not those things exactly but more about experience. I think on our new EP "Where We Are Merely Imaginary" there are a lot of personal metaphors included in the lyrics. I don't recall writing much before that was so close to home. With that said, I guess our artistic output is for fun and maybe self satisfaction. A sort of therapy.
7. Do you feel that your music is giving you back just as much fulfillment as the amount of work you are putting into it, or are you expecting something more, or different in the future?
BLIMEYOHRILEY:
If I define fulfillment as a feeling of pride and satisfaction for a body of work I'd say yes. From a financial side, probably not, but that's an old thing isn't it? The broke musician. I think the modern music industry is great for releasing and putting yourself out there, but the pay sucks. It's cool though, I'm proud of what we create, and will continue to be.
8. Could you describe your creative processes? How do usually start, and go about shaping ideas into a completed song? Do you usually start with a tune, a beat, or a narrative in your head? And do you collaborate with others in this process?
BLIMEYOHRILEY:
It could start anywhere really. A few chords, humming a tune, even a bass line. I have been known to write songs in the shower, seriously. While water soaks my noggin, amongst the steam, I have begun to sing words in a melody and when I get out I#ll work them out on guitar and it starts there. Then I grab a towel and dry myself. Im' not joking, this is true. Iving in the unknown Daytime TV Heartbreak and Rapscallious were all mostly written in the shower. I like to think I'm quite open to suggestion when we come to rehearse and shape the songs. The other two have awesome ideas. Sometimes Deano will come to me with some lyrics and a tune and we will work it out together, I like that process a lot. A No Hope was written like that. In fact Deano wrote one of my favorite songs from our first album. A pinch of salt, I love that track. Pure genius.
9. What has been the most difficult thing you've had to endure in your life or music career so far?

BLIMEYOHRILEY:
Losing my voice during the first lockdown was a pain in the backside. They say "Don't use it. Lose it" or something to that effect. I lost power and precision, I like to think I got it back, but yeah that was worrying. We did have a cease and desist message from Universal. You know, as in Jurassic Park and Back to the future? Our little watched video of a cover that I will not mention properly, we'll just call it Motel Pennsylvania, was a copyright infringement. No big deal. It's funny to think that little old BlimeyOhRiley form Devon came across as some sort of threat to such a giant. Makes I laugh.
10. On the contrary, what would you consider a successful, proud or significant point in your life or music career so far?
BLIMEYOHRILEY:
I think, again, it's how you would measure success. For some, it will be gaining some status of fame and fortune. That's fine. Others, like to tour frantically and end up on stage with some big acts. We have done this , but at the end of the day, it looks impressive on bio or something but, it didn't matter to us. I think the most successful thing is that after nearly 12 years , we are still together and don't push our weight about on each other, and maintain a good amicable relationship. Some groups hate each other, I just hate our drummer. Only joking, or am I? All in all, I think that the most successful moment has been completing and releasing our new EP, "Where We ARE Merely Imaginary". Which is available on multiple streaming platforms worldwide. Thats a pretty cool achievement.
KEEP IN TOUCH:
FACEBOOK | INSTAGRAM | SPOTIFY | WEBSITE | YOUTUBE