A genre-fluid little punk in pink from the northern part of England, BUZZKILL JOY constantly aims to surprise, excite, and energise. He will mix genres with meaningful lyrics and a cross-EP storyline for his concept EP, which will be released soon. This will give the world a debut EP that is full of youthful energy and rebelliousness but is also rooted in maturity and focus. His recently released debut song, "birthday cake," which features catchy hooks, genre-bending, and artistic lyrics, embodies this. Check out his debut single "birthday cake" and the exclusive interview below: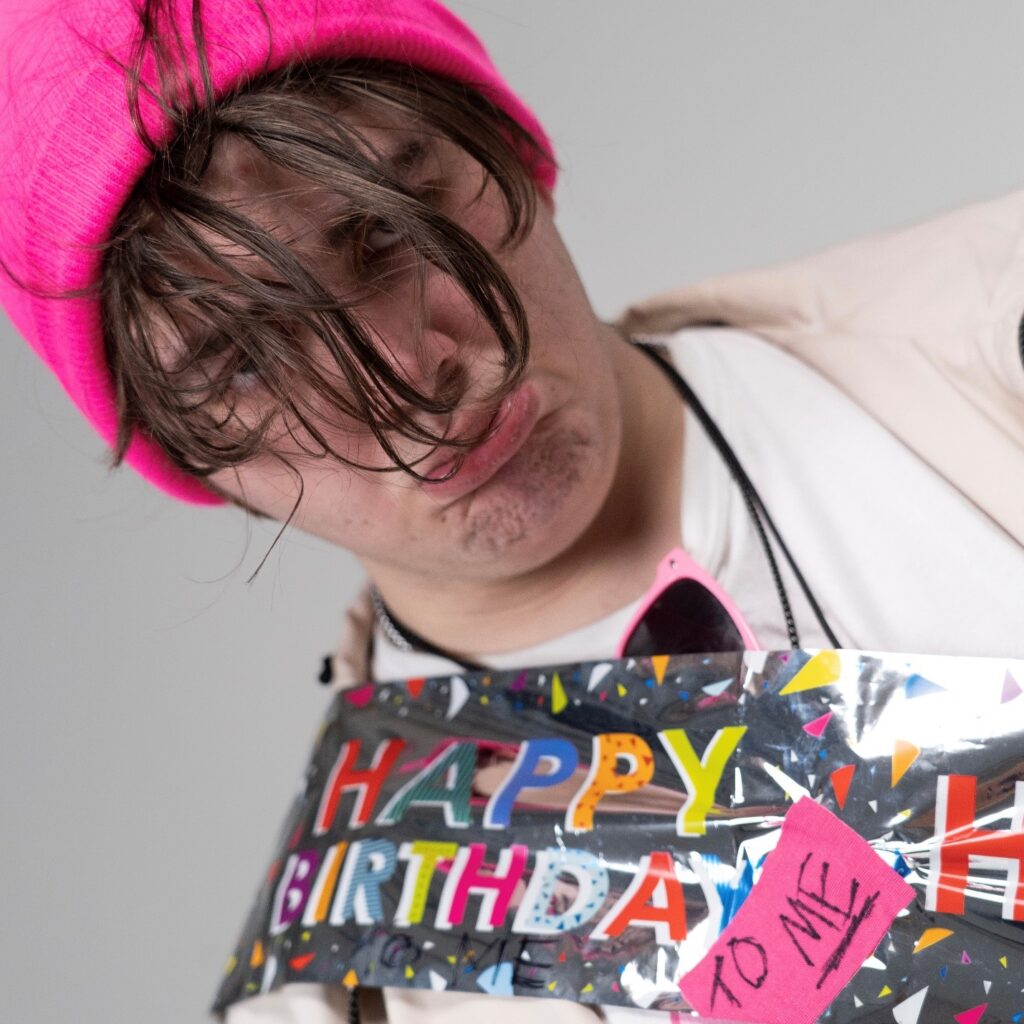 1. Can you tell us a bit about where you come from and how you got started?
BUZZKILL JOY: Yeah absolutely. Well I come from a big town up in the north of England called Scunthorpe. It's a pretty dead, sleepy place really. Not much goes on. It used to be a big steel manufacturer but most of that has closed down now, so even though it'll forever be my home, it's kind of lost its soul. That's why I moved to London a few years back to go to university and to eventually start a wee music project alongside.
That project ended up being BUZZKILL JOY. I took ages and ages to kind of plan it out, craft an image, pick a name, write a big backlog of songs, and find my musical purpose/ sound. That all took like 2 years before I officially launched this buzzkill moniker back in April. It was a seriously f*****g difficult journey. As of 2020 I basically couldn't sing and couldn't play the guitar at all. Both of which are now my 2 staples in songwriting. All I could do was play the drums. So I was kinda stuck and pretty much gave up on music once I moved to uni. But, starting in the first 2020 lockdown I started learning both guitar and singing through nothing but YouTube videos and go old trial and error, and after a while I got to a decent enough level to consider pursuing music again. And so my musical dream was – and is – firmly back on track babyyyy
2. Did you have any formal training or are you self-taught?
BUZZKILL JOY: Well I'm a grade 8 drummer but in terms of formal training nah that's it. My singing and guitar are just self-taught. I don't know any theory at all pretty much. I could only name you like 2 guitar chords, and even that would be a push. I'm just s**t at sitting and learning definitions and fancy f*****g musical words that have just no use to me at all other then to show off. 'Oh I'll play this forte'. Just say you'll play it loud you pillock. If anything that kinda stuff genuinely kills my creativity. So nah, I try and stay as homegrown as possible
3. Who were your first and strongest musical influences and why the name BUZZKILL JOY?
BUZZKILL JOY: My first musical influence was green day. I was the sweatiest little fanboy ever. I had all the T shirts, posters, CD's, mugs and s**t, and they were the first proper band I saw live when I was like 12 at the Emirates stadium. It was just so sick. I was so awe inspired that these guys travel the world and play their tunes to millions. What a f*****g life. I'm pretty sure that gig subconsciously planted a seed in my lil' prepubescent mind that that's what I wanna do.
But in terms of overall influence then one artist doesn't even come close to the rest. And that f*****g genius is Yungblud. That guy – without being melodramatic – literally changed the trajectory of my life. I first discovered his world in the same 2020 lockdown that I started learning guitar and singing, so it perfectly coincided with my personal kind of renaissance in music. And he inspired me like no one I've ever known. His passion, focus, absolute boundless creativity and attention to true meaning was just so infectious. I've never been captured by an artist so much – and I was f*****g 20 years old for Christ sake. I think a huge part of it is that we share so many overlaps in our life. Our home towns are only about 20 miles apart, we both had serious behavior and hyperactivity problems growing up, both have a f*****g lot to say, and we both moved to London as teens to follow our 'dreams' that turned out to be false – so he made my real dreams feel relatable and therefore achievable. He wasn't an LA rapper. He was a local lad from my neck of the woods with some songs, a message, and a f**k-tonne of energy. So he almost single-handedly opened my mind and helped me find my own musical and personal identity. My fashion changed drastically and became way more expressive, I wore eyeliner for the first time at a Yungblud show and f*****g loved it, and my whole outlook on things just changed. I became so much more rebellious and live and let live after being a cow towing little b***h for most of my teen life. As Buzzkill Joy I literally wear pink bandages on my hands as part of my image in pure homage to Yungblud and his pink socks for everything his music has done for me. I'll be forever be grateful.
4. What do you feel are the key elements in your music that should resonate with listeners, and how would you personally describe your sound?
BUZZKILL JOY: The key elements for me are simply true meaning and eclecticism. One of the main reasons I never really liked pop was because of the absolutely soulless, generic lyricism and often standardised sh***y instrumental. There was never a deep story told or a contentious topic grappled with. It's nearly always a play-it-safe attitude atop 4-to-the-floor drums and a generic chord structure, and that's just so f*****g boring man. I on the other hand will always talk about interesting, deep and contentious stuff in my songs. Whether it's following a cross-track narrative or character like in my first EP, or songs holding meaning in their own right, it'll never be generic. In this upcoming EP for example I talk about money, fulfillment, politics, greed, depression, insomnia, narcissism and a s**t-tonne of others, and I just think it keeps it interesting, unpredictable and relatable.
My sound I think is similar, in that I really hate a kind of standardised or expected sound (although developing certain traits are cool). So to be eclectic and genre-fluid is totally essential to me. I know I'd get bored making the same sounding music, so to me that means a listener would as well. So I'll absolutely always try and make something different to what I put out previously. Mixing genres and using totally different instruments for each song is my fave way to do it. For example I've only got 2 songs out right now, but they're already wildly different from each other. My first (birthday cake) is a kind of alt-pop-punk-indie-ska track that has a guitar solo, a banging lil' riff and real high energy. Whereas my second (LEHMAN WEEKEND) is a more chill, downbeat indie-folk-pop kind of vibe that starts with just a ukulele and ends in an epic crescendo with a string section and s**t. So if you can pull off eclecticism whilst making sure the songs work well alongside each other I think it can really help you stand out from the crowd.
6. What's your view on the role and function of music as political, cultural, spiritual, and/or social vehicles – and do you try and affront any of these themes in your work, or are you purely interested in music as an expression of technical artistry, personal narrative and entertainment?
BUZZKILL JOY:
This will will all become clearer in the project that comes after my upcoming EP. In the next project I really hone in on what Buzzkill Joy us about, and I wanna suck as many people into that purpose with me, and that purpose is fulfillment. I think it's the most important thing on earth. If you're fulfilled then everything good you can think of will usually come as a byproduct, like happiness, health and f*****g life you can call your own. I am passionately, ruthlessly, angrily against the 9-5 rat race b*****ks. It ensnarls people that once had, or even worse still have, dreams in life, but now have a fiscal pistol pressed against their temple and are expected to whither away like 70% of their f*****g life (the best part of it) to make the other 30% less miserable. Lining the bosses pocket with the wealth of our collective time. It's not okay. The dreamers need to f*****g dream.
7. Do you feel that your music is giving you back just as much fulfilment as the amount of work you are putting into it, or are you expecting something more, or different in the future?
BUZZKILL JOY:
Well as a brand new artist I think it's fair to say I'm expecting hopefully at least just a little bit more in terms of growth etc. But even at my super small level I've already got a wee little posse of super dedicated supporters that message me regularly, share all my stuff and get all excited for my releases.. And it's that s**t that gives me the absolute fulfillment. Because I know how excited I get when someone like Yungblud or green day put something out. So to think that I'm creating that same (or similar) level of excitement for even one person is just f*****g magical. It's instant validation and a motivator to keep making more. They're just amazing. I can't thank them enough.
8. Could you describe your creative processes? How do usually start, and go about shaping ideas into a completed song? Do you usually start with a tune, a beat, or a narrative in your head? And do you collaborate with others in this process?
BUZZKILL JOY:
Always as fluid as possible. No set process is healthy i think. It doesn't cut off any creative possibilities. that being said the primary way I seem to write is to find some interesting chords, find a catchy lyric melody or hook through trial and error, record it on my voice notes (I've got about a thousand song seeds on there I promise you), and then carefully piece lyrics to it organically over what could be a few minutes, weeks or months til I go 'ooo f**k yeah, that's the one'. I love meaningful lyrics. Like genuinely meaningful. Not the 'i lost my b***h even tho we were hitched' kind of modern meaning. My lyrics are always and will always be about big, hard hitting topics like money, time, death, anxiety, depression, politics, identity, philosophy etc. so I'll try and piece together a bunch of songs that conceptually work well alongside each other to form and EP or album, then I'll work through them meticulously with my producer and make them as diverse sounding as possible. Difference is always mandatory

9. What has been the most difficult thing you've had to endure in your life or music career so far?
BUZZKILL JOY: Getting my music made and released is the biggest hurdle in itself. It took me 2 years and 3 different producers just to get a reliable means of making music. Then I had to find a decent photographer, graphic designer, videographer, mastering engineer, among others just put it out in a profession looking way. It's f*****g crazy the effort and little jigsaw pieces that have to fall in place before you can put out a decent sounding and marketed song. Hats off to anyone that does it. It's f*****g hard as nails.
10. On the contrary, what would you consider a successful, proud or significant point in your life or music career so far?
BUZZKILL JOY: Well I've only been out for a few months and only got 2 songs out so the list of achievements is a lil' bit stumpy right now. But it'll deffo have to be getting track of the week over at BBC Humberside (near my hometown). That was my first ever lil' slice of radio-play, so to get any extra recognition was just off the cards. But then to find out the track of the week thing was just mega. Was so buzzed when I found that out.
KEEP IN TOUCH:
FACEBOOK | INSTAGRAM | TWITTER | SPOTIFY | YOUTUBE
Photo credits: Harry Wheelwright