Doc Freighter is the hottest new band in London's underground music scene. The band, comprising of frontman and lyricist James Burridge, Zsolt Benko (bass), and Ollie Bruce (drums), formed in the aftermath of the Covid outbreak, and have swiftly amassed a devoted fan following, selling out coaches and filling to capacity London venues.
Early 60's britpop icons, such as The Rolling Stones, The Beatles, and The Kinks, 80's indie rock; Echo & the Bunnymen, and much newer and well-liked indie-rock acts, such as Arctic Monkeys, are cited as influences. Doc Freighter is poised for success, having gone from playing local pubs and clubs in their hometown to headlining much larger London-based events. Check out their song "Wax Lyrical" and the exclusive interview with the band below: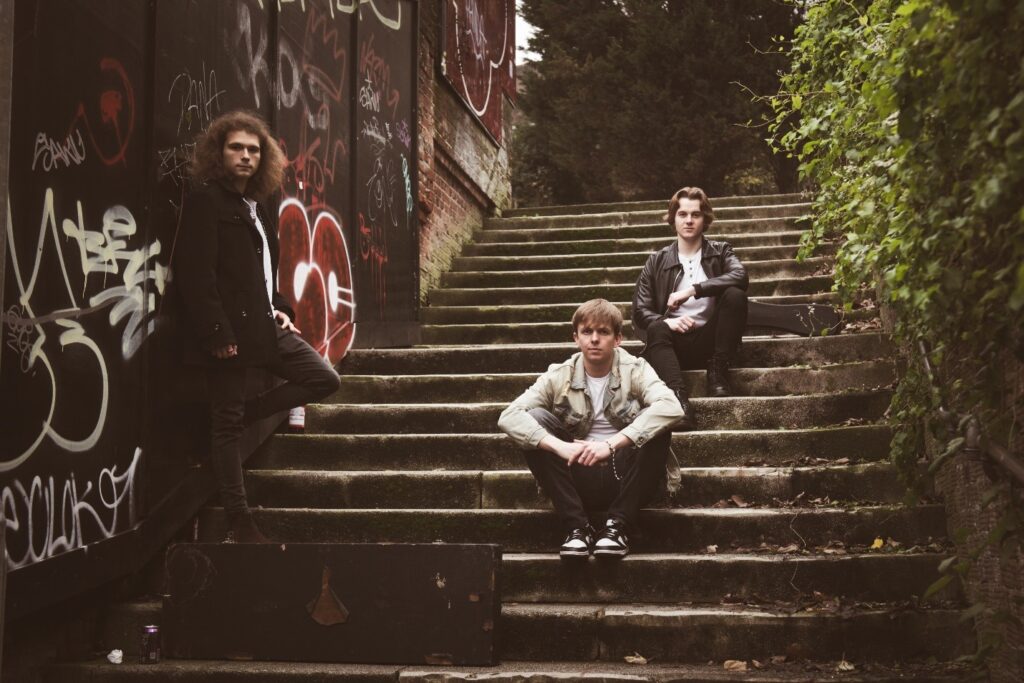 1. Can you tell us a bit about where you come from and how it all got started?
James: We are all from Dartford, a town just outside of London in the UK which has a deep-rooted music culture; the same town that the Rolling Stones grew up in which is one of our greatest influences. It's where I first developed my passion for music, and ultimately where I decided to study music.

Zsolt: Our music journey first started in secondary school, we were originally playing in competing bands. I remember we naturally gravitated towards each other as we had a lot in common and shared the same passion for music. I first met James, we used to get together during break time and we used to discuss music and he would also teach me bass. Eventually, we started band workshops and that's where we met Ollie.

James: We first formed the band at the start of the Covid pandemic. The pandemic inevitably took its toll on the band and slowed productivity tenfold; being unable to meet and rehearse our songs was a difficult pill to swallow. On the other hand, it did have a beneficial effect. The pandemic gave us the freedom to work in our own spaces and styles, and when we got together, it all converged into our own unique sound. I believe this is one of the most important contributing factors to our sound, and it is something we will continue to build upon with our future releases.

Ollie: I remember James phoning to tell me that the rehearsal studio had begun taking bookings, we rushed to book the first available slot. As soon as we walked into the rehearsal studio, the ideas began to flow. We all had our own unique song ideas and influences, and it was incredible to see it all come together. We left the first session with several songs and realised how far our sound had evolved and how much we had grown since then.
2. With the recent release of your debut single "Wax Lyrical" achieving international success, how is this affected your trajectory?
Zsolt: The mentality towards attendance is the change I can see the most. We used to worry about how to get people to the shows, but since the single's release, the situation has completely flipped on its head. It's amazing and a little amusing that we now worry we may fill the venues to capacity and fans not be let in. We now need to push for larger venues to accommodate the growth, which is something we never imagined and has opened a lot of doors for us.
We frequently hire coaches to take people to our performances to estimate the number of attendees, which has generated a very unique atmosphere and converted a lot of our gigs into more of an event and experience. We have also noticed a change in attitude; formerly, we would approach venues, but nowadays, increasingly larger venues are approaching us.
Ollie: We plan to use the increased attention the band has received since the release of our first single, Wax Lyrical, to help our next release get more worldwide traction. We can continue to build from there with a larger catalogue of songs and a larger fan base. The foundation for future Doc Freighter projects has already been laid by Wax Lyrical, which is why we are so eager to release our upcoming songs. In order to potentially appeal to all indie enthusiasts, we're also aiming to diversify our music catalogue with a number of more colourful and even darker tracks. We also want to improve our musical prowess so that we may make more complex music in the future.
3. Could you describe your creative processes? How do usually start, and go about shaping ideas into a completed song? Do you usually start with a tune, a beat, or a narrative in your head? And do you collaborate with others in this process?
James: It usually begins with one of us bringing an idea into the studio then we all kind of jump at it and collaborate, some songs do require more work, whereas others come together more quickly. We then record our own demos and play them in the car. If it sounds good it sticks. The songs do tend to come to us, we can't recall a time when we have ever had to sit down and write a song.For example, Wax Lyrical originated from a dream, a melody and opening lines which were brought into the studio and by the end of the session we had it down. I remember the dream vividly of being in a grand hotel, gold with red carpets and hearing the song emanating from one of the rooms, muffled. I was desperately trying to locate it, It wasn't until I had walked down the hallway and opened the door I heard the chorus melody clearly and then I woke up lept out of my bed and grabbed the guitar and wrote the song. I remember I presented to the rest of the band a very crude melody trying to explain and they knew exactly how to play it.
Zsolt: When James brought Wax Lyrical into the session and started playing it, it didn't take too long for Ollie to start adding his drum beat to it and soon I found myself playing the bassline. By the end of the session, we were all shocked at how quickly it all came together. I think this is probably the best example of how we work creatively and the chemistry we have together.
Ollie: We are of the belief that the songs are out there, we just need to catch them, like musical fishermen.

4. Where do you see yourselves in the future?
Zsolt: We have already got some goals and plans for the future. We are currently working towards securing our first festival slot. We also have a charity live stream coming up in the next couple of months benefiting War Child, children and refugees affected by the war in Ukraine, which we are extremely excited and proud to be a part of.
Ollie: With everything we do we push ourselves to achieve more, whether that be in Songwriting, or our live performance. We have had the opportunity to play at some incredible venues. Whilst we are fulfilled and at our best, when we are playing live in front of our fans, we are actively pursuing greater opportunities. Ultimately we see ourselves touring, playing on bigger stages, festivals and progressing internationally.
James: For the near future, we are currently in the studio and in the process of recording our next release and are looking forward to revealing what we've been working on. If you want to follow our journey then you can find us @docfreighter on all social media platforms.
KEEP IN TOUCH:
INSTAGRAM | TWITTER | SPOTIFY | WEBSITE
Photo credits: Mark Thompson