Dressed as a Wolf "Elektric Animals," a five-piece alternative band from Denver, combines blues-driven riffs with edgy production. A tasteful reimagination of 90s garage rock, blues, indie-rock, and a smattering of post-grunge emerges in early 2018. Nick Sanders, Oscar Jara, Will Hubert, Jerrid Vans, and Eric Everhart on drums make up the genre-bending quintet, which has been making a name for itself with a string of high-impact performances in the local music community. Several well-received singles have established them as a global rock force, and their most recent release, "Come Clean," teases the band's forthcoming EP "Channels," which is scheduled for release in 2022. Elektric Animals are the band for you if you like Arctic Monkeys, The Black Keys, or any band with a ferocious driving rock rhythm." Check out the exclusive interview below:
1. Can you tell us a bit about where you all come from and how it all got started?
ELEKTRIC ANIMALS: Most of the band grew up in the Denver metro area except for Will who grew up in Iowa. All of the band members have played in groups in the Denver music scene for years. Nicklas Sanders put Elektric Animals together as a way to get back to his rock roots. He sought out brothers Oscar and Mauricio Jara. Mauricio then contacted Jerrid Vans to play bass. Eventually Mauricio would leave the group to join Citra and longtime friend and producer of the group Eric Everhart would hop behind the kit. A couple years later the recordings would become more instrumentally diverse and another longtime friend Will Hubert would offer to play keyboards and synths for live shows eventually leading to a full time position with in the group.
2. Did you guys have any formal training or are you self-taught?
ELEKTRIC ANIMALS: We have all had formal training to some extent whether that be vocal lessons in college, piano lessons as a kid, grade school band etc… but we do not have degrees in music.
3. Who were your first and strongest musical influences and why the name 'ELEKTRIC ANIMALS'?
ELEKTRIC ANIMALS: I am going to keep this simple for musical influences which may be even too simple. Nick is the 90s alt rock guy. Oscar is the classic rock/blues guy. Jerrid is the heavier funk rock dude. Eric is the 80s new wave guy. Will is the indie rocker. The name Elektric Animals comes from what we become when we step on stage. There is something that happens at a rock show that can't be explained. Some sort of energy transference between all the humans present. Some type of electricity we all share.
4. What do you feel are the key elements in your music that should resonate with listeners, and how would you personally describe your sound?
ELEKTRIC ANIMALS: I think the rhythms should resonate most with listeners. Each of our songs have a groove deep enough to get stuck in. We make Rock tinged with pop and melancholy lined with hope.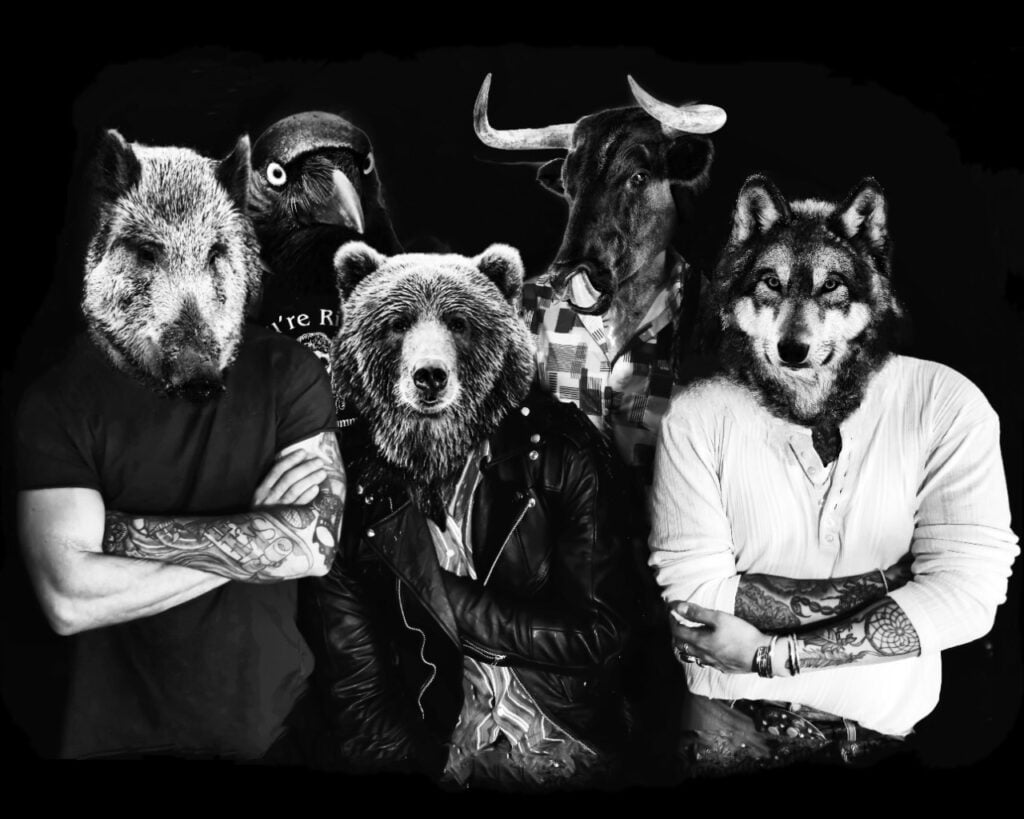 6. What's your view on the role and function of music as political, cultural, spiritual, and/or social vehicles – and do you try and affront any of these themes in your work, or are you purely interested in music as an expression of technical artistry, personal narrative and entertainment?
ELEKTRIC ANIMALS:
Elektric Animals is about personal narrative. Each song is a story that you are already familiar with. Nicks words have an ability to resonate within people so quickly because of how he can paint a picture with his words.
7. Do you feel that your music is giving you back just as much fulfillment as the amount of work you are putting into it, or are you expecting something more, or different in the future?
ELEKTRIC ANIMALS:
Yes, every time we get on stage there is no doubt why we do what we do.
8. Could you describe your creative processes? How do usually start, and go about shaping ideas into a completed song? Do you usually start with a tune, a beat, or a narrative in your head? And do you collaborate with others in this process?
ELEKTRIC ANIMALS:
I would say EA songs come in this order. First is the chord progression for the verse and chorus and then comes the vocal melody. If everything is strong within those first couple steps we know we have a leg to stand on to finish the song. So after that comes making a full demo. Now we discuss do we want an intro? Outro? What's the bridge going to be like? Are we adding any prechorus? After all that is decided it is put into a demo. The rest we let happen in the studio as it comes.
9. What has been the most difficult thing you've had to endure in your life or music career so far?
ELEKTRIC ANIMALS: I think the hardest thing for me and many musicians is rewiring your brain to have to confidence to keep going. Music at a local level is severely undervalued and you can definitely feel that while you are living in a city with inflated living costs.
10. On the contrary, what would you consider a successful, proud or significant point in your life or music career so far?
ELEKTRIC ANIMALS: We were just invited to play at a private conference for music industry professionals including all the alternative radio program directors in the entire country. Only 15 artists/bands were invited in the entire country.
KEEP IN TOUCH:
FACEBOOK | INSTAGRAM | TWITTER | SPOTIFY