A registered music therapist, singer, songwriter, and musician, Meredith Louise currently resides on the unceded territory of the Wurundjeri people. Meredith weaves a sonic tapestry of jazz, neo-soul, R&B, and folk using catchy grooves and thought-provoking lyrics. Her powerful vocals and vibrant lyrics produce rich imagery that immerses the listener in the state of humanity. Meredith writes songs about people, places, and landscapes, as well as how we can navigate our way back to our truth because she is fascinated by stories and the ties that bind us all together.
No More Hiding is the latest debut single from the Melbourne singer-songwriter, which demonstrates the expressive vulnerability of Meredith's songwriting, has a deep groove, a rich double bass line, and Meredith's powerful, soulful vocals. The song, which utilizes the sound of 90s neo soul, has lush keys that are amplified by shimmering synths and strong backing vocals that are interspersed throughout, telling a personal story of a person who finally allowed herself to come out of the shadows. Check out the exclusive interview below:
1. Can you tell us a bit about where you come from and how you got started?
MEREDITH LOUISE: I grew up in a regional town called Mount Gambier in South Australia. It was a town brimming with incredible artists and the community fostered a love of arts and music among young people. I was fortunate to have parents that really encouraged my siblings and I to be creative in some way – and often against our will! At one point I played saxophone, piano, took singing lessons, speech and drama lessons, tap dance, jazz dance, and was part of a regional theatre company. While my friends at school were playing video games or sports or hanging out at the local shopping centre, I was always rushing from one rehearsal to the next. This became normal for me and having creativity in my life was just how it was. I wouldn't change that for anything.
Towards the end of high school my focus narrowed toward jazz music and I went on to university to study it (I think this was partly because I had a crush on a friend of mine who was a jazz piano player!)
2. Did you have any formal training or are you self-taught?
MEREDITH LOUISE: I got a degree in jazz performance about 13 years ago from The University of Adelaide. The degree taught me a lot about jazz theory, rhythm, history and working in small ensembles and choirs, but it was very much focused on emulating the pioneers that had gone before. Songwriting and developing your own interpretations and extensions of the sound wasn't so much part of the training. Certainly it gave me some building blocks, but writing songs and figuring out who I am as a musician and artist took some time.
As a female vocalist, studying jazz at a tertiary level was actually quite defeating and left me with crippling self-doubt. It took years of therapy and using art in other ways for me to find my voice again.
3. Who were your first and strongest musical influences and why the name 'MEREDITH LOUISE'?
MEREDITH LOUISE: Certainly my family played a big part in cultivating and shaping my musical tastes. I grew up exposed to the records of Simon and Garfunkel, Fleetwood Mac, Joni Mitchell, Carole King, The Beatles, Elton John, Cat Stevens – all incredible songwriters and musicians. This was interspersed with a lot of jazz, classical and world music. Hearing this music regularly was a big inspiration for me and led to me studying a jazz degree in voice.
Meredith Louise is simply my name – it's my first and middle names. I wish I had a more interesting story to tell you about the name!
4. What do you feel are the key elements in your music that should resonate with listeners, and how would you personally describe your sound?
MEREDITH LOUISE: I have had people come up to me after gigs and tell me how much my songs have resonated with them. I think perhaps it's because a lot of the songs I write are about concepts and ideas, rather than love songs or songs about relationships. I really try and use music as a vehicle to talk about deeper issues or things I care about, or about mental health. Songs with words that make you think. Often the songs are about how we connect with each other, or the things that are purposefully trying to hinder the ways we connect.
I would describe my sound as a melting pot of jazz, neo-soul, R&B, disco, funk, and folk. My music crosses different genres so it's hard to pin down!
6. What's your view on the role and function of music as political, cultural, spiritual, and/or social vehicles – and do you try and affront any of these themes in your work, or are you purely interested in music as an expression of technical artistry, personal narrative and entertainment?
MEREDITH LOUISE: Music is political. Artists have been using the vehicle of arts and creative expression to talk about the bigger issues, as it's the way we process what is going on around us, and hopefully provides a sense of shared comfort and connection with others. Sure, artists can just focus on personal narrative and entertainment, but at what cost? Art should always be about finding ways to bring the human family closer together and held in shared space. Whether it's to grieve, celebrate, fight or love.  
As I mentioned before, I tend to write songs that focus on political or social themes, or about mental health. My single 'No More Hiding' is a reminder that the answers to all that I seek are already inside me and to learn to listen to the wisdom within. It's also a song for any person who has felt powerless against the world and a reminder that all of us have power if we just let ourselves step into it.
I'm currently in the middle of working on an EP where the themes are very much about connection, truth, mental health and empathy – ideas that are very much under threat from a society filled with misinformation, post-truth, and an obsession with being online and "on."
7. Do you feel that your music is giving you back just as much fulfilment as the amount of work you are putting into it, or are you expecting something more, or different in the future?
MEREDITH LOUISE: Without a doubt. Being able to use the creative space (and all that entails) as a way to process my feelings and thoughts means that it is always giving back and making me feel whole.
I think navigating the music industry as whole is a separate beast. Because of the industry's obsession with "creating content" and always having something new out, it can totally destroy the creative process and impact our wellbeing.
8. Could you describe your creative processes? How do usually start, and go about shaping ideas into a completed song? Do you usually start with a tune, a beat, or a narrative in your head? And do you collaborate with others in this process?
MEREDITH LOUISE: Often I have a melody idea come to my head or it'll be a lyric – I get the best melody ideas in the shower or when I take a walk! My phone is filled with a bunch of voice memos with different ideas for lyrics or melodies. Sometimes I'll sit at my piano and they'll emerge into a full song. Other times I'll have lyrics written and then play around with a melody that works. It really all depends on what the message of the song is and how it wants to emerge (I am just a conduit for the song!) When I've been reading a lot I'm often inspired by the words on the page and have created a list on my phone full of words and sentences that I find inspiring. I just finished reading Stolen Focus by Johann Hari, so no doubt I'll be writing a song soon that's about our inability to pay attention…
9. What has been the most difficult thing you've had to endure in your life or music career so far?
MEREDITH LOUISE: Being a woman in the music industry! While things are getting better, most other women and non-binary folk (basically anyone who isn't a cis-het male) I know in the industry are always having to prove that they are worthy of being there. It can be easy to feel we're not good enough and for years it stopped me from making and releasing music. I also think dealing with the algorithms of streaming services makes it hard for anyone emerging to get their music heard.
On the upside, Melbourne has a rich and beautiful music scene, and I've been lucky to meet songwriters who really focus on elevating each other. When there's a win for one of us, it's a win for all of us. Also many venues here in Melbourne are incredible and really focused on having a more diverse line up, in particular having people of colour front and centre on their stages.
10. On the contrary, what would you consider a successful, proud or significant point in your life or music career so far?
MEREDITH LOUISE:
Releasing my debut single a few months back and playing an incredible launch show with a stellar band! It was a reminder that this is where I need to be.
It may sound small and trivial, but it took the pandemic for me to realise that I need to start getting my music out there. A reminder that life is short and to do what you love – no matter how it's received. It's about the process and connection with others through my art.
I've got some further recording in the works over the next 6 weeks, and started writing towards an album project. I am relocating to Vancouver, Canada in August so keen to connect with musicians in the Canadian music scene and play more shows. A life of creativity and music is a life worth lived (that and coffee, food, people, reading, nature and wine).
"Feel the courage move within
and shine a light on where I've been hiding"
The theme of No More Hiding is overcoming obstacles and assuming control. The reflective verses, which touch on themes of self-doubt, anxiety, and imposter syndrome, build to a powerful chorus in which Meredith becomes more assured, confident, and prepared for what lies ahead. If we have the courage to listen to them, Meredith reminds us that we already possess the solutions we seek.
KEEP IN TOUCH:
FACEBOOK | INSTAGRAM | SPOTIFY | BANDCAMP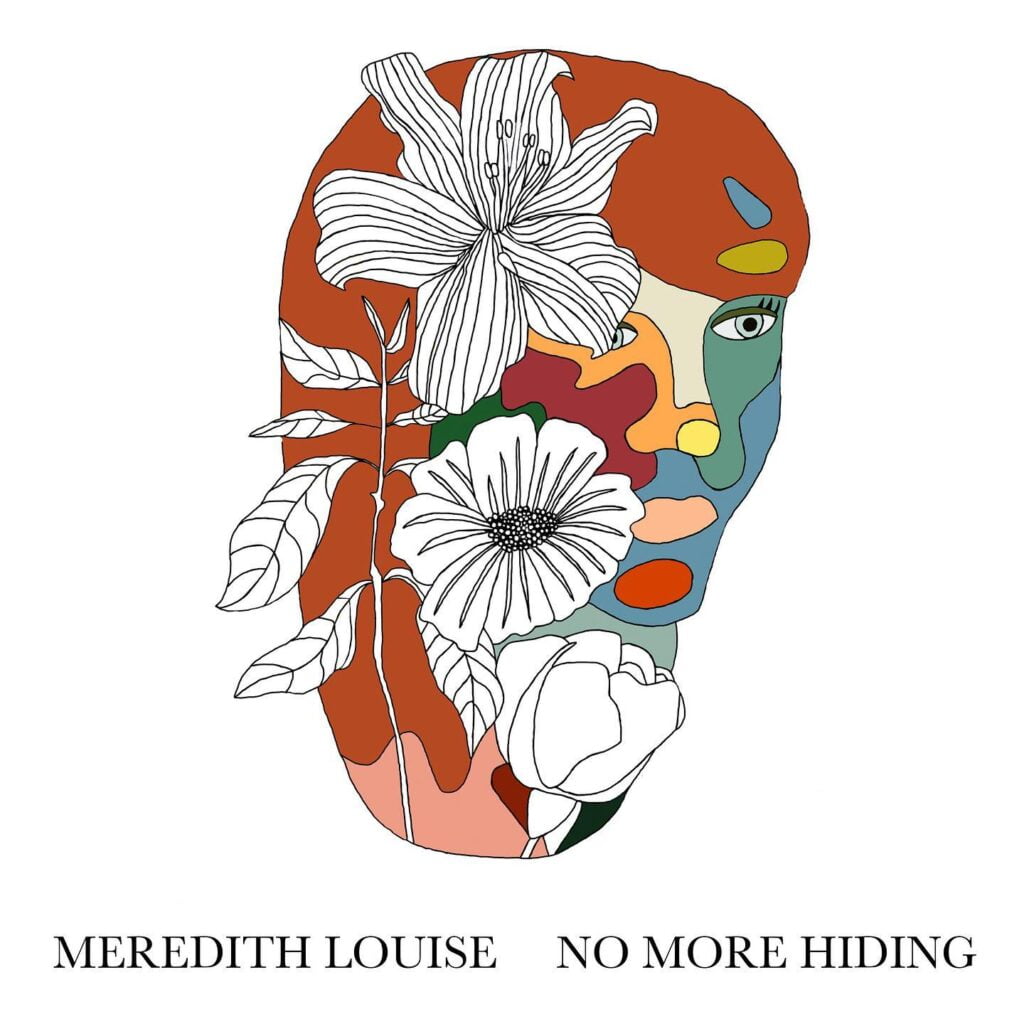 Photo credits: Ashlea Caygill; Josette Althaus