Good God Father's "Freak Gospel Pop," coming from the gloomy Oregon woods, melds the ancient with the contemporary to make peace between the past and the present and to create and usher in a more beautiful future. On a march through Armageddon, marked by solemn and solemn guitar and vocals. In time for dessert, brash, abrasive sounds that are sweet and submissive will awaken both the living and the dead.
Prince of the Air is a powerful thrash metal anthem that addresses the issues of evil and empire. Aiming to lift the curtain on themes of the Satanic and the demonic and demonstrate how those ideas affect the human experience, the song takes aim at a topic that has previously dominated the metal and extreme music genres. Check out the exclusive interview below:
1. Can you tell us a bit about where you come from and how it all got started?
GOOD GOD FATHER: I'm born and raised in northwestern Oregon, across the three main valleys of Tualatin, Willamette and Yamhill. Music was always a central part of my household growing up, with lots of other musician family members. I started my writing music and my first band in my teen years, and kept it up through my 20s. Got married, had kids, and all those bands split up. But I found that writing and performing was something that people really connected on with me. So I decided to work as a sort of one man band, which has become a pretty normal thing for a lot of heavy rock and metal guys like myself. I wanted to do something that was artistically meaningful, with the same amount of intent and thought that the big wigs put in to their work, since I saw that the music was more than just mere entertainment. It is actually a battle ground for ideas and ideals. I felt that rock music was being intentionally abandoned by the industrial apparatus as a way of subverting what the music was about. Rebellion. In it's early years, the rebellion was against family. But I think I see the movement turning toward institutions, and protecting the family, and that's the reason, I think the industry is intentionally abandoning the music. So, I'm here to preserve that tradition, carry it forward, as a rock n roll evangelist.
2. Did you have any formal training or are you self-taught?
GOOD GOD FATHER: I started by learning my first back beat on the drums from my cousin when I was about 10 years old. I grew up playing on my grandfather's keyboard, that my grandma used to entertain me. That was my version of video games, since we didn't have any in the home. In high school I played in the rhythm section in the jazz ensemble, and took a bunch of AP music classes, and that's where I really grew in my knowledge and learned some exercises to develop my skills. I was always more impressed by stylism though, with artists like Billy Corgan and SRV. They're good players, of course, but they also had a certain style that stood out to me more than their technique. Sort of like Johnny Ramone posing in a mirror. But I've been working on honing in more on my skill these days, as I want to be legitimately impressive to a broad swath of players.
3. Who were your first and strongest musical influences and why the name 'GOOD GOD FATHER'?
GOOD GOD FATHER: I would be remiss not to mention Nirvana and Pearl Jam here, since that was absolutely the sound that gave me the direction I went, but really it would come to the Smashing Pumpkins and Alice in Chains, where I would pull most of my songwriting strategies from. But being that I have a strong background as a worship leader in Christian churches, I actually utilize a lot of principles that you might find implemented in Christian worship services. That's pretty much where the name comes in to play. I decided that if I was going to continue producing music as an original artist, it was going to be rooted in my core values, and there's no value I hold higher or closer to my heart than my Christian faith. But I went through the whole process of being a "Christian Rock" band in my earlier days, and I wanted to reconcile what all of that meant to me. So the name came out of my studies of the scriptures, and the nature of the meaning and etymology of the word God. In the Proto-Germanic language of the Ulfilas Bible, which contains the earliest known use of the word, God and Good are interchangeable. That's basically a pretty reliable demonstration of something going on with language, communication and human consciousness. Namely, the issue that so much is beyond the black and white text on a page. There's more than meets the eye, and there can be more than one way to read something. That's the idea behind the Trinity of the words Good God Father.
4. What do you feel are the key elements in your music that should resonate with listeners, and how would you personally describe your sound?
GOOD GOD FATHER: I would say it's probably the soundscapes. I like to build a lot of layers and textures to enrapture the listener in an immersive experience. It's really important to me to present to the audience a mentality that connects them to the reality of the moment. To draw their attention to the Truth about who and what we are together in a room, or even over the span of distances via the internet. The sense that where what is really happening is more than meets the eye. So, when it comes to crafting the sound, that's usually centered on my favorite elements in a recording, namely thick guitar tones, and heavy drums. One feature I've really been doing my best to employ with Good God Father, however, are more artificial synthesized sounds, to formulate a more industrial sound, ala NIN, Manson, or Zombie.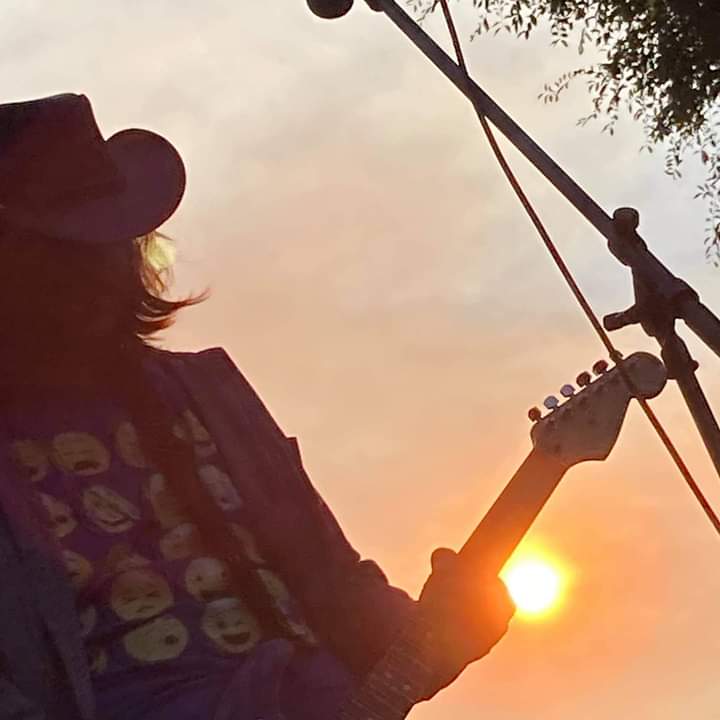 5. Could you describe your creative processes? How do usually start, and go about shaping ideas into a completed song? Do you usually start with a tune, a beat, or a narrative in your head? And do you collaborate with others in this process?
GOOD GOD FATHER: As a solo artist, I don't usually collaborate, but I'm trying to build some material with friends I've met over the years on tour with the eXtreme Tour. But usually, since I've got my hands in a lot of different aspects of the process, usually what manifests as a creation starts out as an exercise, whether it's a guitar riff that emerges out of learning some new technique, or a tone I'm building in my effects chain, or an instrument I'm playing around with, a tuning, whatever. In some cases it will start with just a vibe centered on an idea I have, through the course of my studies. I learn some historical fact, and I want to put myself in that moment, and capture it with a sound, or a melody, or a lyric. If I find it compelling enough it turns in to a full fledged production. So, it really can span the gamut as far as where things start, since I'm a multi-instrumentalist, and producer.
6. What's your view on the role and function of music as political, cultural, spiritual, and/or social vehicles – and do you try and affront any of these themes in your work, or are you purely interested in music as an expression of technical artistry, personal narrative, and entertainment?
GOOD GOD FATHER: Yes, all four, political, cultural, spiritual and social vehicles are intrinsic to this project. It's my fuel that motivates me to keep working on things. It comes from my research about the industry. Who the heavy hitters are, where their money goes, and how that effects those lower on the totem pole. There's a quote I like to rely heavily on from a journalist, Andrew Breitbart, around whom there's a lot of controversy, and some say was even murdered because of who he was, but he said, "politics is downstream from culture". I think that's true, but I also amend that to say, "culture is downstream from spirituality". You're spiritual persuasion and worldview effects the stories you tell, and the values that you celebrate, and that's apparent all around the world, all throughout history. So I'm doubling down on my spiritual values, being persuaded by the evidence I'm confident is convincing enough to persuade others. And I build my aesthetic around not just those values, but also in communicating the history and the tradition that is altogether unfamiliar to modern society as it exists in America. Sadly we've become far too unaware of these foundational elements that built the cities as they stand now all over the globe, and I see that as the answer to what ails communities across the globe. So I see it as my duty to present compelling images and sounds that entice people's attention to wonder what it all means, and investigate further, and learn for themselves, and observe for themselves, from the actual source material which I've found, and make available.
7. Do you feel that your music is giving you back just as much fulfillment as the amount of work you are putting into it or are you expecting something more, or different in the future?
GOOD GOD FATHER: I would say I don't expect the music to give me anything. The music was given to me as a gift, so I share out of the abundance that I have been given, and I see it as my responsibility to convince others of the value there is in it. If I'm not seeing the return on the value that I've been putting in to it, then I reflect on that as being my problem, and not anyone else. I've got to be more convincing to others that the work I'm creating is worth investing in, no one owes me anything. It's up to me to put in the work.
8. Do you think is it important for fans of your music to understand the real story and message driving each of your songs, or do you think everyone should be free to interpret your songs in their own personal way?
GOOD GOD FATHER: I would say I hope they consider both. Fans should feel like they can take some amount of ownership for how the music resonates with them, since that's the strongest evidence of an invisible force that connects. However, I also hope they can see the source from where that connection came, because I do invest a lot of time and energy in to curating the content I utilize in order to formulate the Good God Father visual, performance and music presentation.
9. With social media having a heavy impact on our lives and the music business in general, how do you handle criticism, haters, and/or naysayers in general? Is it something you pay attention to, or simply ignore?
GOOD GOD FATHER: I think this is where prayer really comes in to play for me. Spiritually, I take a view that God is inside of everything and everyone, and if it comes to my attention, then it's something I need to take in to consideration. So having a humble mentality about criticism is an important place to start. But once you're in that state where you recognize that you're not always going to please everyone, you can choose a stronger foundation to rely on to give you direction and vision for what you're trying to achieve or accomplish. Because if you really do want to be truly good, or proficient at something, you need to allow yourself to be corrected, since the only reason there is to do anything for other people to engage with is for the sake of engaging with other people, you need to take those signals and be shrewd about where they are leading. When it comes to Good God Father, we're trying not to be led by the masses as some sort of people pleasing outfit. This project is for challenging people, and calling them to the mat to rise above, and meet challenges, and confrontation without shrinking, having cool calm collected confidence that understands that whatever is truly strong doesn't take much or anything to defend.
KEEP IN TOUCH:
FACEBOOK | INSTAGRAM | TWITTER | SPOTIFY | BANDCAMP | WEBSITE | YOUTUBE