A four-piece alternative rock and metal band from Mount Gambier, South Australia, is called Higgs Field.
"Us Forever" takes what we know about love songs and sets it on fire, from love at first sight to cannibalism. Based on a true story, "Us Forever" begins as a romance novel before quickly morphing into a Stephan King epic that delves into the killer's mind and explores his most bizarre attempts to connect.
You'd be excused if you missed the topic entirely on your first listen to Higgs Field's debut single, a heavy pop rock ballad with grungy vocals that sound somewhere between Oasis and Metallica.
This phycological love letter follows a successful year for the band, which included performances alongside SA favorites The Unset and Aussie heavyweights Spiderbait, Kingswood, and Seth Sentry. The song "Leader in the eye," which was released by Higgs Field toward the end of 2022, provided a thoughtful and forward-thinking commentary on the protection of Australian culture.
The group's first release of 2023, "Us Forever," is anticipated to be another successful year for the alt-rockers. Check out the latest single and the exclusive Interview below: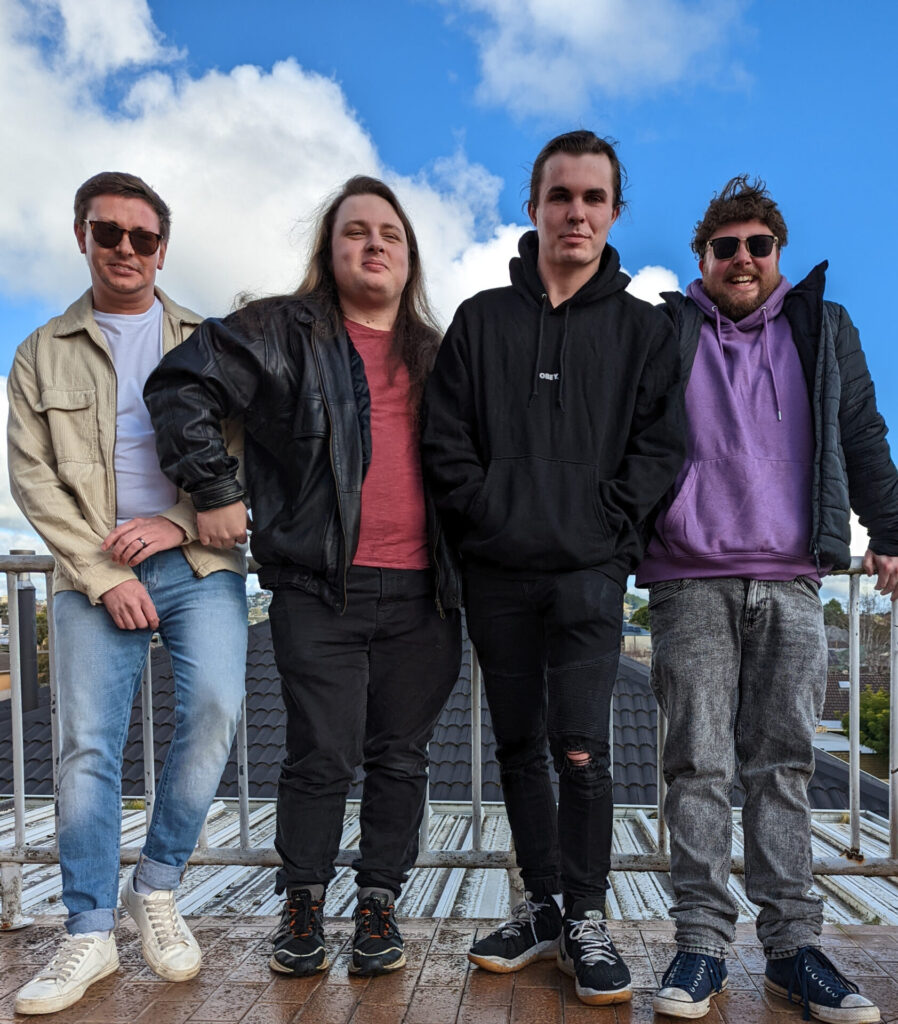 1. Can you tell us a bit about where you come from and how it all got started?
HIGGS FIELD: We come from a country town in the limestone coast, South Australia called Mount Gambier. We started as a band one day in 2019 just before the pandemic and had a jam session around at Kyle's (bass/vocals) place for the first time and went from there. Since then we've played some great gigs around the area along with some amazing other bands like; Spiderbait, Kingswood, Chelsea Manor and others.
2. Did you have any formal training or are you self-taught?
HIGGS FIELD: Myself (Brad, drums) personally have not had any formal lessons but have definitely had strong mentors along the way teach some valuable techniques. As well as sites like YouTube being valuable tools in the modern day.  
3. Who were your first and strongest musical influences and why the name 'HIGGS FIELD'?
HIGGS FIELD: My personal influences early on being bands like; Parkway Drive and The Amity Affliction shifted me towards a metal/rock style of drumming with Kyle (bass/vocals) having metal and jazz influences, Liam (guitar/vocals) coming from a Prog/rock background, and Dee (guitar/vocals) having power metal and rock influences and we all came together and created the sound of Higgs Field. And the band name derives from the actual elemental Higgs Field discovered from the 2012 experiments with the Large Hadron Collider. And very basically the elemental Higgs Field is what holds the universe together despite all Elements being very different from one another which I think is a great metaphor for our band.
4. What do you feel are the key elements in your music that should resonate with listeners, and how would you personally describe your sound?
HIGGS FIELD: We have a very unique Alt/rock/prog sound to our music with some heavy breakdowns in some tracks, to some songs that encourage singalongs and softer sounds and everything in between that I think attracts a broad audience.
5. What's your view on the role and function of music as political, cultural, spiritual, and/or social vehicles – and do you try and affront any of these themes in your work, or are you purely interested in music as an expression of technical artistry, personal narrative, and entertainment?
HIGGS FIELD:
Both! We definitely want to embrace and attract an audience from any and all cultural or spiritual differences and hope that our music can bring people together and create something beautiful. Plus the whole writing process and slowly filling out a song to completion and then getting the opportunity to show people what we have created is an amazing feeling.
6. Could you describe your creative processes? How do usually start, and go about shaping ideas into a completed song? Do you usually start with a tune, a beat, or a narrative in your head? And do you collaborate with others in this process?
HIGGS FIELD: All of the above! We are all involved with and have pioneered in the writing process in each of our songs. We create a foundation weather that be a; drum beat, guitar riff, or vocal melody and we grow from there. 
7. What has been the most difficult thing you've had to endure in your life or music career so far?
HIGGS FIELD: Honestly, as far as our band goes it's always gone great! But I guess the most difficult thing is just getting better and growing as a band. But overcoming adversity is what brings out our best work.
8. On the contrary, what would you consider a successful, proud or significant point in your life or music career so far?
HIGGS FIELD: Most definitely playing some awesome shows like 'Stone and Dust' festival aswell as releasing an EP ( paracusia) and our two latest tracks that have had quite good traction overtime.
9. Creative work in a studio or home environment, or interaction with a live audience? Which of these two options excites you most, and why?
HIGGS FIELD: Both! Both interactions have their own time, place and use. But there's no feeling quite as good as playing a live show.
10. Do you think is it important for fans of your music to understand the real story and message driving each of your songs, or do you think everyone should be free to interpret your songs in their own personal way?
HIGGS FIELD: I think everyone should be able to interpret our music the way they want in their own unique way which I think mirrors the creative sound of our music itself.
KEEP IN TOUCH:
FACEBOOK | INSTAGRAM | SPOTIFY | BANDCAMP | WEBSITE | YOUTUBE
Photo credits: Emily Cook, LCCN, Deb Kloeden.