HOLMES is a Guildford-based Indie Pop Rock musician who is originally from the North-East of England. He draws inspiration from artists such as Catfish and the Bottlemen, Fatherson, Noah Kahan, and Sam Fender but adds a completely unique sound to produce a memorable musical experience. In order to make each song as memorable as the last, HOLMES thrives on taking listeners on a lyrical journey through love, heartbreak, and life's challenges.
Following a well-received debut, "Never Learning" is the second single from this release. The song centers on two people who, despite being aware of its flaws, can't seem to run away from their romance.
A lot can be said about this upbeat, anthem-like indie rock record that will get stuck in your head right away. Check out his latest single 'Never Learning' and the exclusive interview below:
1. Can you tell us a bit about where you come from and how you got started?
HOLMES: I'm originally from the north east of England now living in the south. I started doing music because of my family. They all loved performing and were into theatre and music. A lot of my family can sing and play instruments and so it was almost natural to get into it. I then just found a love and passion for doing it and started writing my own stuff.
2. Did you have any formal training or are you self-taught?
HOLMES: I am a self taught musician, singer and songwriter!
3. Who were your first and strongest musical influences and why the name 'HOLMES'?
HOLMES: My first musical influences were Ne-Yo, Justin Timberlake and Kanye which is so incredibly far from the music I make but that's who I admired at first. Holmes is my last name and I just felt like it sounded right to go under that name. Plus I didn't want to spend forever trying to come up with the next 'Arctic Monkeys' or 'Circa Waves'.
4. What do you feel are the key elements in your music that should resonate with listeners, and how would you personally describe your sound?
HOLMES: I concentrate quite heavily on the lyrics with all my songs. I try to make sure it is something people can relate to and make sure it resonates through that. With that, I like my songs to be quite anthemic in nature and I aim for my songs to be the type where you just throw your hands up and scream the lyrics out! If I could describe my sound it would be vibrant, heartfelt and huge.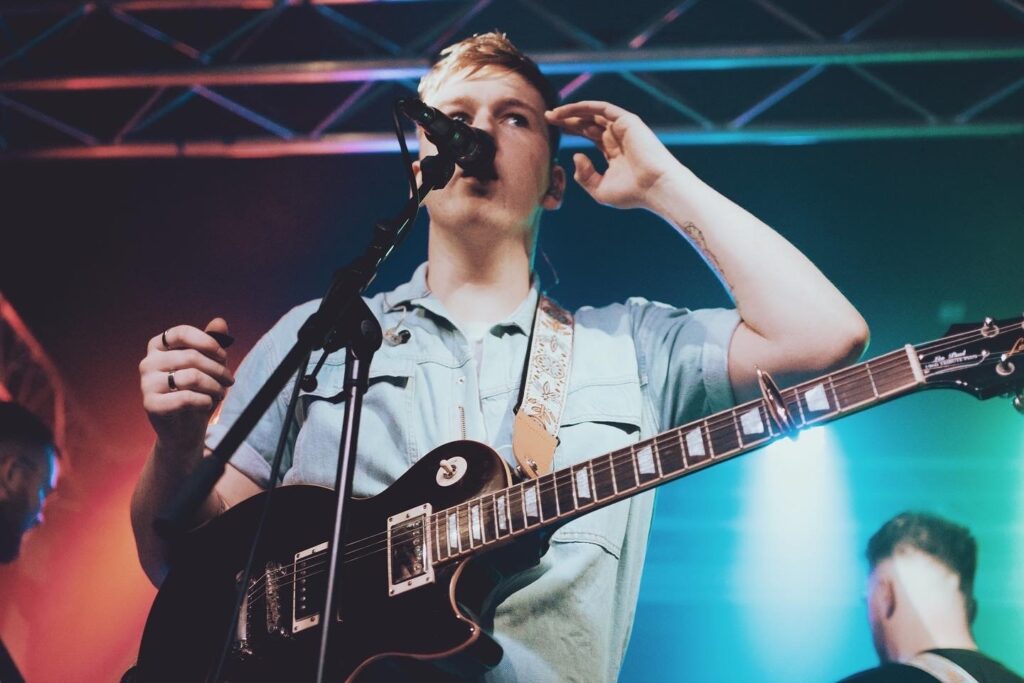 6. What's your view on the role and function of music as political, cultural, spiritual, and/or social vehicles – and do you try and affront any of these themes in your work, or are you purely interested in music as an expression of technical artistry, personal narrative and entertainment?
HOLMES:
I would say there's a place and position for it. At the end of the day, music is just expression, whatever form that may come in. For me personally, I don't take it upon myself to confront those subjects and I think there's people that can do it a lot more justice. I prefer to use my music as escapism and entertainment where people can feel emotion outside of real world issues and statements.
7. Do you feel that your music is giving you back just as much fulfilment as the amount of work you are putting into it, or are you expecting something more, or different in the future?
HOLMES:
I get fulfilment from seeing my project come to life and from being able to perform the things I've worked on so much. For me that's just as much fulfilment as the amount of work I'm putting in. For the future, I'd love to see more and more people starting to enjoy these records and resonate with them and share the same emotions I put into the tracks. That would only further my experience with the music I make.
8. Could you describe your creative processes? How do usually start, and go about shaping ideas into a completed song? Do you usually start with a tune, a beat, or a narrative in your head? And do you collaborate with others in this process?
HOLMES:
The creative process for me varies all the time. Sometimes it will be sitting down to play guitar and suddenly a melody will come to mind that lines up with what I'm playing. Sometimes there will be a lyric going through my head all day and I have to sit down and expand on that. Sometimes it will be listening to someone else's record and thinking 'I want to make a song as good as this'! It's just about harvesting the inspiration of the moment and using it to be expressive.
9. What has been the most difficult thing you've had to endure in your life or music career so far?
HOLMES: Doubt. It sounds cliché to say that but it's true. I think, especially when making music, it becomes so easy to doubt what you're doing or your ability to do things. You see people around you succeeding or see certain stats and figures and it can throw you off the things you're doing completely.
10. On the contrary, what would you consider a successful, proud or significant point in your life or music career so far?
HOLMES: To be honest, I will always feel proud of moving away from home for the sole purpose of pursuing music. It was a big decision to make and certainly not an easy one and it is something I am so glad I did!
KEEP IN TOUCH:
FACEBOOK | INSTAGRAM | TWITTER | SPOTIFY | TIKTOK