James White & The Wild Fire are a musical amalgamation of Country, Bluegrass, Rock, and Americana.
Despite being independent from labels, the band's debut EP, Creating Tracks, debuted at No. 1 on Amazon's Folk and Country Albums charts on June 5, 2021. On November 19, 2021, their Live at Saffron Hall record also debuted at No. 1.
After selling out a landmark hometown event, the band played a string of shows that included being finalists in the UK's oldest band competition, followed by a string of shows that concluded at Royal Ascot. The band then released the singles Where I Used to Be in October 2022 and Little Maggie in March 2023, reclaiming the top spots in Folk and Country on Amazon.
The 19th-century Appalachian folk song "Little Maggie" is a rare gem of classic American folk music. Check out their version of the song and the exclusive interview below:
1. Can you tell us a bit about where you come from and how it all got started?
JAMES WHITE & THE WILD FIRE: Well as members we are from all over the place! I (James – guitar and vocals) am born in Ipswich but raised all over England and Wales, but I have now settled in Saffron Walden. Lee (cajon) is also from the South-East and roamed around London for a while, Ed (banjo) is originally from Liverpool and is now out in California lecturing, and Brooke (double bass) is from Des Moines, Iowa but now lives in Haverhill. But as a band we were born in Saffron Walden, England.
I knew Lee through the local scene, we both had a lot in common in terms of where we spent our time and both were present in the Walden scene for some time. Brooke I met through being introduced to by her husband, who is a childhood friend of mine and Ed I met at a jam night in Walden. And that is how we came to be! Due to COVID-19 we didn't manage to get together until and have our first show until June 2021.
2. Did you have any formal training or are you self-taught?
JAMES WHITE & THE WILD FIRE: I (James) am self-taught for the most part. In fact, my knowledge of music theory is next to none. Brooke toured the world working on a cruise ship and her knowledge and skill level is unparalleled compared to others I know who do what she does. Ed had a teacher way back, I believe, but he is largely self-taught. I mean, how many banjo players are there in the UK anyway?!
3. Who were your first and strongest musical influences and why the name 'JAMES WHITE & THE WILD FIRE'?
JAMES WHITE & THE WILD FIRE: I certainly can't speak on behalf of the others, but my musical origins and influences are based in a blend of classic rock and pop-punk, those though influences in my music now are long gone. For the last few years since moving towards the Country, Americana and Bluegrass scene my influences have been predominantly Tyler Childers and Billy Strings, both of whom I have been lucky to have met!
Honestly, I didn't want my name in the band! But having done seven or so years of solo music which involved a few releases, a couple of European tours and that we adopted my old solo material into our band I got outvoted! The Wild Fire aspect I can't really recall, it just sounded pretty cool. I think I may have also been in the middle of a Game of Thrones binge…
4. What do you feel are the key elements in your music that should resonate with listeners, and how would you personally describe your sound?
JAMES WHITE & THE WILD FIRE: For me personally, I feel that the most impressive part of our music is the musicianship of the three incredible musicians I am surrounded by. They are mind-blowingly talented and I feel like the luckiest guy to be elevated by their incredible abilities. I take the songs that I write to them and they just make them to whole new levels.
Lyrically, the songs vary. Some of it is based on politics, some of it is based on love and heartbreak – what Country aspect isn't?! Some of it is based on just everyday life.
I would describe our sound as a cross between Bluegrass, Alt-Country and Indie. It is hard to pigeonhole, which I guess can be a PR nightmare…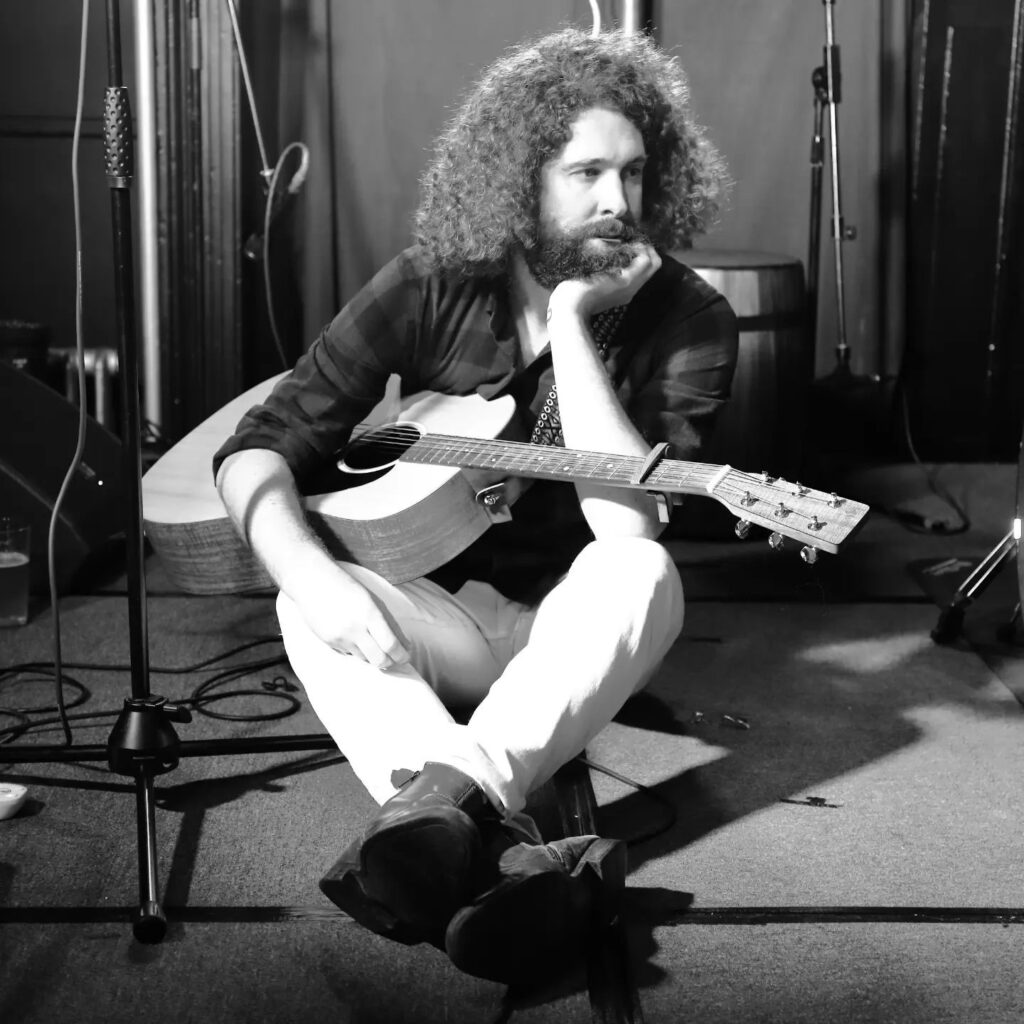 5. For most artists, originality is first preceded by a phase of learning and, often, emulating others. What was this like for you? How would you describe your own development as an artist and music maker, and the transition towards your own style, which is known as COUNTRY?
JAMES WHITE & THE WILD FIRE: For me, I idolised people like Angus Young, who was the reason I picked up the guitar, Slash, Jimmy Page, Eddie van Halen and Kirk Hammett. But for years I went into a musical lull, keeping my music simple, basic chords, and honestly, it just kinda got boring. So when Billy Strings walked into my musical life with his blend of almost metal-esque guitar work in a very niche and traditional genre I fell in love and felt that this was my musical home. I'm certainly no "Jimmy Strings", but there is no doubt that it is undeniable that the last few years his guitar work and Tyler Childers songwriting has moved me into this realm.
6. What's your view on the role and function of music as political, cultural, spiritual, and/or social vehicles – and do you try and affront any of these themes in your work, or are you purely interested in music as an expression of technical artistry, personal narrative, and entertainment?
JAMES WHITE & THE WILD FIRE: God, I could go on forever about this. Back when I was a solo act I worked with a group called The Calais Sessions where a group of musicians went out and recorded an album with the refugees based in the refugee camp formerly know as The Jungle. The money raised from that all went to refugee related causes – I still have the guitar I took out there hanging on my wall which is signed by the many people I met out there. It is a constant reminder of the power of music.
I did also release a single called Citizen of Nowhere as a solo act, which included vocals and harmonies with Billy Lunn from The Subways who was also a massive influence on my teenage musical journey, so that was a dream come true. That song was written in angst at the political situation of the Mid-Teenies Britain and the song title was taken from the infamous Theresa May speech where she said that "if you believe you are a citizen of the world then you are a citizen of nowhere'. Every penny raised from that and my previous solo work went to either refugee or mental health related causes, so although I keep politics out of my music now, I certainly can't throw rocks in glass houses here. Especially when bands like Rage Against The Machine I hold so close to my heart. Music has a phenomenal power of giving a voice to the voiceless, to unite people in times of alienation and darkness.
But I do have to say, I have closed the door on having politics in music.
7. Do you feel that your music is giving you back just as much fulfillment as the amount of work you are putting into it or are you expecting something more, or different in the future?
JAMES WHITE & THE WILD FIRE: I owe my life to music. When I was fourteen I was very suicidal and even tried to take my own life in my teens more than once. I've been very open about the battle I have had with mental health, especially in my youth. I spent so many hours hiding away in my room finding sanctuary in music. If I can give back just 1% of that by making music, then I would say mission complete.
But I also have to say that playing and making music with these guys has been the best musical journey I have had to date. I adore what we have done so far and the shows and records we have made to date!
8. Could you describe your creative processes? How do usually start, and go about shaping ideas into a completed song? Do you usually start with a tune, a beat, or a narrative in your head? And do you collaborate with others in this process?
JAMES WHITE & THE WILD FIRE: A good time to ask this! Only yesterday I finished writing the lyrics to what will be our second EP. I started writing that back in August 2022!
I am a very sporadic writer. It comes in bursts. I sometimes don't write anything for over a year and then BANG, a whole load of ideas come at once. Then my audio notes, written notes – whatever, are all filled up on my phone! After I come up with the ideas, I take them to the group – they tell me to write them in a better key and we take it from there together.
9. What has been the most difficult thing you've had to endure in your life or music career so far?
JAMES WHITE & THE WILD FIRE: I'll keep this one just to the music… So last year, just before Ed left for the United States, we had our last show of 2022 at Royal Ascot as part of Smoke & Fire Festival. To play such an awesome place was a huge honour, it was going to be the crown jewel in our run of 2022 shows.
Unfortunately, I had a rather heavy touch of heartbreak as my partner broke up with me the day before. I hadn't slept, I was miserable and when we walked in to the arena Shania Twain's "You're Still The One I Want" was blaring, my ex unfortunately looked the spitting image of Shania, so I immediately just burst into tears. It was awful. It was a perfect storm on top of the heartbreak, lack of sleep, anxiety that just meant I put in a performance to be forgotten. I felt I had let everyone down. But, as always, they were amazing. They aren't just amazing musicians, they are amazing people. And for the record, I am fine now!
10. On the contrary, what would you consider a successful, proud or significant point in your life or music career so far?
JAMES WHITE & THE WILD FIRE: Oh God, keeping it just to this band then having three Country Number Ones and two Folk Number Ones in the Amazon Charts here in the UK is hard to top! Selling out Saffron Hall, a venue on the same circuit as the Royal Albert Hall, here in our home town and nailing the show that went on to become our live album that contributed to the aforementioned chart success is hard to beat. But having Little Maggie do the same upon release has been a very, very sweet moment. We are eternally grateful for the support.
11. With social media having a heavy impact on our lives and the music business in general, how do you handle criticism, haters, and/or naysayers in general? Is it something you pay attention to, or simply ignore?
JAMES WHITE & THE WILD FIRE: We've been quite fortunate. Most of our feedback has always been met very warmly. But a couple of times we have had some shots fired at us – one of which was criticism of our performance at Royal Ascot, and no one more than me knew I didn't play well then. Another was about my language used onstage, which I have curbed in recent years!
12. Creative work in a studio or home environment, or interaction with a live audience? Which of these two options excites you most, and why?
JAMES WHITE & THE WILD FIRE: Live, live, live – a thousand times live! There is nothing better than it. Playing music live, hearing people sing back your own songs, what can be better than that?! If anyone sees us live you'll see how much we interact with the crowd. This is what it is all about – its an entertainment business, and we bloody love doing it! For me, there is no second option – it will always be live!
13. Do you think is it important for fans of your music to understand the real story and message driving each of your songs, or do you think everyone should be free to interpret your songs in their own personal way?
JAMES WHITE & THE WILD FIRE: I think music should be entirely open to interpretation. I mean, sure, I like to look into the meaning and basis of each song, but if someone takes something from a song and it means something to them then does it really matter? Unless you are a far-right American and love listening to Born In The USA, then maybe you need to look a bit more into things… And I guess then maybe I haven't entirely left the political stuff alone, have I?
KEEP IN TOUCH:
FACEBOOK | INSTAGRAM | TWITTER | SPOTIFY