Maurizio Vitale established the avant-garde group Lolita Terrorist Sounds in Berlin. The name is a provocative combination of the word "Terrorist" and the provocative title of Nabokov's novel, "Lolita." To best capture the innovative nature of the band's compositions and performances, both were created using the W. Burroughs cut-up technique and adding the word "Sounds" to it. In the past and present, Vitale has collaborated with musicians from renowned bands like Einstürzende Neubauten, Swans, Iggy Pop, Thåström, PJ Harvey, and Fau. His skill was put to use by the renowned Sabar percussionist Doudou N'Diaye Rose (SN), and he has performed in the studio and live with German singer Andrea Schroeder. In support of their previous album, "Shaved Girl," Lolita Terrorist Sounds performed numerous live shows, opened for the Swedish musician Anna von Hausswolff, and performed an exclusive acoustic show on German Radio Ei. "Shaved Girl" was released on the cult record label Psychofon Records (The Resident) as a limited edition vinyl release. The album's special artwork was chosen by graphic novelist Reinhard Kleist (Nick Cave's "Mercy on me," David Bowie's "Starman"), who also participated in some of the band's live performances as a special guest.
"Curse" by St. Lolita Terrorist Sounds is released on September 9th over the full moon weekend. Curse is a tribal ritual song that invokes the planets, stars, and moons for rituals of wealth and prosperity. The Berlin-based group releases a simple single based on primitive tribal drumming and unorthodox metal percussive elements. ns. The song entices the listener with shamanic rhythms and magic spells in a sonic vortex Prepare to burn the finest incense you possess and blast the newest Lolita Terrorist Sounds single at full volume for the following full month. The lyrics "…money to me, prosperity, glory to me…" are intended to be modern voodoo, portraying the compulsive tendencies of relying on money and materialistic values with edgy humor. The Curse video clip was shot in Super8 on a warm summer night in South Italy, and it was inspired by the proverbial "One Thousand and One Night" stories from medieval Arabic folklore. Check out the song and the exclusive interview below:
1. Can you tell us a bit about where you come from and how it all got started?
LOLITA TERRORIST SOUNDS: I'm originally from Naples (IT), a city I still love very much. Growing up as a kid in Naples had quite an impact on shaping me as an artist. I started to play in local bands and record music as a teenager. I spent a lot of time in London (UK) and then relocated to Berlin (DE). Anyway, I still embrace a nomadic lifestyle. I enjoy being constantly on the road.
2. Did you have any formal training or are you self-taught?
LOLITA TERRORIST SOUNDS: I have a degree in Jazz Music. I studied in one of the most historical conservatories in Italy, the one in Naples. I've been learning drums, piano, and music theory. When it comes to being a singer, I am self-taught. I just followed my instinct, starting by screaming into a mic. Later I became aware of all my potential registers and developed my unique vocal style. The same goes for being an engineer/producer. I just learned it by watching others do it.
3. Who were your first and strongest musical influences and why the name 'LOLITA TERRORIST SOUNDS'?
LOLITA TERRORIST SOUNDS: Miles Davis's album "Bitches Brew", John Coltrane's "A love supreme", Stooges, Velvet Underground, and Pink Floyd.Lots of traditional folk music from the mediterranean countries,Eastern European folk music, Sabbar Senegalese drumming, Cuban music and Classical music. The band's name is a provocative combination of Nabokov's novel title "Lolita", and adding the challenging perception of the word "Terrorist". Both were generated using the W. Burroughs cut-up technique and adding to it the word "Sounds" to best describe the groundbreaking nature of the band's compositions and performances.
4. What's your view on the role and function of music as political, cultural, spiritual, and/or social vehicles – and do you try and affront any of these themes in your work, or are you purely interested in music as an expression of technical artistry, personal narrative, and entertainment?
LOLITA TERRORIST SOUNDS: Social topics are not targeted openly in the lyrics of Lolita Terrorist Sounds, but they are a strong influence. Most of them tell stories of fictional characters ending up being victims of power in society. "Curse" portrays the obsessive and compulsive habits of relying on money and materialistic values typical of our times. There are many esoteric and astrological elements in the lyrics, "Curse" is like a modern voodoo. "Prison Song" is inspired by an epistolary exchange between two tormented lovers split apart by a jail sentence. "Red Carpet" deals with the disastrous side effects of fast-rising fame. "Shaved Girl" adopts a ceremonial and ritualist scenario to describe power dynamics typical of the BDSM world.
6. What has been the most difficult thing you've had to endure in your life or music career so far?
LOLITA TERRORIST SOUNDS:
Last year we were dropped by a record company that promised a good amount of money to release our album. Because of this reason the upcoming album was on hold for almost two years. It meant wasting precious time and resources at a time that was already very difficult due to the pandemic. Around the same time, we had to move out of our studio in Berlin due to a speculative housing project taking over the facilities of our studio. It was a concatenation of unlucky events happening during the pandemic when the incomes from the gigs were close to zero.
7. On the contrary, what would you consider a successful, proud or significant point in your life or music career so far?
LOLITA TERRORIST SOUNDS:
Being able to tour the world with our music, collaborate with many talented artists and release new music constantly. 
8. With social media having a heavy impact on our lives and the music business in general, how do you handle criticism, haters, and/or naysayers in general? Is it something you pay attention to, or simply ignore?
LOLITA TERRORIST SOUNDS:
I see constructive criticism as a positive aspect that leads toward the path of self-improvement. I  experienced haters/trollers firsthand at live shows. I asked to escort them outside the venue. There is a need to create a space of freedom where everyone feels safe and welcome. Regarding our social media, except for a few isolated episodes of trolling involving homophobic insults (immediately silenced), we tend to attract a positive, creative, multicultural, and culturally educated audience of followers from everywhere in the world. It's inspiring to have the opportunity to share thoughts and constructive feedback regarding our music or just share experiences with people living very far.
9. Creative work in a studio or home environment, or interaction with a live audience? Which of these two options excites you most, and why?
LOLITA TERRORIST SOUNDS: I have been on the road for a long time. I enjoy touring. Our first release is a live album recorded in SO36 in Berlin. We always performed the new songs live before entering the studio. The pandemic forced us to move the main focus towards spending more time in the studio. I build our studio in Berlin, a special place where all kinds of musicians and artists come by to contribute to our music. The studio it's a bunker located in the former East Berlin, something like a haunted place full of history and esoterism. The studio is home to many other productions. I recently produced the Italian post-punk band Viziosa and their collaboration with the British singer-songwriter Kristian Marr (Amy Winehouse, Peter Doherty).
10. Do you think is it important for fans of your music to understand the real story and message driving each of your songs, or do you think everyone should be free to interpret your songs in their own personal way?
LOLITA TERRORIST SOUNDS:  I like to keep the writing very open. I tend not to be very descriptive in the lyrics. It comes from reading a lot of poetry. I like Baudelaire, Rimbaud, and Mallarmé, to mention a few. I see that makes the songs more powerful and enigmatic, transcending context and time. Everyone listening to our songs tends to give a personal interpretation.
KEEP IN TOUCH:
FACEBOOK | INSTAGRAM | TWITTER | SPOTIFY | BANDCAMP | WEBSITE | YOUTUBE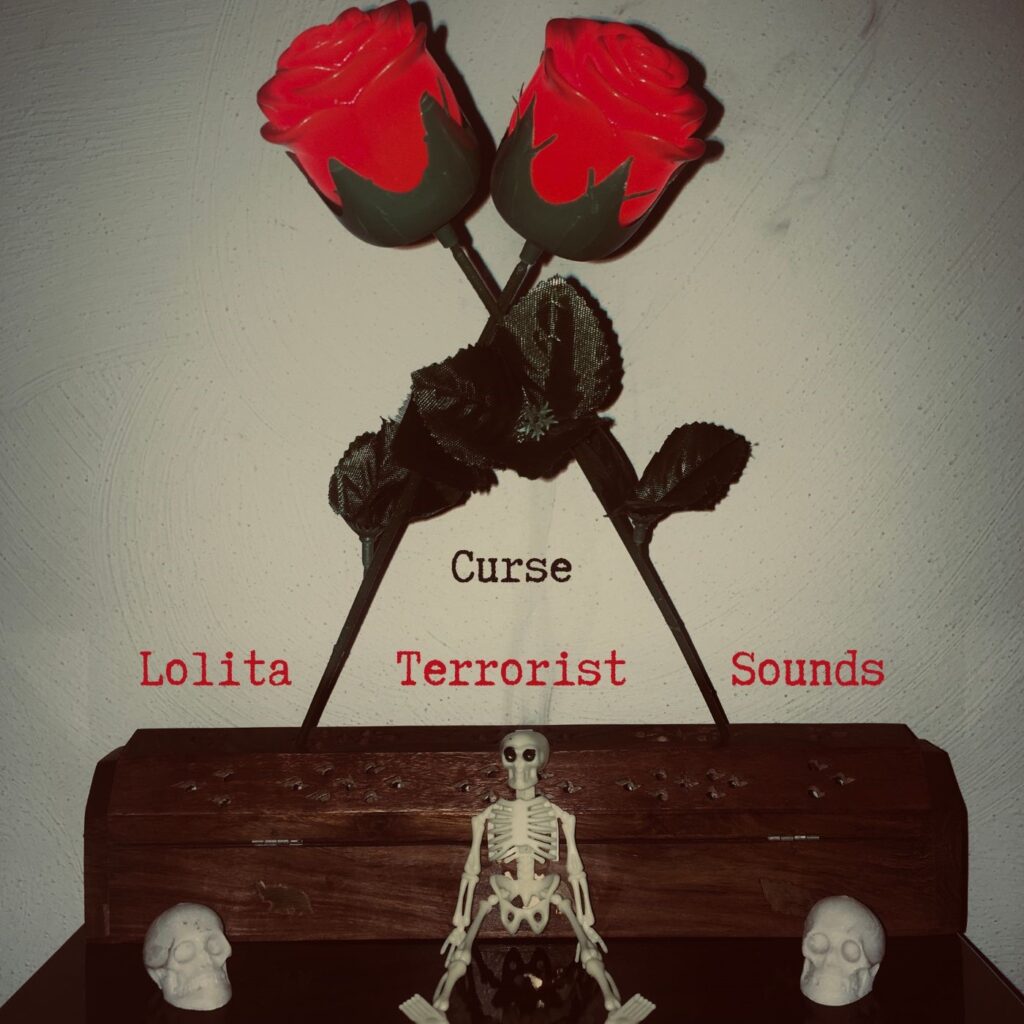 Photo credits: Nicole Dargè