Paul Whiteley (guitars and vocals) and Ashley Hurst make up the UK-based indie rock duo Fendahlene (bass). They were regulars on the Sydney live circuit for ten years, playing music that was heavily influenced by rock from the 1960s and 1970s, alt-rock, and alt-country (basically everything indie). They released their first EP, Blue Fortress, in 1997. Two of its songs appeared in a national advertising campaign for SHARP stereo equipment, and another appeared on Grow Your Own 2 by Foghorn Records. In 1998, their debut LP Anyone Who's Anyone was released, and songs from it were played on Minneapolis and Santa Monica college radio stations as well as TripleM, 2DAY, and 2JJJ. For Lie To Me in 2000, they collaborated with renowned producer Garth Porter. The EP Touchdown, which featured the hit Glebe Point Road and was heavily played on NOVA 96.9 and Triple M's "Planet Rock" that summer, was released in 2002. As a result, they were given the opening slot at the 2004 Glebe Street Fair. In 2005, the band released a double album called A Decade of Near Misses that included 13 brand-new songs and 13 fan favorites.
After a lengthy hiatus, Paul and Ashley moved to Europe in 2006 and recorded their latest album, High and Low and Back Again, at London's Urchin Studios. It was issued on vinyl in mid-2020, a first for the band, and featured Matt Ingram on drums and Dan Cox at the desk. Later in 2021, they released the EP When The Hit Began. In order to start recording the massive backlog of songs they accumulated during lockdown, they are coming back to Urchin in late 2022.
From their 2020 album High and Low and Back Again, they recently released a new mix of our song Get Over It. They wanted a mix to make it more "snappy" and lively, more in line with the story. Kevin Shirley (Silverchair, Black Crowes, Joe Bonamassa, Robert Cray Band, and many others) mixed and produced Iron Maiden's album Senjutsu, which was released not long after this mix was completed. Check out the song and the exclusive interview below:
1. Can you tell us a bit about where you all come from and how it all got started?
FENDAHLENE: There were originally three of us in Fendahlene, Paul Whiteley (guitar, vocals), Ben Felton (drums) and me, Ashley Hurst (bass). We all went to Ku-Ring-Gai High School together in Sydney. Paul and I were in a few school bands together from about Year 10, including one called The Arthur C Clarke Mystery Band – we even won a Battle of the Bands and $150 first prize, which felt like a fortune at that age. We also played a school concert for all the parents organised by the music department, right in the middle of that night's bill. Before us was a bunch of acts, mostly students from the music department, playing lots of classical, jazz, folk, and musicals numbers, you know the stuff they taught in high school music. Then we came on, turned up the volume big time, and slammed our way through My Generation, Mean to Me by Crowded House and Roadhouse Blues by the Doors. It was VERY loud, and to be honest not that polished. When we finished, stone silence in the hall and tons of shocked faces. I think it was our rock and roll moment, it felt awesome to be honest, even more so when the next day Paul got badly reprimanded by the department head.
We were quiet for a few years after graduation. I was at a house party in I think 1994 where they'd hired a really good blues band, who were playing in the living room, just level to everyone on the carpet without any stage. It was a REALLY large house. Eventually someone dragged me up to play bass for one song, straight 12-bar, went for about 20 minutes and that was me gone. Hooked again and this time for good. Spoke to Paul the next day and it turned out he was pining to get a band together so worked out perfectly. So we started Fendahlene – we played together on the Sydney circuit for ten years and released an album, a double and a couple of EPs. In 2006, Paul moved to the UK and I moved to Germany, then the UK a couple of years later, which is why we're now a two-piece.
2. Did you guys have any formal training or are you self-taught?
FENDAHLENE: If lessons count as formal training, then yes. I had I think 20 lessons on the bass, Paul I think had a decent amount of guitar lessons, and piano too.  
3. Who were your first and strongest musical influences and why the name 'FENDAHLENE'?
FENDAHLENE: There were two that really stood out. For both of us, coming from Sydney, it was Australian rock – sort of alt rock I guess but no one was really calling it that back then. The sort of music that came out of the pubs and clubs, an incredible scene where INXS, Midnight Oil and so many others got their feet wet.
Individually, I know for Paul, The Beatles was the first influence that made him want to be a musician. For me it was a little different. I bought a TREX greatest hits album (on K-TEL no less) after seeing it on TV and fell in love with Bolan's music. They were so massively out of fashion at the time, but Bolan's take on being a rock star really made an impression on me. That's what originally got me talking to Paul about learning an instrument.
Regarding our name, it was a unanimous choice for the three of us after a long time of being anything but, if that makes sense. Not so much that we all had favourites that we stubbornly lobbied for, but more that we just didn't know what would work and were a bit reluctant to make a final decision. At this time, we were pretty full-on rehearsing so it didn't seem important. 
Ben came up with a list of names that was a part awesome and part nuts. I can't remember all of them, but 'Solace Personified' and 'Pineapple Noriega' are burned into my brain. They were however a great circuit breaker that made us focus properly and about a week later Fendahlene was chosen. A 'Fendahlene' was a character in a Doctor Who serial from the Tom Baker years called "Image of the Fendahl". They were the 12 children of an antagonist/monster called a Fendahl. Its physical form was basically a cheap air conditioning unit covered in papier mâché with ribbons coming out, like a great old school prop. Even then, we couldn't work out how to best spell it. For some reason it stuck, and when we decided how we wanted to spell it, Fendahlene it was. I know one reason (or maybe it was a post-rationale) was that people had to ask us to spell it out. Naturally, the first two venues we ever played at got it wrong splashing our band name across ads and everything else starting with a capital S. Once we learned how to say 'F for Freddy', then we were finally there.
4. What do you feel are the key elements in your music that should resonate with listeners, and how would you personally describe your sound?
FENDAHLENE: We always thought of ourselves as 'indie rock' or 'alternative rock' though it's hard to tell with the billion or so genes these days. I'd stick to our original descriptions (melodic guitar-based rock summarises it pretty well I guess) but with variation depending on the song, especially as we have quite a broad range of influences and love lots of different types of music. Some songs will have a more bluesy-flavour, some might have an alt-country feel, and others a heavier punk/indie sound, but the common denominator is strong melodies and harmonies. I mean, taking all that into account, when it comes down to it, we're just a rock and roll band.
As for resonating with listeners, we hope that we connect in ways that people like to connect with music in their individual way, if that makes sense. Some people might like one of our songs for the arrangement, others for the lead guitar solo, others for the change, it's all fine by us, as long as we can make a connection. Same goes for the narrative, which is really important to us – again, as long as what we have to say can make some people 'feel', then result.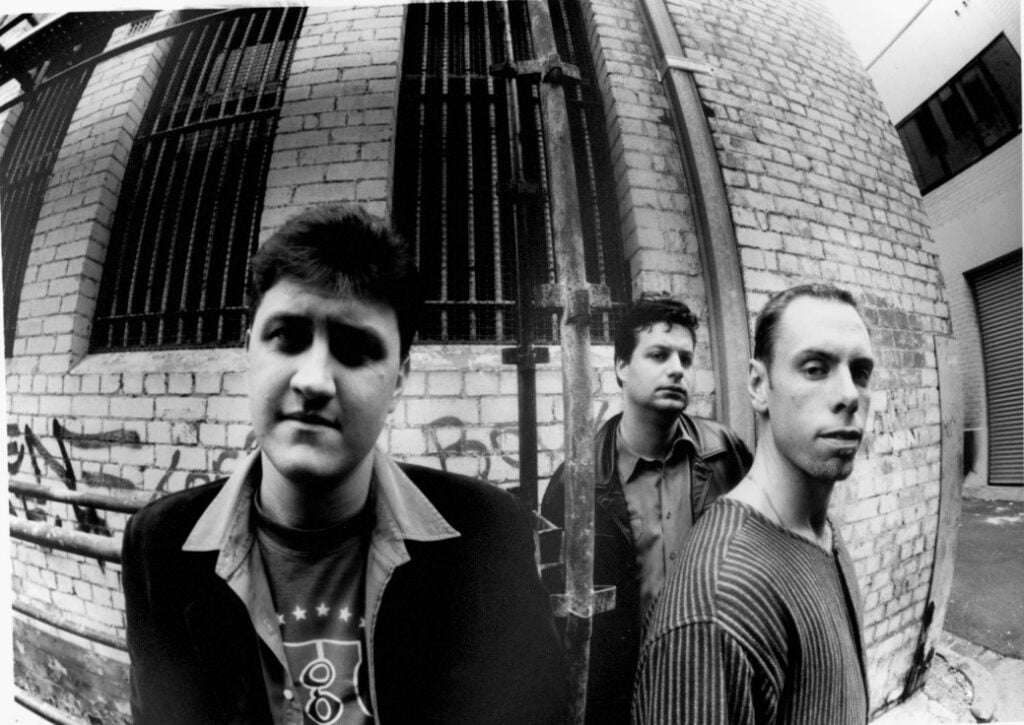 6. What's your view on the role and function of music as political, cultural, spiritual, and/or social vehicles – and do you try and affront any of these themes in your work, or are you purely interested in music as an expression of technical artistry, personal narrative and entertainment?
FENDAHLENE:
I don't think these things are mutually exclusive, it's definitely not an either/or. To answer this question in reverse, we're not too fused in making music as an expression of technical artistry – I mean we like to think we're really good on our respective instruments, for example, but we're not in it to be showy, I mean it's not intellectual jazz. And yeah, it's cool if people are wowed by one of Paul's riffs, or when I do a harmonic run on the bass, but much more important to us is personal narrative – we do write a lot of intimately personal songs as a way to both express ourselves and make connections through relatable music. We don't like to be too direct, it's far more important to encapsulate the intangible, so that a song can mean different things and evoke different emotions in different people. As for entertainment, of course that's important, we got in to this ultimately because we were entertained by musicians who connected with us, so of course it's important to try and entertain.
We do value the role and function of music in the political, or cultural or social space – which to be honest are inseparable anyway, there's never political without social and so on. It is incredibly important. Songs addressing these things don't have to hit you over the head about an issue or problem – abstract or intangible expressions are just as powerful in a political song as a love song. I mean you can hit people over the head – for example, we recorded a song in 2005 called Drink it Down, a sort of protest, sort of fuck you about GW Bush. (It has my personal favourite Fendahlene lyric in it, about the Iraq War: "You changed the rules, you took a big chance / When things went badly, you blamed it on France"). That song ended up on a chart called Living With War on Neil Young's website. Anyway, when writing political songs, or are aiming to make an impact on cultural or social discourse, we still (for the most part) strive to write songs that can mean different things to different people. Several songs on our last album High and Low and Back Again are like that. One of them, I only found out Paul's intended meaning like twelve months after we recorded it (the title track). I never knew much of the inspiration to this song (and the album overall) was a reaction to Brexit, even while playing and recording it.
7. Do you feel that your music is giving you back just as much fulfilment as the amount of work you are putting into it, or are you expecting something more, or different in the future?
FENDAHLENE:
Of course we'd love to get back more, however, we're incredibly fulfilled by what we do. I mean, we love playing and writing music, it's essentially an addiction. Yes, it is time consuming, and it can drain a wallet in no time, but it is in no way work. Every time I for example find a new gear with a bass line, it's just amazing. And you can't overstate just how awesome it is watching people tapping their feet or even just paying attention at a gig from the stage. So I suppose, it would be cool if more people got to experience our music, and even more so if we can make more connections with more people – make people think, make people rock out, whatever. I guess make more people 'feel' is probably the best way to articulate it.
8. Could you describe your creative processes? How do usually start, and go about shaping ideas into a completed song? Do you usually start with a tune, a beat, or a narrative in your head? And do you collaborate with others in this process?
FENDAHLENE: We actually don't have a specific creative process. Paul or I will start with an idea for a melody, riff or progression, then try to produce a coherent working arrangement and provisional lyrics which we will work on together or separately. Occasionally, the lyrics (or narrative theme) come first. There have been a few times when we've written songs from scratch in a rehearsal. We did try a set formula for writing which turned out to be super restrictive when you got stuck, it really interrupted our flow.
To be honest, we don't collaborate with others in the actual process, the first time anyone will hear a work in progress is generally when we've done a demo. We do sometimes work with an Australian writer Clare Catt, a close friend of ours who approaches lyric writing in a totally different way to us. She has sent us the basis for two of our favourite singles, Confusion and Dead and Gone, and another work – a poem – which influenced the related bookend songs on our last album, Burnt Out and Dead and Gone.
9. What has been the most difficult thing you've had to endure in your life or music career so far?
FENDAHLENE: We've had some decent near misses in the past (our 10-year anniversary album was called A Decade of Near Misses for a reason…). For example, we had a song – Glebe Point Road – get quite a lot of commercial airplay and attention in Australia in the winter of 2002, but it came a little out of the blue and we had no distribution set up. By the time we had finalised the distro, it was too late. If it were today streaming would have filled that void.
However, the most difficult thing by far is finding enough time (and money) to do this at a level we want to be. It takes an epic amount of time for a self-funded, self-managed indie act to promote and produce these days, while working in a non-musical job full time. When we promoted the Decade album back in 2005, there was only so many radio stations, mags and papers and promoters you could work with, in Sydney for example you'd exhaust all your contacts and possible opportunities in a few days of letter writing, emails, packing and post office trips. Now it is just impossible, it does sometimes feel like you need twenty days in a week.
10. On the contrary, what would you consider a successful, proud or significant point in your life or music career so far?
FENDAHLENE: Our first formal show was at the Iron Duke Hotel in Sydney in December 1995 (we'd played a birthday party in a surf club before – so Australian – but mostly covers). So we're coming up to 27 years. Yeah, there's been breaks but we are so incredibly proud of that. As for significant points, which we consider a success, our recordings, no doubt. Not for any massive sales or chart success or anything like that, more that we actually produced music that we are super proud of, that we like, and that we know at least some people really like as well. And every new recording is a new milestone for us – you can hear how we've evolved over the years as both songwriters and musicians, and yet pretty much every song sounds like us, as least in our opinion…
KEEP IN TOUCH:
FACEBOOK | INSTAGRAM | TWITTER | SPOTIFY | BANDCAMP | WEBSITE | YOUTUBE