English singer-songwriter Mat Hook, who previously served as the lead singer of the Sheffield indie rock band "Kartica" from 2008 to 2014, has returned to the live and recorded music scenes. In those times, there was international press, sold-out shows, and celebrity endorsements. He is now making his ten-year comeback with live band performances and his first solo studio recordings. 'Runaway Road,' a debut solo song, is available right now on all streaming services. Check out the exclusive interview below: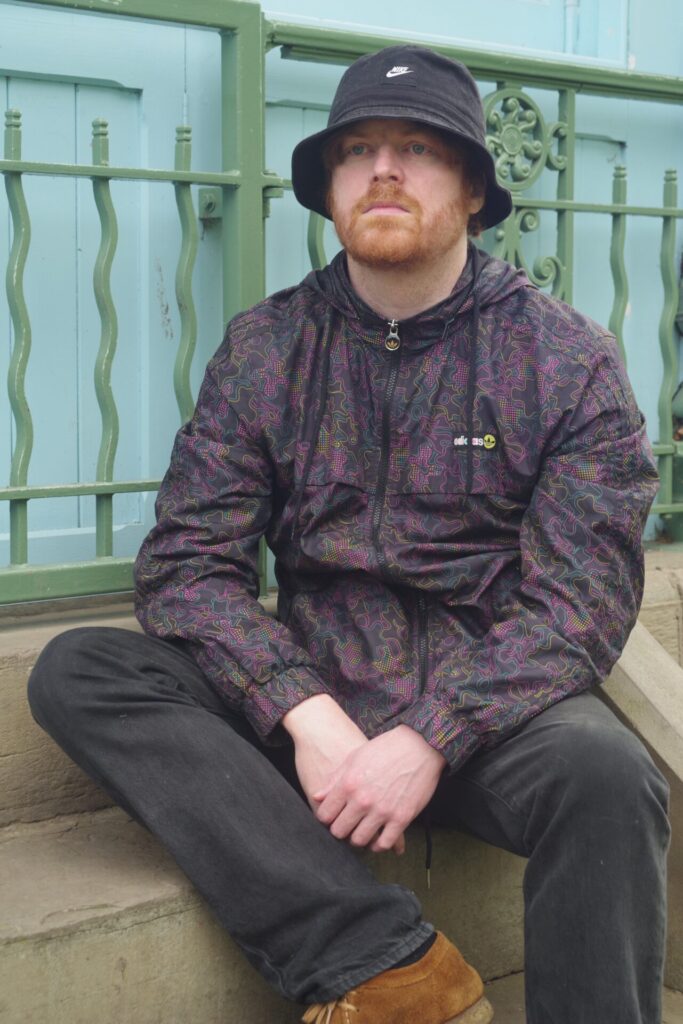 1. Can you tell us a bit about where you come from and how it all got started?
MAT HOOK: I'm from Sheffield, UK. As far as making music, I was an indie rock music fan through most of my teenage years, and eventually me and a mate finally decided to try and learn the guitar at 18. He tailed off after a few months but surprisingly I kept at it. I always felt I could sing (I was waiting for a family member to confuse me with the radio for years but it never happened haha). On the pesistant encouragement of a mate I got up at an open mic one night, in front of loads of people i knew, the first time id ever sang in front of anyone, and it went down well. From there i was approached by a couple of lads I knew through a mutual friend to start a band with them. This became 'Kartica'. For 6 years we played all over the country, including some iconic venues and with some famous names. A lot happened in regards to that falling apart and I had 7 years away from music. The lockdown happened, the guitar was staring at me and I gradually started playing it again. Before you know it I've wrote a few songs again, got social media pages going and eventually been offered gigs. I baby stepped back into it, solo this time.
2. With social media having a heavy impact on our lives and the music business in general, how do you handle criticism, haters, and/or naysayers in general? Is it something you pay attention to, or simply ignore?
MAT HOOK: Criticism I couldnt care less about, it rarely even registers. I used to have a pretty short fuse when I was younger, to the point where it was known about, but once I started to properly understand the reason's for it, it gradually ebbed away. Nowadays if someone's picking fault or lashing out at me for no reason, I straight away, just feel like.. "I've got ya!" Cause I'm affecting you without even engaging with you. That's a pretty powerful effect to have over someone. Words are only as important as your opinion is of the person saying them. No one's losing any sleep over the babbling's of a toddler.. And I take that same energy to adults if you prove yourself to be an absolute whopper! I'm well aware there's people who want me to fail. I'm pretty good on picking up on people's energy and I hear the odd thing socially that trickles down to me. It's funny cos people always say you find out who your friends are when you've got nothing, that's partially true, but also you find out who your friends are when you try to make something of yourself. There's plenty of people who'd like you to remain in the little box they've created for you. On the flip side I've had and have great support in many various ways from people from all over my city and beyond. I can count on support and good-feeling from people I know from all walks of life. I can sense that even more this time around. I really believe with people there's more light than there is darkness, and to any haters in general, I say, get ready! There's plenty more to come!
3. Who were your first and strongest musical influences?
MAT HOOK: I've had fleeting loves of rap music over the years, especially as a kid (Nowadays it doesnt do a lot for me) but I really got into music in my teenage years. Britpop/indie rock was all the mainstream scene back then and I really got attached to it. I'm someone who's kinda in my own head a lot, so if i get into a song/group/scene it becomes a bit all encompassing. I'm obvious in my influences. Oasis, The Verve, Stone Roses, Cast, Ocean Colour Scene etc. These groups were the soundtrack of my life.. They're all (generally) northern groups, who's whole ethos was what I knew. When Kartica first formed 15 years ago now, it was definitely looked down upon in the local music scene in Sheffield to have an affinity to those aforementioned bands, especially with the majority being from the north-west, which coupled with my own family background made me only want to be associated with them more. I've got no time for that kinda bullshit music snobbery. I couldnt really tell you what people make of that scene now. It's a whole new generation who are probably largely unaware of that era of music/pop culture.
4. What do you feel are the key elements in your music that should resonate with listeners, and how would you personally describe your sound?
MAT HOOK: Alls I know is I try to make music that I like. I love a proper 'wall of sound' vibe. I remember whenever I used to hear my favourite songs they'd make me simpy want to stand up, wherever I was!.. Not dance, cos that's not generally the kinda vibe we're talking about, but they'd make me wanna stand up and just kinda take it in and feel alive! Like id been injected with adrenaline! And that's what I aim for now. Just a life-affirming sound, that gives you a jolt.. and can speak to you in a variety of places… Out having a good time or alone with your thoughts. I've always felt (or been able to) slightly disconnected in many environments and my songs are based in that feeling I think.. That feeling of being somewhere else. Saying that, I love the anthemic quality of a song bringing people together.
5. Did you have any formal training or are you self-taught?
MAT HOOK:
No, I'm as basic a self-taught guitarist as it gets and I've no great desire to become a master of it. Although my knowledge of the workings and the why's of guitar is limited, I've got a good natural rythm for playing and I believe a really good ear and instinct. I can pick up how to play things pretty quickly and can always tell if little bits of songs or someone's playing are off or whatever, or what fits with what. I can kinda see the pictures.
6. For most artists, originality is first preceded by a phase of learning and, often, emulating others. What was this like for you? How would you describe your own development as an artist and music maker, and the transition towards your own style, which is known as INDIE?
MAT HOOK:
I'm not particularly original in a straightforward sense, I definitely emulate the bands and scene i grew up with, but making music for me isnt an art form, it's expressing a feeling. Nothing more, nothing less. I don't stray too far from my influences but I dont feel this is, or ever was, a conscious decision, I'm drawn to those influences as they connect with what was there in the first place. I feel if I was given a guitar on a desert island, having never heard another song before in my life, my music would still be pretty similar to what it is now. That's why im never worried about showcasing a song or people's opinions of it, because I know it's come from the most authentic place. Ultimately after that, other people's reactions to it are irrelevant. If you don't "get" my music, you don't really "get" me.
7. Do you feel that your music is giving you back just as much fulfillment as the amount of work you are putting into it or are you expecting something more, or different in the future?
MAT HOOK: The most music ever gives me back is in first completing the writing of a song, and by that I mean just me on an acoustic guitar. That's always the most rewarding moment. I love being in the studio and seeing it come to life in different ways but that initial songwriting process is the most fulfilling. Once people hear a finished version that's all well and good, but I'm well aware of where I am on the map, I'm not some established name and most people, however they come across my music, will barely give it a 2nd thought. In my 20's that realisation would've bothered me but now even if there was no one listening, I'd still be making and releasing it, it's the process that's the best bit for me, and if people genuinely connect with it, then they can know we're walking down the same road… Of course once I release the bassline remix versions, it's over, we're going worldwide, to the very top baby!
8. Do you think is it important for fans of your music to understand the real story and message driving each of your songs, or do you think everyone should be free to interpret your songs in their own personal way?
MAT HOOK: 100% their own interpretation. As far as fans of my music, our lives are mutually exclusive. Someone enjoying it will find their own meaning and association. All my favourite songs growing up meant so much to me because I incorporated them to my life, situations, moments and memories. A song, even years later, can remind you of a person or a moment in your life, or a feeling. How and why I wrote it in mine shouldnt come into it.
9. What has been the most difficult thing you've had to endure in your life or music career so far?
MAT HOOK: As far as any music situations, they dont really register. The hardest thing was probably the battle with my own mind when I've been at my lowest, there's been some bumps in the road but the main period was when I was unemployed, with breakups (both relationship and band), a new baby and dealing with my dad's illness and impending death. I felt very much adrift without a sail. My brother was also seriously ill at that time and the toll everything took on my mother was very evident. In many ways i've had a great life so far but I think there's a periods in everyone's where you come out slightly different to how you went in.. and that was definitely mine. My dad died at home in the early hours, breaking that news to my mum as she looked on is the hardest particular moment I'll hopefully ever have. I think losing anyone close, changes your outlook on life, whenever I face obstacles now I always think back to that moment and it gives me a sense of perspective.
10. On the contrary, what would you consider a successful, proud or significant point in your life or music career so far?
MAT HOOK: I think the first time I ever got up on a stage to sing original material, as part of a band, was one of the most significant things. You have to understand for context, it took me all my time to go onto a nightclub dancefloor as a youth, nevermind sing in front of people on a stage. The most successful was probably being in a band (Kartica) that various people identified with and bought into and playing some of the most iconic venues in the country. I'm proud of setting up my football league (@kickabout.sheff7's) when I was literally at my lowest, but the proudest, most significant and (hopefully successful) contribution I've ever made to this planet is my daughter Elsa. She was born at an uncertain time in my life but I would be absolutely lost at this stage without her, our relationship gives my life genuine meaning.
KEEP IN TOUCH:
FACEBOOK | INSTAGRAM | SPOTIFY | TIKTOK |  YOUTUBE | WEBSITE