Cara Walkam, one-half of the Wollongong indie pop duo Territories, has a slinky solo project called meadowhip.
Meadowhip, who draws inspiration from musicians such as Solange, Tame Impala, Erykah Badu, and Groove Theory, combines pop melodies with psychedelic soul, alt-R&B, jazz, and lyrics that are introspective, impatient, and irreverent.
From Cara's perspective, Meadowhip is an investigation of the self and society. "I'm here to discuss the big three – capitalism, patriarchy, and myself," she says.
With the new song, Meadowhip reveals a vulnerable side while still delivering a strong vocal performance and writing in her distinctively self-deprecating manner. Smooth pop-R&B hooks are infused throughout Iconic, which also features jazzy keys, languid bass, and beats with a lo-fi/hip-hop feel. The track is topped off with a fiery trumpet solo from Sydney's Tommy Gun and liberally strewn with luscious vocal harmonies and golden, glittery samples.
Iconic is the lead single from meadowhip's debut EP "Ruckus," which is scheduled for release in late 2022 and was produced by LA's R&B/soul master Mark Evich with mix and additional vocal production by Sydney's neo-soul sweetheart Chelsea Warner. Check out the exclusive interview below:
1. Can you tell us a bit about where you come from and how you got started?
MEADOWHIP: I love a personal history moment! I've been playing and writing music for as long as I can remember.  My parents had me in music classes very early on, and I took to it very happily.  I loved singing and writing and this became my main focus.  In primary school, I was writing songs with my friends and with my sister.  (Obviously, all of the songs were horrifying, but they brought me extreme joy at the time.)  I was in a few bands as I was growing up, and eventually started releasing music with my band Territories.  Then, after I recovered from a near fatal stroke in 2019, I started writing for a solo project, which became meadowhip.
2. Did you have any formal training or are you self-taught?
MEADOWHIP: Both! I had formal music training as a kid, and spent a lot of my adolescence and teen years in classical vocal training.  I started formal training on flute in 2019 as part of my stroke recovery, too, and I'm still plugging away at that.  I'm kind of useless with other instruments, though.  I understand the theory and I can read the music for piano and guitar (and have formal training on both), but my brain and fingers don't work fast enough for my needs and I get impatient and give up pretty easily at this point!  I'm mostly self-taught with songwriting though.  I think it would have been pretty tricky for me to have picked up that skill through formal training.
3. Who were your first and strongest musical influences and why the name 'MEADOWHIP'? 
MEADOWHIP: My first and strongest musical influences are the artists from the 90s and 00s R&B scene.  I cannot escape the influence that Mariah Carey, Erykah Badu, Monica, and Alicia Keys have over my songwriting.  At the same time, I have always been influenced by more whimsical, loungey and borderline psychedelic music.  I had an intense obsession with Albatross by Fleetwood Mac when I was about 7 years old and I've been chasing that sort of magic in my music ever since.
meadowhip is a name I came up with by playing around with words like that I liked and then smashing them together.  meadowhip stuck pretty much instantaneously cos it sounds pretty and gives equal parts softness and sharpness, and I think that's the balance that I strive for in my music.
4. What do you feel are the key elements in your music that should resonate with listeners, and how would you personally describe your sound?
MEADOWHIP: Oh gosh, this is such a hard question, because I always struggle to describe my music!  The key element in all my music has to be the lyric writing.  It's absolutely the part I care about and fuss over the most.  I love poetic language, but I also like being direct, and I seem to incorporate a mix of the two in my lyric writing.  I'm often snarky in my lyrics, and I love a bit of contradiction between the words and the music – like, a soft song about anger is a vibe.
I like lo-fi hip hop style beats, and swirling synths as a backdrop.  And I live for a killer jazz progression and a beautiful, melodic bassline.  And anything sparkly or dizzying? I'm very much down for that.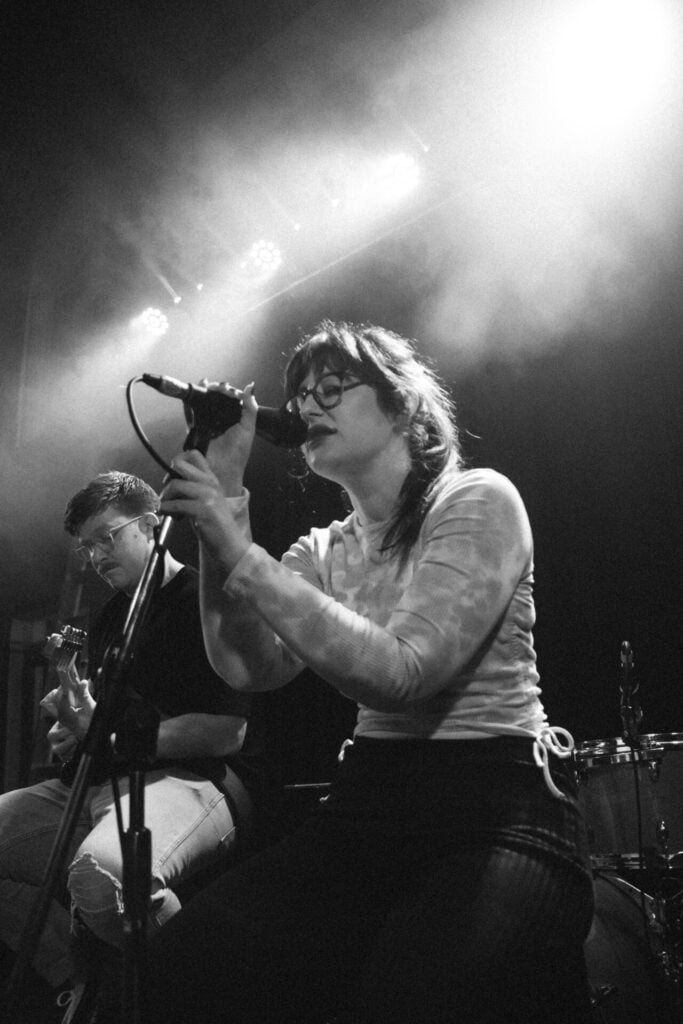 6. What's your view on the role and function of music as political, cultural, spiritual, and/or social vehicles – and do you try and affront any of these themes in your work, or are you purely interested in music as an expression of technical artistry, personal narrative and entertainment?
MEADOWHIP:
I love music that really leans into politics, culture, spirituality and society.  I admire artists who can turn their art into protest.  I do address these themes in my work – the core of what I tend to write about is patriarchy, capitalism and mental health.  But I do think more in the way of commentary and exploration from my perspective, rather than in an attempt to make a statement. 
7. Do you feel that your music is giving you back just as much fulfilment as the amount of work you are putting into it, or are you expecting something more, or different in the future?
MEADOWHIP:
Being able to make music is a reward unto itself.  I find the act of writing and working on music so fulfilling.  Even if I'm working on a song that I think is terrible and will never see the light of day, there is so much joy in the process of conjuring sounds and words.  There's also something incredible about the music scene and the community between musicians.  Being in the company of other people who write and perform, and being understood by them, is also very fulfilling to me.
8. Could you describe your creative processes? How do usually start, and go about shaping ideas into a completed song? Do you usually start with a tune, a beat, or a narrative in your head? And do you collaborate with others in this process?
MEADOWHIP:
It really changes from song to song.  There are times that I get a string of words in my head and I build up music around them to create a song.  Then other times, I will mess around with a chord progress that I think is cool and find a melody that works over it, then create a story to go along with whatever the vibe is that I've created.  
I write alone most of the time, but there's something exquisite about writing with another person.  Even if it's a matter of taking a basic idea for a song that's half-written and bringing it to a producer and sitting down with them and building the rest together – it's magic to share that with someone.  You start with barely anything and together you end up with art.
9. What has been the most difficult thing you've had to endure in your life or music career so far?
MEADOWHIP:
In 2019, I had a major hemorrhagic stroke while I was holidaying in Yosemite.  It should have killed me, and the time in hospital and recovery was beyond any suffering I could have imagined for myself.  However, at this point, I can be grateful for the experience because it gave me some serious perspective on life, and if I didn't go through that, I don't know that meadowhip would exist now!
10. On the contrary, what would you consider a successful, proud or significant point in your life or music career so far? 
MEADOWHIP: I wrote my last single 'Iconic' while I was in a very deep depression – like, crying everyday, questioning the purpose of life, seeing the therapist multiple times a week -type depression.  The whole time I was writing it and the whole time I was working with the producer, I had to talk myself out of binning the whole thing because I just felt so negatively about everything.  I convinced myself it was rubbish and not worth finishing.  So, when I finally released it in May, I felt positively triumphant.  Getting that song out into the world felt like a huge win for me, and hearing that people like it makes me feel like I'm walking on air.
KEEP IN TOUCH:
FACEBOOK | INSTAGRAM | TWITTER | SPOTIFY | BANDCAMP | TIKTOK | WEBSITE | YOUTUBE
Photo credits: Taylah Chapman