Keeka the Brave, the stage name of Elon Hiers, is an American musician, producer, and songwriter who is based in Northeast Florida. His music and artwork reflect the percussionist's classical training. The first EP by Keeka the Brave (2022) combines downtempo rhythm with ambient, ambient guitar, and synthesis elements. His early albums have a steady energy that is true to sunrises and sunsets and evokes a contemplative mood that makes you appreciate the little things and consider the bigger questions in life.
Keeka The Brave's third single of the year. 'Purple' takes a big step into the world of house music while still retaining live instrumentation. Check out the exclusive interview below: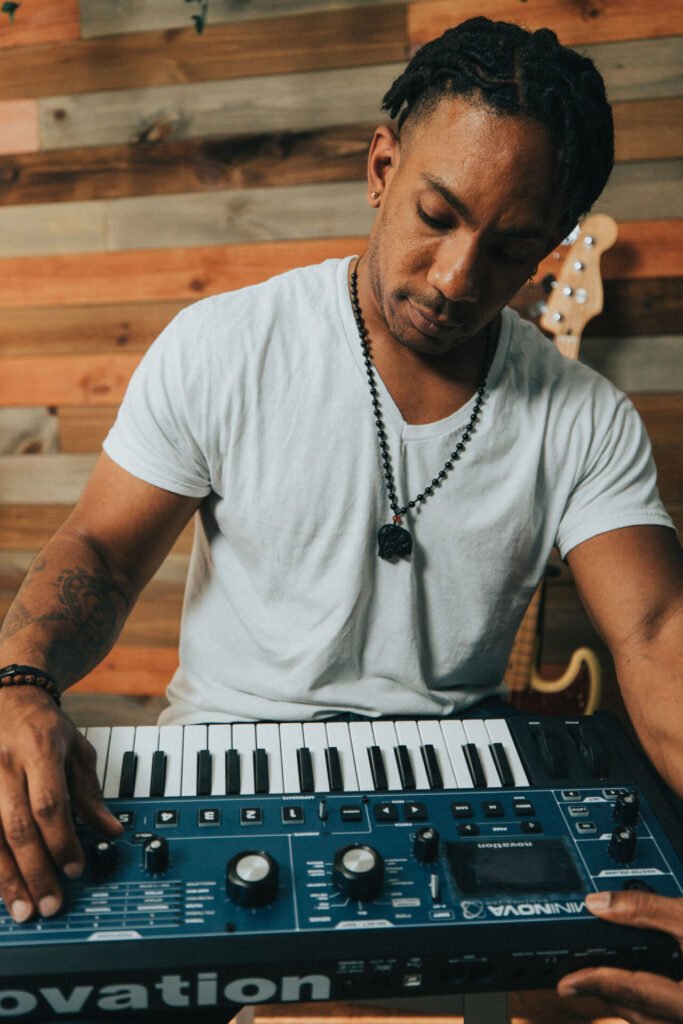 1. Can you tell us a bit about where you come from and how you got started? 

KEEKA THE BRAVE: I'm Elon Hiers and I'm from Jacksonville, Florida. I started playing music when I was 7 years old, when my parents bought my first drum set. From there I picked up other instruments and starting producing in my teenage years.
2. Did you have any formal training or are you self-taught?


KEEKA THE BRAVE: I have formal training on saxophone, which I haven't played since like 8th grade, and drum set. I went to college for jazz drum set and percussion.
3. Who were your first and strongest musical influences and why the name 'KEEKA THE BRAVE'?
KEEKA THE BRAVE: My list of musical influences is huge and spans over all different genres. The MOST influential would be: Jimi Hendrix, Prince, Michael Jackson, Jaco Pastorious, Tycho, Skrillex, John Coltrane, Incubus, and Bob Marley.
4. What do you feel are the key elements in your music that should resonate with listeners, and how would you personally describe your sound? 

KEEKA THE BRAVE: Mainly I aim to establish a sense of atmosphere in the music. I'd like the listener to feel a sense of depth when hearing a track. Atmospheric Electro-Rock is the most simple term I could use to describe the sound.
6. What's your view on the role and function of music as political, cultural, spiritual, and/or social vehicles – and do you try and affront any of these themes in your work, or are you purely interested in music as an expression of technical artistry, personal narrative and entertainment?
KEEKA THE BRAVE:
Music can definitely be a vehicle for tackling social issues, however that is not my aim. We are bombarded with political and social issues on every other form of media, so I'd like my music to be a temporary escape from those things.
7. Do you feel that your music is giving you back just as much fulfilment as the amount of work you are putting into it, or are you expecting something more, or different in the future?

KEEKA THE BRAVE:
I am happy with the way the music has turned out so far. The next goal is to get the live show in order. I'm still working out the flow of a live performance with this project.
8. Could you describe your creative processes? How do usually start, and go about shaping ideas into a completed song? Do you usually start with a tune, a beat, or a narrative in your head? And do you collaborate with others in this process?
KEEKA THE BRAVE:
For me songs start in a couple different ways. Sometimes I'll design a sound on a synthesizer and that will give me a vibe for a track. Other times I'll come up with a riff on guitar and that'll lead into a main theme. Sometimes I hear something in my head from the start and it'll just happen seemingly by itself.
9. What has been the most difficult thing you've had to endure in your life or music career so far?

KEEKA THE BRAVE:
The most difficult thing is balancing my music career with my family and work life. I'm married with two small children and making family time as well as spending hours at work and in the studio gets tough sometimes. My wife is supportive so its much easier that it could be.
10. On the contrary, what would you consider a successful, proud or significant point in your life or music career so far?
KEEKA THE BRAVE: My first Spotify release for this project is a personal victory for me. This project is something that I've always wanted to do and the first official release was sort of a flag planting. Keeka The Brave became official at that moment.
KEEP IN TOUCH:
INSTAGRAM | SPOTIFY
Photo credits: Sean Kernohan