Rosanna Plüss, a Swedish singer and songwriter who was born in 1991, is based in Stockholm. She graduated from the Ume Academy of Fine Arts in 2018.
One of many songs Rosanna wrote during a difficult time in her life following a trauma involving her sister's suicide is her debut single, "Lose it all." Rosanna has lived a very full life and has a lot to say. She started her artistic journey with art and received her degree from the Academy of Fine Arts in 2018. Her method of self-expression began with a passionate exploration of performance and video art. She then discovered her voice and continued to advance in the arts as a singer and songwriter. She adores how straightforward and honest singing is. Rosanna draws a lot of inspiration for her songs from her own life experience because she wants her listeners to know that they are not alone in dealing with mental illness. Check out the debut single and the exclusive interview below:
1. Can you tell us a bit about where you come from and how you got started?
ROSANNA: I was born in 1991, in Stockholm, Sweden where I grew up. My last name Plüss comes from my Swiss grandfather on my mother's side. Other than my grandfather, who was an established photographer, none of the other family members could support themselves through their art and had to settle for working-class jobs. I come from a long lineage of artists who never fulfilled their dreams, which I think gave me the drive that I have today to succeed. We didn't always have a lot of money, growing up my dad worked as a care assistant in a retirement home, and my mother was a student whose main income was her student loan called CSN, and a part-time job as a caterer, needles to say we often struggled to make ends meet. Unlike many other musicians, I didn't have any musical family members, so I had to learn everything on my own. My mother told me that as a child I was mesmerized by Oprah and would sit in front of the TV as if hypnotized. It calmed me down because I was extremely hyper at home and very shy in school. As a young adult at 21, I decided to follow in my parent's footsteps and got a bachelor's degree in fine Arts. Soon after I realized that my true calling was music and have since honed my craft and released my music.
2. Did you have any formal training or are you self-taught?
ROSANNA: I am self-taught.
3. Who were your first and strongest musical influences and why the name 'ROSANNA'?
ROSANNA: When I was 6 I got a Madonna CD with her 80's songs. I would take over the whole living room for hours with my dance, put on mom's clothes, and high heels and perform for my parents. Madonna in her early years was a big influence on me. Not just with her music but also as an artist, performer, dancer, and style icon. I chose my first name as my stage name, I like that it's clean and honest and represents who I am.
4. What do you feel are the key elements in your music that should resonate with listeners, and how would you personally describe your sound?
ROSANNA: I would say my songs focus on the vocals a lot. I speak my truth through my music and hope that people can resonate to its authenticity. I have also always loved theater and dance which has influenced my music in a big way.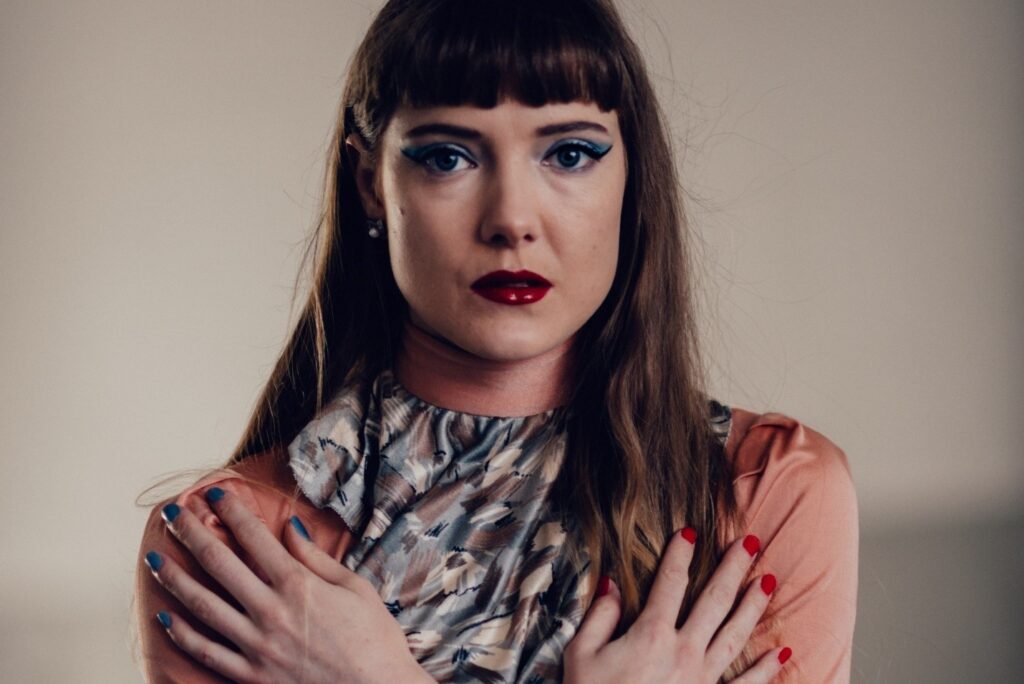 6. What's your view on the role and function of music as political, cultural, spiritual, and/or social vehicles – and do you try and affront any of these themes in your work, or are you purely interested in music as an expression of technical artistry, personal narrative and entertainment?
ROSANNA:
I am mainly interested in music as a form of expression. It is the best therapy and outlet for feelings in the world, both for the lister and the artist. What I want is to reach, inspire and touch people with my music, by sharing my experiences that others can relate to.
7. Do you feel that your music is giving you back just as much fulfilment as the amount of work you are putting into it, or are you expecting something more, or different in the future?
ROSANNA:
My motto is to go with the flow, I try to focus on the process rather than the outcome. This is a tuff and collaborative industry, which is hard on me who has never been the most patient person, I like to get things done quickly. However, I know that to make any dream come true you have to be persistent and never give up. It's very rewarding and fulfilling as long as I focus on my love for music and the process of making it.
8. Could you describe your creative processes? How do usually start, and go about shaping ideas into a completed song? Do you usually start with a tune, a beat, or a narrative in your head? And do you collaborate with others in this process?
ROSANNA:
For the most part, inspiration strikes me with a melody in my head, which I then proceed to emulate on the piano. My voice is the main birthplace of most of my songs. I will hum, then save the melodies and different bits until I can put them to use in a song. It's like painting.
I am currently not producing on my own. I usually deliver a base, idea, or melody to the producer which will kickstart our collaboration until the completion of a song. When we were making "Lose it all" I worked with Amanda Kohlström (m.i.d.n.a.t.t) and nowadays I am working with Patrik Edenhall (Basement Space) on a new single that will be released this fall, and I am so excited!
9. What has been the most difficult thing you've had to endure in your life or music career so far?
ROSANNA: The toughest phase of my life was between 2011-2012. My sister and best friend who I was very close to committed suicide. This really traumatized me and set my life on a downward spiral. I was greaving so much, the whole year was a blackout for me. I was in many abusive relationships, self-medicating with pills and alcohol, I simply didn't care what happened to me, when she died I died. It was a very dark phase of my life. I still grieve, of course, only now I know how to live with it. Surviving this has made me a very strong person today.
10. On the contrary, what would you consider a successful, proud or significant point in your life or music career so far?
ROSANNA: I am most proud of how much I've grown as a person. I was a very hurt and fragile little girl who never felt worthy of love, and today I feel like a strong woman who can rely on herself and make things happen. And that's very empowering, I feel I can be of much greater value to loved ones, and now I know I deserve to be loved as I love.
KEEP IN TOUCH:
FACEBOOK | INSTAGRAM | SPOTIFY