The contrast between the innocent and dreamy and the restless and slightly aggressive in the band name accurately describes the music. Co-founder Stephen Gardener, who himself is not afraid to throw in a bouncy bassline with dub influences, says, "We quickly found out that the four of us have too many different influences to be able to stay within the strict boundaries of post-punk." Several songs feature instrumental post-rock dynamics, while others rely on repetitiveness that borders on krautrock. Terje Kleven, a singer and guitarist who collaborates with Gardener on songwriting, asserts that "the song always remains the most important thing," occasionally making reference to his past as a popster. There is always a melodic component, and we definitely don't mind having a sing-along chorus or hummable riff! The band fits into a tradition best characterized as stadium-melancholy, which was perfected by obvious 80s legends The Cure, The Chameleons, and Echo and the Bunnymen and carried into the new millennium by the likes of Placebo, Editors, and The National. The band's accessibility, along with well-crafted arrangements and an underlying sonic and lyrical darkness, place them within this tradition.
It rarely happens, but 'No Chains' actually began with the drum beat. One late fateful summer day while takina a stroll through the botanical gardens in Oslo, Let's Dance by David Bowie acted as the inspiration for the song. The main melody came to the songwriter the following morning in the shower and the main riff's outline appeared as he was beatboxing his way through the park. In the final stages of writing, they attempted to visualize a call to arms against keyboard warriors and internet trolls, though the lyrics can be broadly interpreted as being about resisting any form of oppression.
The Afterdrop, their debut album, will have its first taster released later this fall. In August, they'll perform at the renowned Øya festival to support the single release. Check out their single 'No Chains' and the exclusive interview below: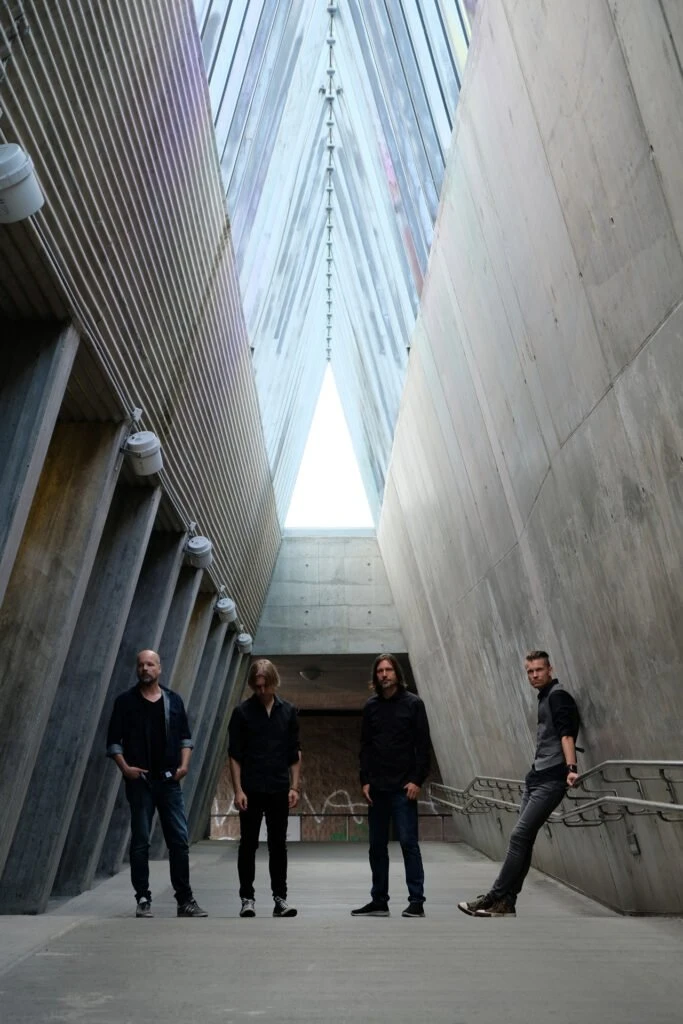 1. Can you tell us a bit about where you all come from and how it all got started?
SLEEP KICKS: Frode: Oooh, there are many long and winding roads that lead to these four guys playing together, that's for sure! We're all, shall we say, "seasoned" musicians, with more than 100 years combined behind us in different bands, with various amounts of success. I guess you could say that Terje is the hub in the band, having previously played with the other three in different bands.
Terje: The seeds of Sleep Kicks were sown around five years ago, I think – I found myself with this bunch of songs, but no band. So I tried to assemble old bandmates and friends for a while, and out of the blue I came across this Facebook ad from Stephen – who was kinda in the same position as me. I knew Stephen from almost ten years back, when we played in a band called Infiniteloop – however not at the same time! The ball rolled from there, and by August 2019, Jørn and Frode had joined the force. Both of course also old bandmates that I knew had the skills and the personality to fit in. Frode came up with the name and Jørn fixed us our first studio deal, so they immediately proved themselves worthy, haha! 
2. Did you guys have any formal training or are you self-taught?
SLEEP KICKS: Terje: self-taught, but blessed with musical genes (father, grandmother, uncle, cousins all musicians in one way or another). Did attend organ lessons, though, if that counts.
Jørn: Self-taught, but got the inspiration to pick up the guitar from my older brother.  
Stephen: Self-taught. That should be obvious, shouldn't it?!
Frode: Haha, yeah, if our musical skills were actually taught, we'd like our money back!
3. Who were your first and strongest musical influences? 
SLEEP KICKS: Terje: Almost too many to mention. From Beatles and Kiss during my childhood years, via hair metal, Pink Floyd and Crowded House during my teens, to britpop, madchester and eventually arriving at relevant genres/scenes like shoegaze and the new wave of post-punk in my 20's, when the musical ambitions had come to stay. My playing and writing style today is probably rooted in stuff I was listening to around 2003-2004; Death Cab for Cutie's Transatlanticism, Kashmir's Zitilites and the first two Interpol albums.
Jørn: My first musical 'in awe' experience was Elvis in fact, even though I am not a child of that time. But I am probably more a heavy rock/heavy metal inspired player as my heroes were Black Sabbath, Deep Purple, and early AC/DC before The New Wave of British Heavy Metal arrived. And of course, our national pride A-ha had an impact on me, as their songwriting skills were – and still are – just incredible.
Stephen: First were probably Adam & the Ants. Depeche Mode and Jean Michel Jarre were in there somewhere as well. Then I heard the Sisters of Mercy and my world changed – not to mention my hair colour! Strongest musical influences have to be Dead Can Dance and Cocteau Twins. But I also have a great love of indie-pop (of the jangly late-80s / early 90s variety) and shoegaze. And Mega City Four were just brilliant.
Frode: An eclectic mix of influences there, isn't it? I guess Terje, Stephen and me come from more or less the same scene, getting influenced by and trying to emulate various facets of predominantly British indie music. And then Jørn comes along, and just perfectly adapts – to the point where he end up writing the most "Manchester, 1979"-sounding songs of us all!
4. What do you feel are the key elements in your music that should resonate with listeners, and how would you personally describe your sound?
SLEEP KICKS: Terje: In terms of the vibe we try to convey, I guess we aim to marry the dark and jagged with the catchy and melodic. Or, "aim" is not the right word – it just turns out that way! To have a slightly unsettling verse leap into a big soaring chorus, or to have these twisted lyrics set to a hummable melody – that juxtaposition that bands like Radiohead or The Cure have perfected. We love to create atmospheres through our songs and spend a lot of time on the arrangements. Synths, loops, harmonies, spoken word-bits and of course tons of guitar effects. Minimalism it is not!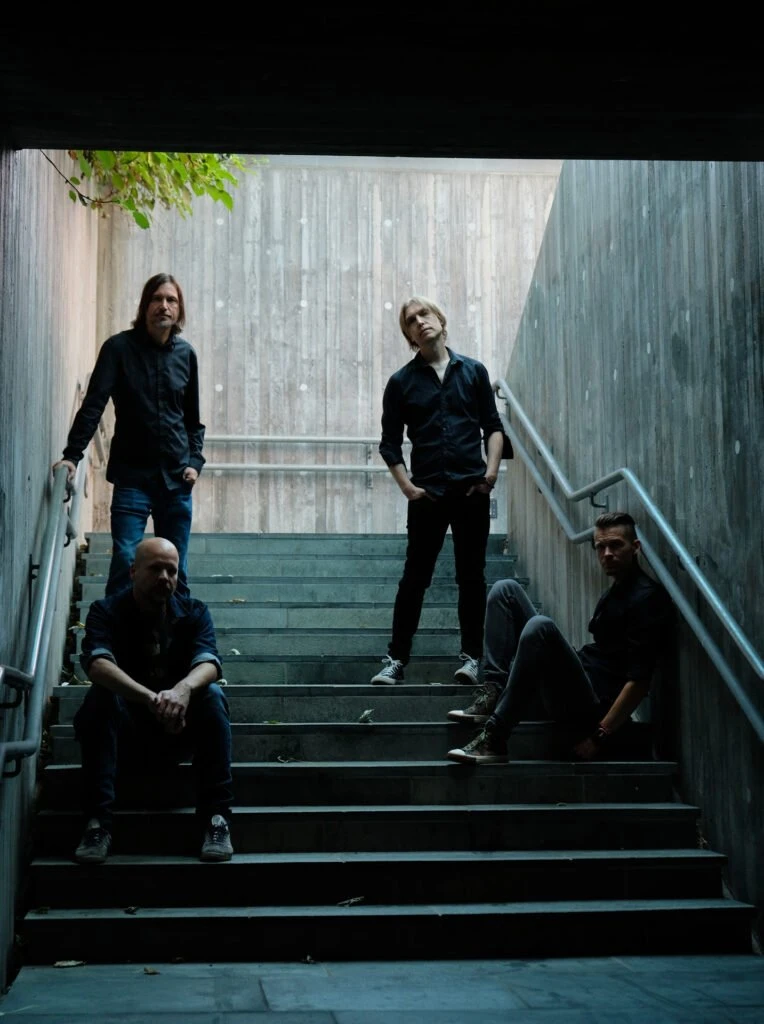 6. What's your view on the role and function of music as political, cultural, spiritual, and/or social vehicles – and do you try and affront any of these themes in your work, or are you purely interested in music as an expression of technical artistry, personal narrative and entertainment?
SLEEP KICKS:
Jørn: I think that is totally up to the individual artist to decide if they wanna express their political or social views or not. I have no problem with artists that do, nor do I have any problem with artists who don't. I mean, I love Roger Waters, Rage Against the Machine, and some of those early Sting albums, and there are clear messages there. And then you have bands that write about general everyday life stuff, which is fine, too. As long as it feels real, I am fine with it.
Stephen: music can and should be all those things. Whether I create a dreamy soundscape to get lost in or write lyrics about concrete and alienation just depends on my mood that day. For what it's worth, I do have a soft spot for lyrics that celebrate the ordinary.
Terje: I certainly won't call us a political band, nor do we set out to be messengers of some kind. On the other hand, we rarely sing explicitly about love or, you know, the beautiful blue sky. Personally, my lyrics are often anecdotal, or short narratives based on observations or personal experience. Probably the cultural and social surroundings will seep in there somehow, unconsciously.
7. Do you feel that your music is giving you back just as much fulfilment as the amount of work you are putting into it, or are you expecting something more, or different in the future?
SLEEP KICKS:
Jørn: The music we do is giving back a lot more than it feels that we are putting into it from my point of view. I mean, some people go fishing, others go hiking, and some collect things -as their personal free zone, their own shrink if you like, as it gives them something positive, some good energy. This band is my shrink, my free zone and what we create together is this positive vibe – that this is something we all wanna do. And if someone else likes what we do, that is just a huge bonus in all honesty.
Stephen: I make music because I like to, and cos I'm kinda driven to. Art is about creativity, it's not a fucking business transaction! Anyway, expectations fuck everything up, not sure why anyone would want to approach creativity in that way.
Frode: Language, Stephen!
8. Could you describe your creative processes? How do usually start, and go about shaping ideas into a completed song? Do you usually start with a tune, a beat, or a narrative in your head? And do you collaborate with others in this process?
SLEEP KICKS: Terje: It's always the music first! A cool riff, a string of notes that turns into a vocal hook, a chord sequence. Something that makes you stop in your tracks and think "hey, this could be something, let's get that Dictaphone out". The idea can pop up while driving, while in the shower or, of course, while fiddling around with the acoustic guitar at home. Personally, I'm a bit of a perfectionist, and usually flesh out the whole song on my own, before I present a fully arranged demo to the others. Programmed drums, basslines and all. I just believe that's the fastest way to get the song up and running. Then, of course, we play the song a hundred times, while everyone gradually puts their personal mark on it.
Stephen: For me, it usually starts with a long walk! I would like to collaborate more, but we all work in different ways, I guess.
Terje: It has to be said, though, that we have a handful of songs in our set that are kind of collaborative, in that Stephen has presented a handful of half-finished sketches and riffs and then I've taken the coolest ones and finished them, stitching it all together. It's such a good feeling, when you know that "this song wouldn't exist without our combined efforts – and talents". Yeah, I agree, we definitely need to do that more!
9. What has been the most difficult thing you've had to endure in your life or music career so far?
SLEEP KICKS: Frode: Most current artists would probably go straight for the obvious "lockdown" alternative here. For Sleep Kicks, it was certainly a veritable downer, with all venues closing just two weeks after we released our first single. But all in all, we made the most of it, keeping weekly rehearsals going, writing new stuff, refining our sound, mixing our recorded material, making music videos, building the fan base. The lack of gigs was frustrating, but we came out of it a much better band – and much better prepared for a proper shot at the dream.
10. On the contrary, what would you consider a successful, proud or significant point in your life or music career so far?
SLEEP KICKS: Terje: For me, the pivotal point was the mini tour we did last spring. At that point, mostly due to the covid lockdown, this current incarnation of the band had played together for almost two years without a single public gig. Could we cut it? Oh yes, we certainly could. We travelled 1200 km to play a couple of 90 minute shows for a bunch of total strangers and we absolutely killed it! That experience definitely told me that we were on the right track – and also gave us enough confidence in our material to go on making an album.
Stephen: Yeah, and just getting to travel and see more of the country while playing gigs has been just brilliant!
Jørn: We were very honored to be asked to play at the Øya Clubday, as Øya is Norway's biggest music festival and it was certainly a great thing to be a part of. And not to forget: we are releasing our debut album soon, which has been a goal for quite some time. We have had some challenges along the way which we have overcome and we are finally seeing the finishing line not too far ahead. Holding that album in our hands (yes, we are aiming for a vinyl release, as well) is gonna be a significant moment for us!
Frode: This interview feels like a success to me, for sure!
KEEP IN TOUCH:
FACEBOOK | INSTAGRAM | TWITTER | SPOTIFY | BANDCAMP | YOUTUBE
Photo credits: Ingeborg Landbakk-Pettersen