A razor-sharp rock and roll group called Spirit Gun is based in Norfolk, Virginia. The group's distinctive sound is an intense fusion of melodic grooves, punk-like ferocity, and dashes of soul music, creating a sonic journey that captures audiences wherever they perform.
The band wanted to tell us about their NEW EP that is being released on 12-23-22 via PowerStep Records. It's called The Antonym and is 4 songs about the city, life, loss, and looking back. The first single will be the song, "The Antonym". Check out the exclusive interview below:
1. Can you tell us a bit about where you come from and how it all got started?
Oren: I was born in Israel, but moved to the states when I was 1. We landed here in Norfolk, VA and I've been here off and on since. I've moved away, but always end up coming back. It's totally what I consider home. We aren't the biggest city, but definitely not a small town. Norfolk has alot of industry, the military, and history, and I think you can kind of hear that in our music. I was always interested in music as a kid. I just picked up a bass at my friend's house, got the Mel Bay book on how to play bass and away I went. Becoming a drummer is a whole different story, ha ha.
Tony: I was born in Long Beach, California and grew up a navy brat, moving across the United States, primarily living in Virginia Beach and other parts of Southern California. I have lived in other cities in the Tidewater region of Virginia but I have only been a resident of Norfolk for less than two years. Not sure where my true home is but so far I love the area I currently live in. As for music, it kind of came to me at an early age back when MTV was at its early infancy (as I was at the time, I was born around the same time MTV premiered). I always knew I was going to become a musician and here I am still rocking out with no plans of stopping.
Pete: I was born in Roanoke VA, and moved to Norfolk in 1978. I grew up in Norfolk and have lived in all the surrounding cities, but Norfolk is my home. My mother sings and plays guitar and my father managed bands and promoted concerts when I was a kid. He was an encyclopedia of Rock and Roll. I was always around music in one way or another. It was inevitable music would become my life.
2. What's your view on the role and function of music as political, cultural, spiritual, and/or social vehicles – and do you try and affront any of these themes in your work, or are you purely interested in music as an expression of technical artistry, personal narrative, and entertainment?
Oren: I think art of any kind, music, painting, writing, poetry can be used as the sharpest tipped weapon to get a point across. This is great. Like most things in life, there are many sides and ways to get ideas across. I love this. I often say that in playing music there is a physical component to it. We move the air. Our amps push the air for you to hear what we do, that is a physical manifestation of the songs. You can feel it and if you can feel it, it can open your mind to what we are trying to say. Personnelly in this band, I don't like to be openly political or come right out and share my views. They are in there, and if you listen pretty closely you might hear them, but I prefer for the listener to draw their conclusion. There is no wrong way to interpret a song. If it moves you to make a positive change in your life or your community, then that can't be a bad thing.
Tony: Culturally, spiritually, and socially, music tends to bring people together. Without it, we would not have survived this long. Politically, I use music as a way to fight against the system, a weapon against the wrongdoings of corrupt government overrule. Let's face it, we are living in a time where we are surrounded by inept leaders on both sides of the aisle and we are seeing things become unhinged within. As musicians, we are also the common citizen that wants to live life and enjoy it. Punk and metal to me is my way of rebelling against the norm, against the status quo, and I want the fans to feel that. I want them to know hey, it's ok to question authority. It's ok to have a good time. Let's share each other's cultural backgrounds and have a chat.
Pete: With these songs, we want to start a conversation and be a good force for change. For me it starts with making good music and not manipulating the narrative. As far as technicality goes, We don't sweat the technique. We learn technical stuff and then leave plenty of room for the emotional aspect of the songs. Sometimes it just comes out of you and you don't even think about it or realize it till you've already done it.
3. Who were your first and strongest musical influences and why the name 'SPIRIT GUN'?
Oren: As a kid my dad and I would hang out in the living room on Saturday nights and listen to records and play with my train set. We didn't have many records or tapes, but the heaviest rotation was Air Supply, Abba, The Beatles, Pink Floyd, and Billy Joel, I know right? I think that is where I first got my interest in the rhythm section. We had a pretty cool 80's stereo with the giant speakers so you could really hear the bass and drums. I think that formulated my style moving forward. No matter what I got into down the line, punk, hardcore, rock, metal, or whatever. I always still loved the rhythm section and how the bass and drums lock in to each other. No surprise I started out as a bass player, but ended up a drummer. As for the name, we'll let Pete explain that, and no it has nothing to do with anime, ha ha.
Tony: For me, Prince was the artist that made me want to become a rocker. What he was doing with the electric guitar was something that gravitated me to the sound of distortion. I basically fell into a rabbit hole of sound that would bring me to the world of rock and roll. As a young kid, my eldest brother James (Richie) and I would listen to the radio on the weekends, most notably Casey Kasum's Top 40. I would later get into more obscure punk and metal which definitely led me into a more DIY approach to music. Pete can definitely elaborate on the meaning of our name Spirit Gun.
Pete: For me as a kid growing up in the 80s, I was bombarded with music like Hall & Oates and as a teen I liked hair metal, but was eventually bitten by the Punk Rock bug when I listened to Jim Carroll Band. When Grunge happened, that inspired the desire to be a singer. Down the line a lot of bands I discovered were from friends, and those sometimes have the biggest impact. So the name Spirit Gun came into my brain when I was playing as a solo singer/songwriter act. I just went by my name, but I wanted to go by something that would sound like a band and be memorable. My friend Tricia and her husband are very creative artists, filmographers, make up artists, set designers, and so much more. During a visit at their place, they were putting together a horror movie latex mask. We were all listening to The Gun Club and I asked what holds the mask together. She said "this is spiritgum". Well with the music up loud and I heard Spirit Gun. I thought wow that is the name I have been looking for. It was short, catchy, and could have some pretty deep meaning behind it. Didn't know till much later she said Gum instead of Gun, ha ha. All these years later it has stuck around and the rest is history.
4. What do you feel are the key elements in your music that should resonate with listeners, and how would you personally describe your sound?
Oren: Pasion. That is what we put into every song we play. Sometimes it comes across heavy, sometimes fast, or sometimes soulful, but I definitely think we put every drop of passion for the music that we have into it and I think that is what resonates. When people ask what we sound like, I just say, rock.roll.soul.
Tony: We definitely have angst and sonic energy in our songs to highlight the emotive work we put in. With our experiences growing up in the 80's and 90's, we witnessed at a time the world was sort of revolting and is something we still hold on to. We instead tell stories of how life was, which is unrecognizable in today's society.
Pete: Oren says it best Passion. If we focus on the mechanics of what is happening, it could compromise what we are moving into existence. Most of what we want is to be ourselves in the music. That can be very powerful, because that is the truth and you can never go wrong with that.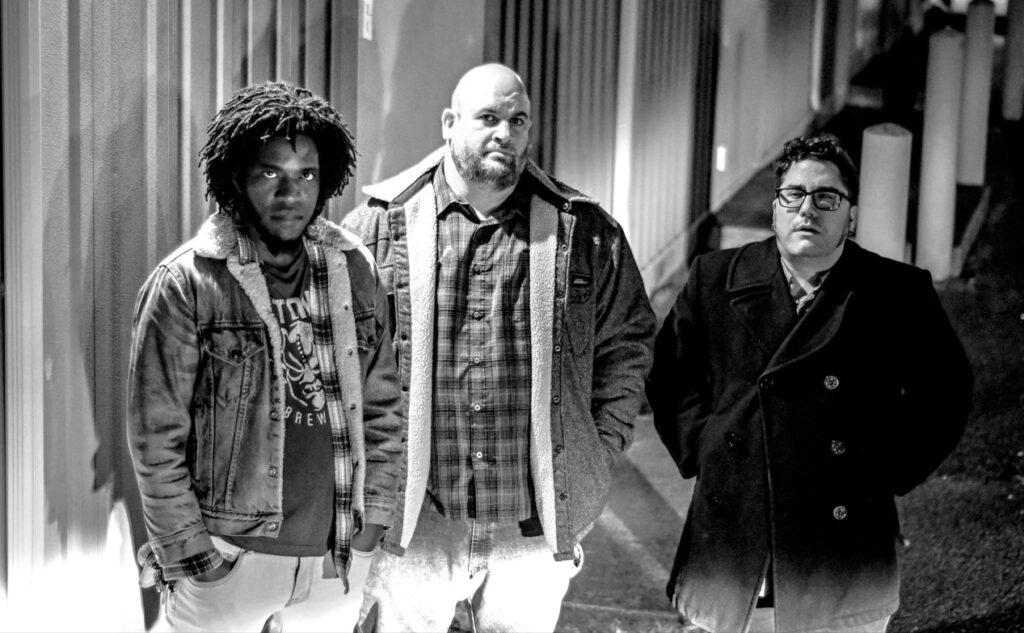 5. Did you have any formal training or are you self-taught?
Oren: I'm self taught. I started out as a bass player in my teens. I took the free lesson that came with my bass and had the Mel Bay Bass book, but other than that it was just playing along with songs I liked and with friends. The best part of being in a teenage band is that we all learned together. I am a figiter and I'm always moving my feet or doing a beat on the table, just enough to annoy whoever was around me. We seemed to have a drummer shortage, so I decided to give it a try. I guess I've been behind the kit ever since.
Tony: I taught myself how to play guitar, bass, and drums (sorry if it was so loud Mom, haha) when I was teenager. Right before that, I played violin for my middle school orchestra, so there was some training from my teacher. I wanted to play stand up bass but it was a little pricey to rent and I needed to go through a growth spurt to be able to manage that thing. I mostly learned songs by ear or at times by feel and then I may look at transcriptions just to see how close or precise I was.
Pete: I took vocal training when I was 23 but had been singing since I was 17. I picked up guitar when I was 19 and slowly absorbed lessons from friends, magazines, or anywhere I could learn something. I began singing and playing bass around the age of 21. Being a bass player for numerous projects, I feel the bass made me a better musician all around. Which all lead me to be the guitar player and singer for Spirit Gun.
6. For most artists, originality is first preceded by a phase of learning and, often, emulating others. What was this like for you? How would you describe your own development as an artist and music maker, and the transition towards your own style, which is known as ROCK?
Oren: Teenage me was all about Green Day and Nirvana. I was into lots more stuff, but those are the ones I tried to emulate when I first got my bass. I fell way short of getting close to either of those bands' tones or styles, but they were a good first brick in the path to be a musician. It wasn't till years later, that I think I gravitated to those bands albums because they were so well produced, and you could really hear the rhythm section. That always stuck with me and that is what I am always working toward. When I learned my first scale, it was on. It seemed everything clicked and that was the key to unlock everything. The rest is just doing it over and over and over.
Tony: To echo Oren, I used to sneak into my brother Hermanos's room to listen to Green Day and Nirvana tapes on his stereo, haha! As a young musician, I basically followed what Billy Joe Armstrong and Kurt Cobain were doing just to get a start. Mike Starr of Alice In Chains also shaped me as a bass player. He just had a lot of swagger and attitude when it came to his playing. Everybody has to start from somewhere just to build on top of a foundation, but then you come into your own and develop what you do and what you bring to the music.
Pete: In the past I went through different phases musically, I think we all do till we find what sticks or what we need at the time. When I was a solo musician, I was into a lot of Americana and soul music. Then when Spirit Gun started, I wanted to take what I learned from being a solo musician, and turn up the heat. A great song that has a strong foundation can be played solo, can be an instrumental, and even lyrically spoken word, we try to write songs that can thrive in many different ways.
7. Do you feel that your music is giving you back just as much fulfillment as the amount of work you are putting into it or are you expecting something more, or different in the future?
Oren: The thing I always tell the guys is that I'm in it for the work. I love the idea of getting into a room with nothing and then coming out with a song. That still amazes me to this day. Don't get me wrong, I love the grind of everything else, but having a deadline or a short window of time and creating something really still feels like magic to me. As long as I still get to do that, no matter how much work, time, or money it is, it is definitely worth it.
Tony: It's totally a labor of love. I get a kick out of entertaining people. Either I'm rocking out or I'm doing voice impersonations of celebrities to get a laugh, it brings me joy. When I see the crowd from my eyes and they are having a fun time (and an added bonus, the place is packed), it is total zen for me.
Pete: Oren, Tony, and myself make a great team. The reason why is because we bend with each other with direction and just overall presentation. We work as a unit. So make sure we are all in lockstep. Even when we aren't we can talk about it and get to a common ground. This is necessary because we don't want to get in the way of having a great outcome.
8. Could you describe your creative processes? How do you usually start, and go about shaping ideas into a completed song? Do you usually start with a tune, a beat, or a narrative in your head? And do you collaborate with others in this process?
Oren: I have ideas hit when I let my mind go. If I'm cutting the grass, going on a drive, or on a zoom call, ha ha. I'll usually come up with a tune and some lyrics. Our writing process is very collaborative and I hand off my ideas to Pete or Tony. I don't tell them anything, just say check this out. They usually come back with a melody or a riff that is infinitely cooler than anything I was thinking and we go from there. Pete and Tony write in different ways, but no matter whoever starts off the idea, we always end it together.
Tony: I don't necessarily have a routine way of writing, it just kind of comes to me. I would get sound frequencies sent to my ears and my mind, a thing that has been a part of my entire life. There's times I'll have a bad day and just come up with some notes or whatever to sort of give me peace and freedom or most likely I would work in a Hunter S. Thompson/Gonzo-like manner and just write flowingly while pouring a glass of my favorite bourbon. At times, I treat writing music as a special homework assignment. The process can start in any number of ways, but once it does, it's up to you to follow it and see where it goes.
Pete: I've said it once and I'll say it again, "Hey, this song sounds great!" That's just me by myself strumming around in my room. Sometimes I come up with whole songs and other times it could be a riff that I bring to Oren and Tony. I can usually have a theme in mind of what I want the song to be about and we go from there. Sometimes we can nail down a finished song in a few minutes and other times can take weeks, months, or years, but you keep at it and it will grow and shape to what we want or need.
9. Creative work in a studio or home environment, or interaction with a live audience? Which of these two options excites you most, and why?
Oren: You know it's funny, I used to always use the quote I once heard, that being in the studio is like working on Saturday night and playing live is like going to the best party with the best date on Saturday night. It was no comparison, the energy and the feel of playing live was always the goal for me. Recording just always felt sterile and I was never happy with the result. I guess because we were always going to someone else's studio and we were always in a crunch, either for time or money. Once we decided to make our own studio, it seemed everything finally clicked. Recording was fun. We could experiment and take our time. Live is still the top for me, but recording is slowly working its way up.
Tony: Don't get me wrong, I love recording for the simple fact that you are together with your band mates laying down the foundation of an album or content. You are capturing the essence of the tracks only to have the people later on listen to it, let it become the soundtrack of their life, and most of all, leaving your legacy for the world. But man there is nothing more euphoric than a live setting. As a performer, you are taking in a lot of different energies that exist in the venue. Whether it's 6 people or over a thousand on the dance floor, it is an incredible rush of adrenaline and at times an out-of-body experience. It's the best part of being a musician!
Pete: If someone has the resources to record their own music they really should try it. There is a difference between a laptop with one microphone and pro studio gear, but who cares. Put your passion into whatever gear you have and make the most of it. When you've created a space where you rehearse and when you feel the most comfortable and you know that you can document what you're doing, it's huge! It can totally change the game for how we perceive what we're doing and the results that we get.
10. On the contrary, what would you consider a successful, proud or significant point in your life or music career so far?
Oren: The release of this latest EP. It just seemed everything finally came together. The musical ideas, the band members, recording it in our studio. Everything just felt like after years of working toward a goal, it finally happened. I'm so excited for the next one.
Tony: I think to me, true success is being a part of a project with Oren and Pete (which happens to be a three-piece band that is of my liking) creating amazing rock tunes. It's also amazing that I get to share this experience with my wife Holly who is my biggest supporter/fan. Totally gratifying! I know deep down my brother Carlos is smiling down from the heavens. I'm sure he is super proud! But we're also connecting with bands and listeners from afar, growing popularity by the day. Success!
Pete: The Antonym EP has been musically, artistically, and spiritually fulfilling! Just moving forward and planning it out.
KEEP IN TOUCH:
FACEBOOK | INSTAGRAM | TWITTER | SPOTIFY | BANDCAMP | WEBSITE | YOUTUBE