Old ghosts are summoned in the realm of Spirit Tomb. The dead are escorted to their final resting place in eternal peace as the flesh and spectral limbs dance together. The Lotus of Dahlia is the first book in Spirit Tomb's "Aandegrav Trilogy," a journey of loss, grief, and catharsis for the listener. Grief sets it off. Because there is beauty in everything, The Lotus of Dahlia speaks of the open wound of heartbreak in its most beautiful form. Check out the exclusive interview below: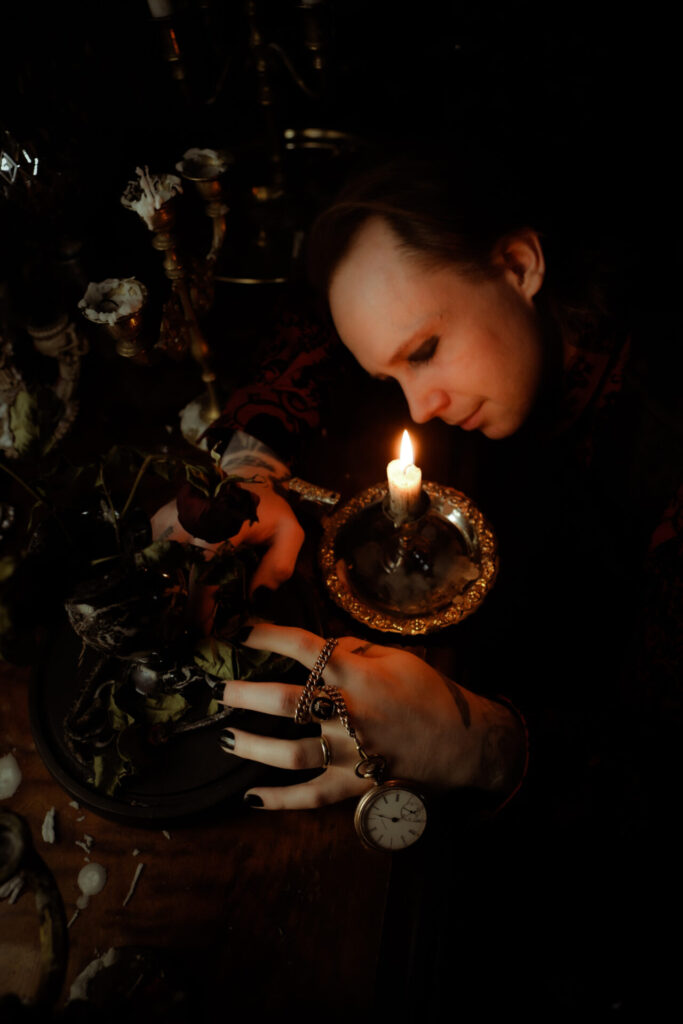 1. Can you tell us a bit about where you come from and how it all got started?
SPIRIT TOMB: I come from a small town in central Norway, where everyone knows everyone, yet hardly anyone knows me or what I do.I have been in love with music for as long as I can recall, and I started playing the guitar when I was 10 years old.
2. Did you have any formal training or are you self-taught?
SPIRIT TOMB: A bit of both, actually. One should not be afraid of proper knowledge of technique and theory, as many musicians seem to be. Both theory and technique are tools for being able to express oneself to the fullest. In a way, it is to increase the emotional and artistic vocabulary as well.
3. Who were your first and strongest musical influences and why the name 'SPIRIT TOMB'?
SPIRIT TOMB: As you probably won`t expect, I can say that my first and strongest musical influence is Metallica. Has been since I was 12 years old, and they are still the most important band to me. They have a very unique versatility to them, where everything they do just fits perfectly into their musical universe. Be it Bach inspired twin guitar melody or a heartfelt country ballad. They showed me from the very start that there are absolutely no limits to ones creative expression, and that you should follow your own artistic vision to the fullest. The name Spirit Tomb is what truly represents the essence of this band. The realm of Spirit Tomb is where old ghosts are conjured. Flesh and spectral limbs entwine in a dance that ultimately ecorts the dead to their final destination in eternal solace.
4. What do you feel are the key elements in your music that should resonate with listeners, and how would you personally describe your sound?
SPIRIT TOMB: The first key element that comes to mind is the rawness of the emotions portrayed. It is naked and honest in every way. That in itself will resonate in people, even if they can`t relate to the subject matter in itself. It might make you feel calm and at ease, or it can stir up something inside that you though you had forgotten, and make you deeply uncomfortable. Authenticity has a flavour of its own. I would describe the sound as having one foot in tradition, and the other foot in inovation, in a sense. Modern classical is the term closest to describing it, but it falls short in many ways.
5. What's your view on the role and function of music as political, cultural, spiritual, and/or social vehicles – and do you try and affront any of these themes in your work, or are you purely interested in music as an expression of technical artistry, personal narrative, and entertainment?
SPIRIT TOMB:
Music is the vessel of the soul, and it will carry whatevers in the heart of its creator.
6. For most artists, originality is first preceded by a phase of learning and, often, emulating others. What was this like for you? How would you describe your own development as an artist and music maker, and the transition towards your own style, which is known as CLASSICAL?
SPIRIT TOMB: When I was 10 years old I had a guitar teacher that was just fantastic. He was very keen to point out the importance of listening to all kinds of music, and to draw inspiration from eveything that resonates within you. He also taught me about improvisation from a very early stage as well. In short, he gave me a great foundation, yet told me that it was completely up to me what I want to build on that very foundation. A very powerful thing to experience and learn at such an early age. To me it was a very profound and special thing when I started making my own songs only a couple of moths after first picking up the guitar. Since my guitar teacher taught me the way he did, I never wondered if I could write a song. It just came to me as natural as can be, and it still does to this very day. The sense of power and freedom in creating is godlike, and it grows stronger each and every day.
7. Do you think is it important for fans of your music to understand the real story and message driving each of your songs, or do you think everyone should be free to interpret your songs in their own personal way?
Spirit Tomb: What is most personal is most universal.
8. Do you feel that your music is giving you back just as much fulfillment as the amount of work you are putting into it or are you expecting something more, or different in the future?
SPIRIT TOMB: It's not work! It simply me expressing my inmost everything, and that bring me immense joy and satisfaction.
9. With social media having a heavy impact on our lives and the music business in general, how do you handle criticism, haters, and/or naysayers in general? Is it something you pay attention to, or simply ignore?
SPIRIT TOMB: These things are obstacles only if you think they are. If you truly want to do something, then there is nothing in this world that can stop you.
10. Creative work in a studio or home environment, or interaction with a live audience? Which of these two options excites you most, and why?
SPIRIT TOMB: To be in the studio is to create. To be on stage is to re-create. There is significant value to both of these sides, and I do enjoy them both.
KEEP IN TOUCH:
INSTAGRAM | SPOTIFY | BANDCAMP | WEBSITE | YOUTUBE
Photo Credit: Nicolai Karlsen, Joacim Jørgensen