As Shai Rose previously stated, for her, "Overthinking" is like a rebirth. It is the first chapter in her story and appears on her debut album, "The Road." She tries to incorporate some of her main influences into her music, including Lana Del Ray, Adele, and Brittany Howard in addition to Pink Floyd, Radiohead, Bon Iver, and Coldplay. And to be completely honest, she just wants her music to be enjoyed by as many people as possible (: . Check out the exclusive interview below: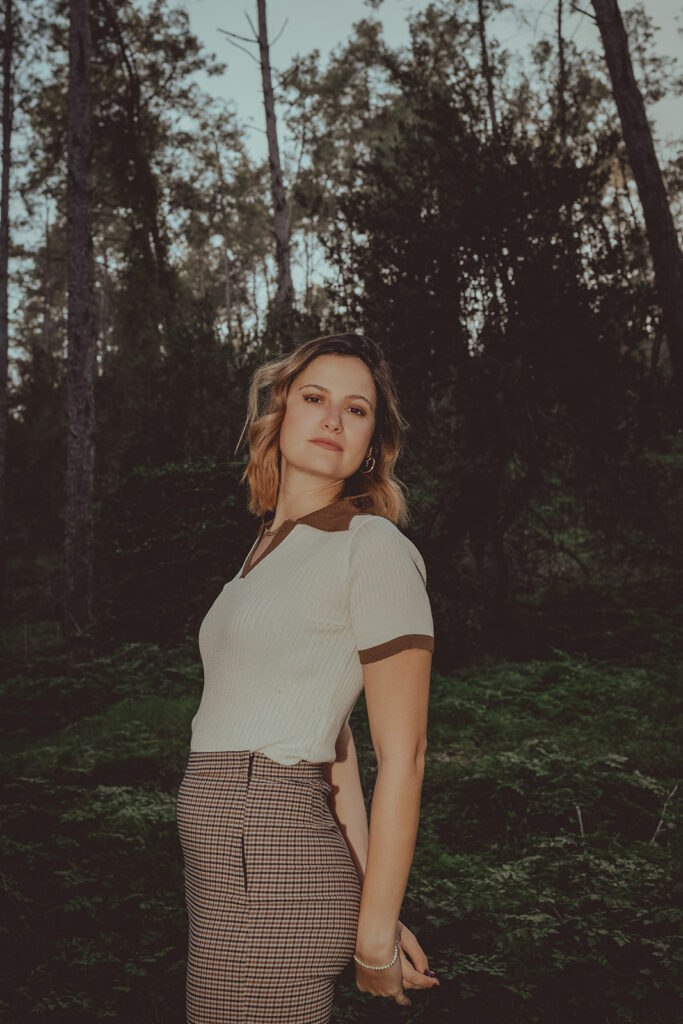 1. Can you tell us a bit about where you come from and how it all got started?
SHAI ROSE: Born and raised in Israel, in a small town. I think that it all started when I was 6 years old, I was addicted to this music drama show that was on these days and then I came to my dad, I stood in the middle of the living room and started to sing to him the theme song of the show, I remember I thought to myself "hey, I can sing that and I'm not bad". Since then I realized that singing is a big part of me.
2. Did you have any formal training or are you self-taught?
SHAI ROSE: Mainly self-taught, took a couple of guitar lessons a few years ago and in the past few months I have been taking piano lessons.  
3. Who were your first and strongest musical influences and why the name 'SHAI ROSE'?
SHAI ROSE: well, my full name is Shai Rosenberg, but it sounded too formal to me so, Rose sounded better to me as a stage name. My first and strongest musical influence is Pink Floyd. I have more influences from many genres that build together my musical identity, but Pink Floyd is one of the main ones that is always there beside the process of making my music. You can hear it clearly in a few songs from my debut album The Road that I'm working on these days.
4. What do you feel are the key elements in your music that should resonate with listeners, and how would you personally describe your sound?
SHAI ROSE: well, that's a tough question, in my debut album 'The Road' I built a half-imagined world inside myself, facing all your deepest fears, all the things you try to deny or ignore daily – surrounds you. You're all by yourself and there is no way out. I think that my melodies and harmonies have a way to take an unexpected turn and that's the main feeling I try to build in the sound of this album. Every song is a piece of my story, facing all these walls in my heart, acknowledging that there is no escape from our own heart. Getting lost in this labyrinth inside ourselves, learning to navigate on a road that is forever unexpected and has no end. I think that's my music sounds soft and sweet at first, but if you listen closely and allow yourself to dive deep, it brings some kind of darkness that eventually make you feel that your dark side is not that frightening. I think that's describe the best my sound.
5. Could you describe your creative processes? How do usually start, and go about shaping ideas into a completed song? Do you usually start with a tune, a beat, or a narrative in your head? And do you collaborate with others in this process?
SHAI ROSE: wow it depends. It could be both, I had this one time a melody just popped into my head so I recorded it on my phone, then I took a shower and for about 3 times I went out to my phone because I had more ideas for this melody, and then it became a song (: most of the time it's basically a puzzle, sometimes I try to compose one of my texts and I just can't figur it out, but when I do and "I'm in the zone", it's like meditation for me, I'm in a different time zone, and it feels magical. But I always try to remind myself that it's a process and it doesn't always work the way I want.
6. For most artists, originality is first preceded by a phase of learning and, often, emulating others. What was this like for you? How would you describe your own development as an artist and music maker, and the transition towards your own style, which is known as ROCK?
SHAI ROSE: Making music has always been a mix between what I feel from within and all the things I learned and unconsciously absorbed from others. I can't say that I'm making pure rock, but I know for sure that the feeling I had when I first listened to Pink Floyd's Echoes – Live at Pompeii when I was 15 changed the way I saw and understood music. Also, at school I learned and sang a lot of jazz and heard for the first time Ella Fitzgerald, it opened a whole new world to me. So, yea… a funny mix between those two. Both of them were a significant milestones and it sure affects the way I make music today. The things we create from within are forever affected unconsciously by all the things that surrounds us every day.
7. What's your view on the role and function of music as political, cultural, spiritual, and/or social vehicles – and do you try and affront any of these themes in your work, or are you purely interested in music as an expression of technical artistry, personal narrative, and entertainment?
SHAI ROSE: I think that music is the one pure way to connect between people, no matter who they are, where they're from and what is their political belief. When you're at a concert for example, when you look around and see the people that stand next to you, that's the one pure moment that everyone there becomes one. My deepest wish is to make that happen with my music. Other than that for now, my music is just a reflection of my heart, and I hope that what healed my wounds will heal others.
8. Do you feel that your music is giving you back just as much fulfillment as the amount of work you are putting into it or are you expecting something more, or different in the future?
SHAI ROSE: absolutely. But I'm just at the beginning so I know it will be even more fulfilling. I have my tough times. These moments that you want to quit and get scared because you don't know if you'll make it, but then you get to go on stage, no matter if it's big or small, and how much people are in the crowd, this feeling cannot be replaced with anything.
9. Creative work in a studio or home environment, or interaction with a live audience? Which of these two options excites you most, and why?
SHAI ROSE: With no doubt the interaction with live audience. Can't explain the feeling.
10. Do you think it is important for fans of your music to understand the real story and message driving each of your songs, or do you think everyone should be free to interpret your songs in their own personal way?
SHAI ROSE: I think that the real beauty in music and in art in general is that everyone can connect to it in their own way and feel it differently.
KEEP IN TOUCH:
INSTAGRAM | SPOTIFY |  YOUTUBE
Photo Credit: Tali Shcmal