Staytus constantly challenges the status quo with a nod to the past while remaining truly original and exciting in her delightfully destructive delivery. Her aggressive industrial metal sound would make fans of genre heavyweights like Nine Inch Nails, Odonis Odonis, Black Dresses, Orgy, Static-X, and God Lives Underwater proud.
We can all agree that home recording equipment is fantastic, but we shouldn't lose sight of how uncommon and exceptional it is for artists to develop independently into capable producers. Sam Grundemann, aka Staytus, an industrial metal upstart, reminds us that some people are born with a talent for sculpting sound deep in their bones on his gripping full-length debut, Disease of the Mind.
Staytus makes her mark on the industrial metal paradigm with an utterly unique approach to production and songcraft that reflects the ten years she's spent honing her style in both domains. She aspires to the wide-angle scope of genre-defining albums like Nine Inch Nails' The Downward Spiral, Ministry's Filth Pig, and God Lives Underwater's Life in the So-Called Space Age. The multi-instrumentalist/songwriter from Scottsdale, Arizona, has been writing and recording her music since she was 15 years old. She has posted individual tracks while earning a long list of degrees and certifications in audio production. With Disease of the Mind, Staytus has created a richly detailed opus that envelops the senses and draws listeners into its own sonic universe. Being patient and deliberate, however, has paid off. Check out the album "Disease of the Mind" and the exclusive interview below: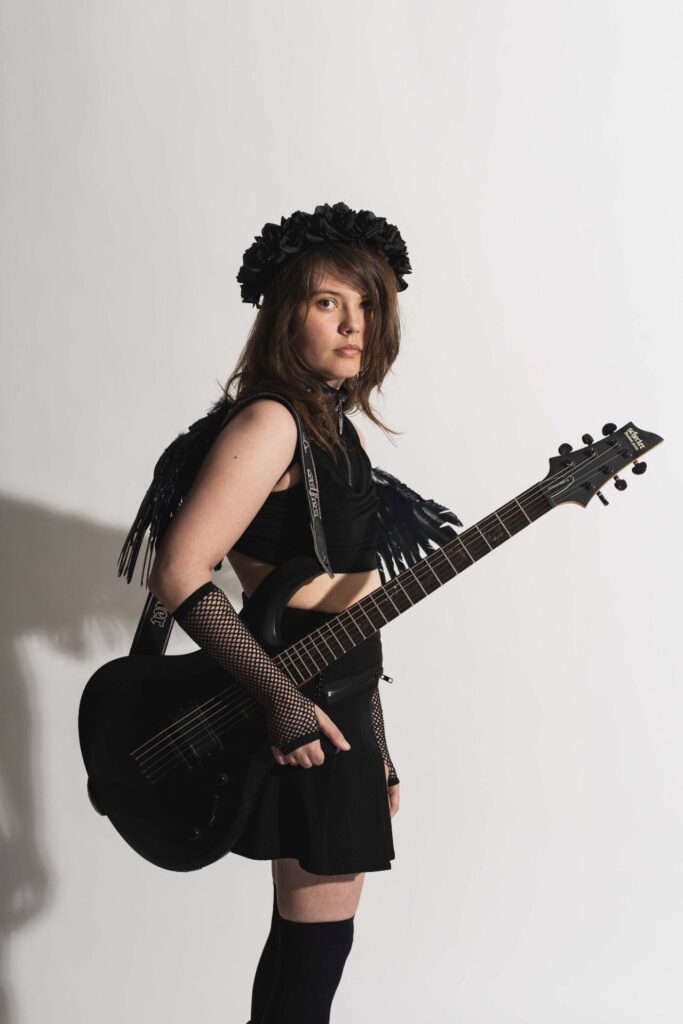 1. Can you tell us a bit about where you come from and how it all got started?
STAYTUS: I'm from Scottsdale, Arizona. When I was 15, I got my hands on FL Studio and Mixcraft. These entry-level digital audio workstations immediately fascinated me. I was at first wanting to be an EDM/dubstep producer, but later decided that I loved the challenge of producing industrial rock. This was the transitional era where I started to use Ableton Live and Pro Tools, along with other industry-standard tools, hardware, and software.
2. Did you have any formal training or are you self-taught?
STAYTUS: Both. Since an early age, I knew I had a knack for sculpting sound. For several years, I took private lessons to learn to play the guitar and keyboards, as well as how to sing. I have achieved Associate degrees in art, audio production and sound design as well as the highest certification in Pro Tools and have emerged as a full-blown music producer and multi-instrumentalist that creates loud, expansive and modern soundscapes. I am currently pursuing a Bachelor of Arts degree in Popular Music from Arizona State University's School of Music to fine tune my instrumental and composition skills as well as my songcraft. I consider myself a life-long learner of music!
3. Who were your first and strongest musical influences and why the name 'STAYTUS'?
STAYTUS: I forged a connection with a wide genre of musicians that inspire my current music style. These musicians included: Nine Inch Nails, Depeche Mode, Gary Numan, The Cure, Grimes, Black Dresses, How To Destroy Angels, Kittie, Slipknot, Korn, Linkin Park, Porcupine Tree, Opeth, Tool, Devin Townsend, Gorillaz, and Massive Attack.
Throughout my life, I have engrossed myself in learning about music and the emotion it evokes. As an avid gamer growing up, the immersive audio-visual involvement of gaming culture has also been important to me. I've always been keenly aware of how music contributes to my game enjoyment and sets the tone of the experience. Game developers like Will Wright, Maxis and Valve have also influenced me as much as other musicians. In fact, my professional moniker, Staytus, comes from the game CounterStrike: Global Offensive.
4. What do you feel are the key elements in your music that should resonate with listeners, and how would you personally describe your sound?
STAYTUS: What I have found important about music is that it conjures a fascinating and virtual range of emotion in a listener. I want my music to envelop your senses and pull you into my sonic universe. My debut album, Disease Of The Mind, has an industrial soundscape that takes you on an emotional catharsis. Disease of the Mind marries the classic palette of serrated guitars and electronic beats to contemporary concerns like relationship trauma, mental health, and the struggle of navigating a world based on "neurotypical" standards.
For those who haven't listened to my music before, I can describe it as nu-goth, which borrows elements from industrial rock and grunge rock.
5. For most artists, originality is first preceded by a phase of learning and, often, emulating others. What was this like for you? How would you describe your own development as an artist and music maker, and the transition towards your own style, which is known as INDUSTRIAL METAL?
STAYTUS:
I have aspired to the wide-angle scope of genre-defining albums like Nine Inch Nails' The Downward Spiral, Ministry's Filth Pig and God Lives Underwater's Life in the So-Called Space Age, to leave my mark on the industrial metal paradigm. I believe my distinctive approach to production and songcraft reflects the ten years I've spent honing my style in both domains. 
6. Creative work in a studio or home environment, or interaction with a live audience? Which of these two options excites you most, and why?
STAYTUS:
I love the creative work in a studio or home environment because it allows me to perfect the project and soundscape I am working on. I can also experiment and create sounds that have never been heard before.
7. Do you feel that your music is giving you back just as much fulfillment as the amount of work you are putting into it or are you expecting something more, or different in the future?
STAYTUS:
Creating music is very fulfilling for me, improving my mood and mental health and fostering that sense of belonging and communication with others. In the future, I want to experiment and collaborate with more artists when making music.
8. Could you describe your creative processes? How do usually start, and go about shaping ideas into a completed song? Do you usually start with a tune, a beat, or a narrative in your head? And do you collaborate with others in this process?
STAYTUS:
When I write a song, I usually first write down a rough idea, and maybe even some lyrics, too. I then choose the tempo and add drums and percussion to my project to get a general sense of its rhythm. After that, I sing a melody that I came up with and record it into my microphone and preamp. Once the vocals have been recorded, I add in some additional instruments like guitar, bass, and even synthesizers. More recently, I've also been collaborating with other artists and producers during this process.
9. What has been the most difficult thing you've had to endure in your life or music career so far?
STAYTUS:
The most challenging aspect of my music career has been the process of performing live. However, after the performance, I find it exhilarating and look forward to doing it again.
10. On the contrary, what would you consider a successful, proud or significant point in your life or music career so far?
STAYTUS: I'm most proud of collaborating with renown artist/music producer Sean Beavan on my second album, which is yet to be released.
KEEP IN TOUCH:
FACEBOOK | INSTAGRAM | TWITTER | SPOTIFY | WEBSITE | YOUTUBE
Photo credits: svodufo photography