'Zombie World,' a fascinating Rock project that examines contemporary societal norms and culture, is the latest release from the Australian, multidisciplinary collective The Immaculate Crows. The last four songs on this album were co-produced by Carolyn Neilsen and Mark Hocknell, a former bandmate, while the other songs were entirely produced by Carolyn Neilsen. The two songs are the first recorded renditions of the songs that Bruce Neilsen, the band's founder, and the original Immaculate Crows performed in 1982. The majority of the songs on Bruce's album "Zombie World" were written since 2021, except for two songs that were written in 2004. Check out the exclusive interview below:
1. Can you tell us a bit about where you come from and how it all got started?
THE IMMACULATE CROWS: My name is Bruce Neilsen and I come from Brisbane Queensland Australia. I   wrote poetry for several years before deciding playing guitar and writing songs was more fulfilling which led me to founding and naming my first band The Immaculate Crows in late 1981.
2. Who were your first and strongest musical influences and why the name 'THE IMMACULATE CROWS?
THE IMMACULATE CROWS: My earliest influence was really my older brother, Dennis, who was always turning me onto new music. My earliest influences were Bob Dylan and Lennon/McCartney from The Beatles as far as songwriting went. Guitar-wise, there were many, but the earliest ones I remember were Jeff Beck and Jimmy Page in the Yardbirds. 'Happenings Ten Years Time Ago' featured both of them and still sounds powerful today. Michael Bloomfield's work on The Paul Butterfield Band's 'East West' album was so original and helped pave the way for Fusion. Eric Clapton was so intense when he was in John Mayall's Bluesbreakers. Jefferson Airplane had some great moments songwriting wise and also instrumentally. I also loved a local guitarist, Lobby Lloyd, who played in a Brisbane band The Purple Hearts and eventually was acknowledged as Australia's first guitar legend. The first album by the Jimi Hendrix Experience 'Are You Experienced', was an absolute revelation! The name The Immaculate Crows was pretty absurd really as Crows are anything but immaculate. Immaculate implies perfection which we certainly were not. We were pretty rough at first but got better and better as time went on. Crows are intelligent but also have a dark side preying on animals that are injured or sick. My music does have a dark side to it as I write about topics a lot of other writers would not go near. I write songs about subjects such as Cancel Culture, Conspiracy Theorists, Poverty, Youth Suicide and Domestic Violence because I believe these issues need to have light shed on them. Many of these topics are covered on our recent album 'Zombie World.'
3. What do you feel are the key elements in your music that should resonate with listeners, and how would you personally describe your sound?
THE IMMACULATE CROWS: I write about a variety of things and in a variety of styles. Key elements include invoking strong feelings, outspokenness about controversial subjects with an emphasis on good lyrics and music. The Immaculate Crows is no longer a band and instead has evolved into a loose collective of musicians who perform on songs I write and arrange and Carolyn Neilsen produces. The collective includes a variety of singers of different ages, singing and recording experience and backgrounds and the way they inject their own personalities into the music also makes it an interesting listening experience. My sound has retro elements but is hard to define. Different listeners and critics have said our music reminds them of artists as diverse as Patti Smith, The Doors, Pink Floyd, The Eagles, Fleetwood Mac, Paul Kelly, Jefferson Airplane, Stone Roses, Siousxie and the Banshees, Echo and the Bunnymen, Natalie Merchant and Black Sabbath. All these artists are pretty different from each other so I guess that sums up our sound. Hard to define and categorize. Despite the sometimes dark themes, I believe that the songs are strangely life-affirming.
4. Could you describe your creative processes? How do you usually start, and go about shaping ideas into a completed song? Do you usually start with a tune, a beat, or a narrative in your head? And do you collaborate with others in this process?
THE IMMACULATE CROWS: I don't have a fixed process. I certainly don't force songs. I have surges of creativity and only when there is a reason to write. I didn't write much from 1985 to 2020 as I wasn't in a band or recording apart from 2004 when I was trying to get a band together and wrote a few good songs accordingly. Sometimes I write lyrics and then find music to match them, other times I base songs around a chord progression. I do not collaborate with others in writing songs. I am confident enough in my own ability to write both lyrics and music of a high quality. However, my partner and producer Carolyn Neilsen is my sounding board and provides feedback about what she likes or doesn't like which is invaluable.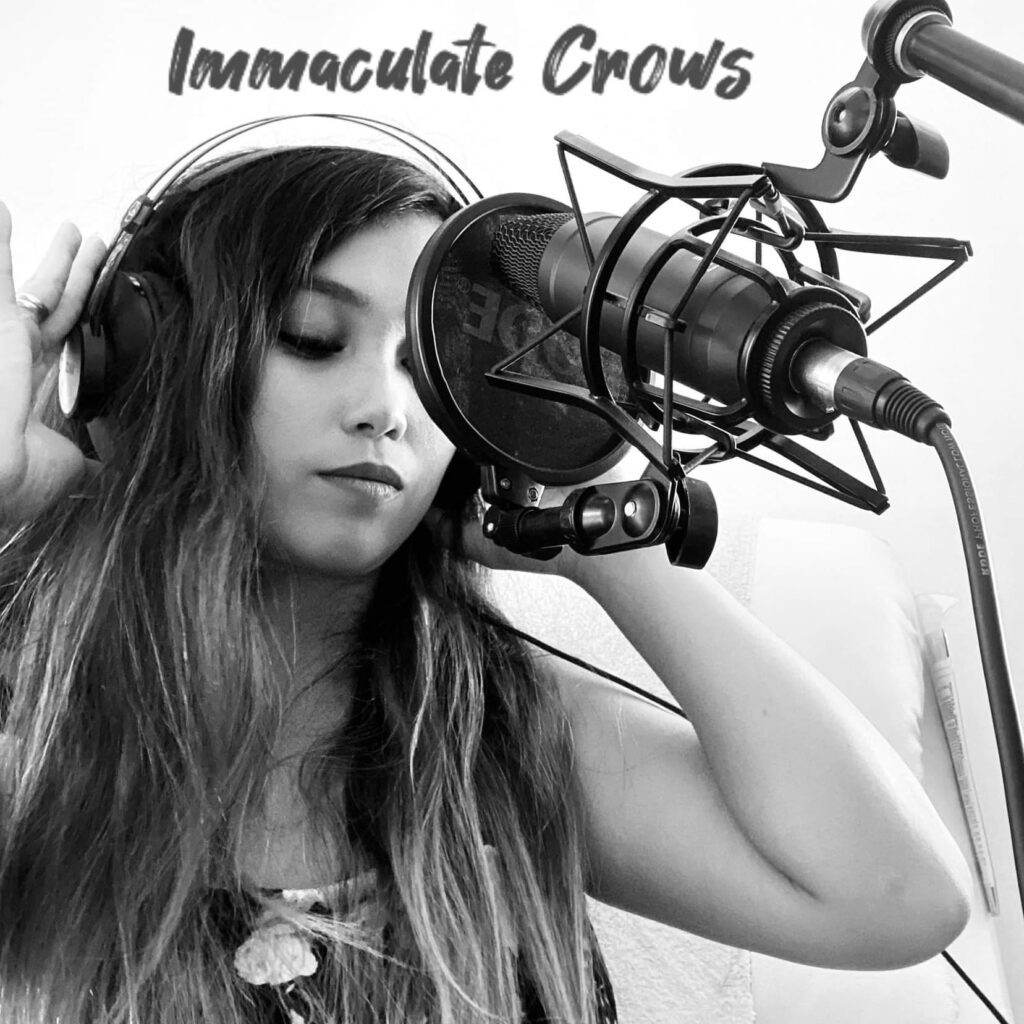 5. For most artists, originality is first preceded by a phase of learning and, often, emulating others. What was this like for you? How would you describe your own development as an artist and music maker, and the transition towards your own style, which is known as ROCK?
THE IMMACULATE CROWS: I listen to a variety of artists from different genres and different time periods. I have never tried to copy any other guitarist so my guitar style is my own and the same applies to my songwriting. I think I am a true original. I stopped playing in bands in 1985 and didn't start recording again until 2020. However, I am probably more creative now than I was in the 80s and am writing some very powerful songs about things that need to be addressed.
6. Do you think is it important for fans of your music to understand the real story and message driving each of your songs, or do you think everyone should be free to interpret your songs in their own personal way?
THE IMMACULATE CROWS: I generally explain the motivation/inspiration for individual songs wherever I can on lyric sites, social media etc but I also have some songs like my last release 'Van Gogh' that are best left to individual interpretation and people will interpret songs in different ways sometimes regardless of what the author thinks the song is about anyway.
7. What's your view on the role and function of music as political, cultural, spiritual, and/or social vehicles – and do you try and affront any of these themes in your work, or are you purely interested in music as an expression of technical artistry, personal narrative, and entertainment?
THE IMMACULATE CROWS: I have no fixed view about the role of music. I think most artists produce music that is designed purely for entertainment value and that is a valid role. Sometimes life is so dark that you need someone or something to lighten the load. However, there is no doubt that music can be a vehicle for social change. Bob Dylan became the unwilling focal point of the sixties Civil Rights movement in America simply because his songs resonated with the times and moved so many people. There is no argument in my mind either that music can also be a spiritual force. I think about John MacLaughlin's immense change as a guitarist as evidenced on his early Mahavishnu Orchestra recordings after he became involved in Indian spirituality. While being personally aware of how music can relate on so many levels I try not to let this limit my songwriting. I hope to write songs that both entertain and also make listeners feel and think.
8. Do you feel that your music is giving you back just as much fulfillment as the amount of work you are putting into it or are you expecting something more, or different in the future?
THE IMMACULATE CROWS: A hard one to answer! I am happy that I finally became inspired to record and write again. It is a hard slow grind though. There are so many people making music and so many songs being released each day. I take solace in knowing that songwriting comes really easily to me. I aim for perfection in both my sound and in my arrangements and believe that my songs are pretty unique. I have released two albums since 2020, and I am pretty proud of most of these recordings. Because I don't perform live, the challenge for me is finding ways to get my name out there as an independent artist, but I do work quite hard on this aspect, and occasionally get some great feedback. I have to keep writing and making music, it is something I cannot stop at this time.
9. What has been the most difficult thing you've had to endure in your life or music career so far?
THE IMMACULATE CROWS: Coping with ageism and scammers who prey on independent musicians. I didn't release any songs in the eighties but recorded two which I gave a copy of to my local Community Radio Station 4ZZZ in 1982 or 1983. I remember them being played every day for quite some time and we were getting a lot of work through them and were being considered to support big bands like Midnight Oil when a key member left. We lost momentum and I left to start two other bands before briefly reuniting with the 'Crows' again. I got sick of band politics and struggling financially so decided to settle down and have a family with Carolyn. I suppressed my creative urges and didn't release our few eighties recordings until 2019. Also, due to my very long self -imposed exile from the music world I had to start all over again trying to get my name out there. Many people have fixed views about what they think older musical artists are capable of doing and I think unless you are already famous this is a real barrier to overcome. In my case if anything my music has become stronger with time so the challenge is getting people to listen in the first place without preconceived ideas. My music is strong enough to sell itself and I am blessed that I work with artists of varying ages who look beyond my age and realize my music has value and can be related to by a range of listeners of all ages.
10. On the contrary, what would you consider a successful, proud or significant point in your life or music career so far?
THE IMMACULATE CROWS: Since emerging from relative obscurity in 2020 my songs are being streamed around the world, and I have had good reviews about my music. I just released my second album 'Zombie World' and the streaming numbers of this album are steadily growing. My songs are regularly played through streaming sites reaching listeners around the world, and also given air play on Australian community radio stations. Recently my songs have been given airplay on overseas digital radio, for example Coastal Radio (UK) and IRN (USA). I have been getting good reviews on some blog sites and music mags as well as participating in several interviews with podcasters from USA and Canada as well as live interviews on Australian community radio stations. Overall I am pleased and grateful that such a wide range of music fans and listeners show such interest in my music.
KEEP IN TOUCH:
FACEBOOK | INSTAGRAM | TWITTER | SPOTIFY