Throughout his 20s, Somerset-based Luke Stidson was the front person for Twin Falls – a mild-mannered synth-folk band, who enjoyed some small success with a couple BBC Radio1 playlists as well as an appearance at the BBC Introducing stage at Glastonbury 2013. After the demise of Twin Falls, Somerset-born Luke Stidson became a producer for bands such as Rural France, Dai-Nichi, and Mr G and Rich. He also hit the wrong side of 35. Soon-to-be fatherhood and a scary ever-changing universe caused him to start writing songs again.
Calling himself The Timpanist, the first single (released Aug 29th) 'Readthrough' is a fairly raucous take on Stidson's own brand of sometimes witty, always self-deprecating words – sat sweetly beside a live string quartet, brass, noisy bits of synths and often a piano. Joining Stidson are the likes of drummer Olivia Dimery (Bad Sounds) and Trombonist Chris Ott (Vulfpeck). Recordings took shape with Engineer and friend Ben Scott Turner (Hey Colossus, JD Meatyard) at Axe & Trap Studios, before being mastered at Abbey Road, London.
Following the single, 'Bump' a full-length release, will be available Jan 2023. Until then a new song from the album will be released every 6 weeks, starting Aug 29th, 2022. Check out the latest single & the exclusive interview below:
1. Can you tell us a bit about where you come from and how it all got started? 
THE TIMPANIST: Well, I live in the South West of England but I guess as far as music goes, I came from a band called Twin Falls that, along with 2 of my best friends, I was in for 10 years or so. That band kind of had a moment where we were doing ok, BBC playlists, decent festival slots, a Maida Vale session and stuff, but we ultimately couldn't get ourselves onto the next run and as often happens, the momentum just kind of died.
A little while after that band ended, the whole Covid thing happened, and it's so incredibly cliche, but I spent the lockdown writing songs and trying out new things. I had no real purpose or vision on where it was going. Eventually at the same time as the world ending, I discovered that I was going to become a dad, so that then shaped the writing quite a bit too. Before I knew it, I'd kind of ended up with a whole new recording project and full-length record.
2. Did you have any formal training or are you self-taught?
THE TIMPANIST: Self-taught in terms of playing instruments. As far as recording goes, my dad plays and always had some sort of home studio set up in the house. This went from cassette-based porta-studio type things to eventually a computer with a really early version of Cubase. I was always messing around and kind of learned to experiment that way.
Actually, I did eventually go to Music College for a year, where I did an HND in Production. I made some good lifelong friends but I don't think I really learned anything at all, other than how to wire a patchbay maybe. Oh, and roll a very impressive joint.
3. Who were your first and strongest musical influences and why the name 'THE TIMPANIST'?
THE TIMPANIST: The name came about because the demos I was making whilst locked-down in my house were so over the top and grandiose. Every song had a full-on MIDI keyboard orchestra and wherever there were drums, I had put down these massive timpani samples. When I listened back the whole thing seemed totally absurd, so I kind of gave myself the working title of The Timpanist as a joke and it just stuck. Taking those demos to Ben Turner, who engineered and mixed the record with me, was kind of the turning point. We took a lot of stuff out, but kept things pretty grandiose still. There's live brass sections and a live string quartet on the record. Those guys essentially re-played all my crappy keyboard parts for real. I don't think any of the massive timpani samples remained, luckily. So, 'The Timpanist' record doesn't actually feature any timpani at all! 
4. What do you feel are the key elements in your music that should resonate with listeners, and how would you personally describe your sound? 
THE TIMPANIST: I guess it's essentially just the mixture of those big orchestral sounding moments, and then me accompanying them with piano, guitar or some really dense wall of synthesizers. I kind of got obsessed with keyboards at the tail end of the last band I was in and the way things have gone technology-wise, these days there are some incredible synths out there that don't cost the earth. It's all just tools though. Whatever feels like it'll serve the song best. I guess that kind of goes for when trying to pigeon-hole myself into any type of genre too. I try to just see what comes out and where it takes me and not get too bogged down in the details.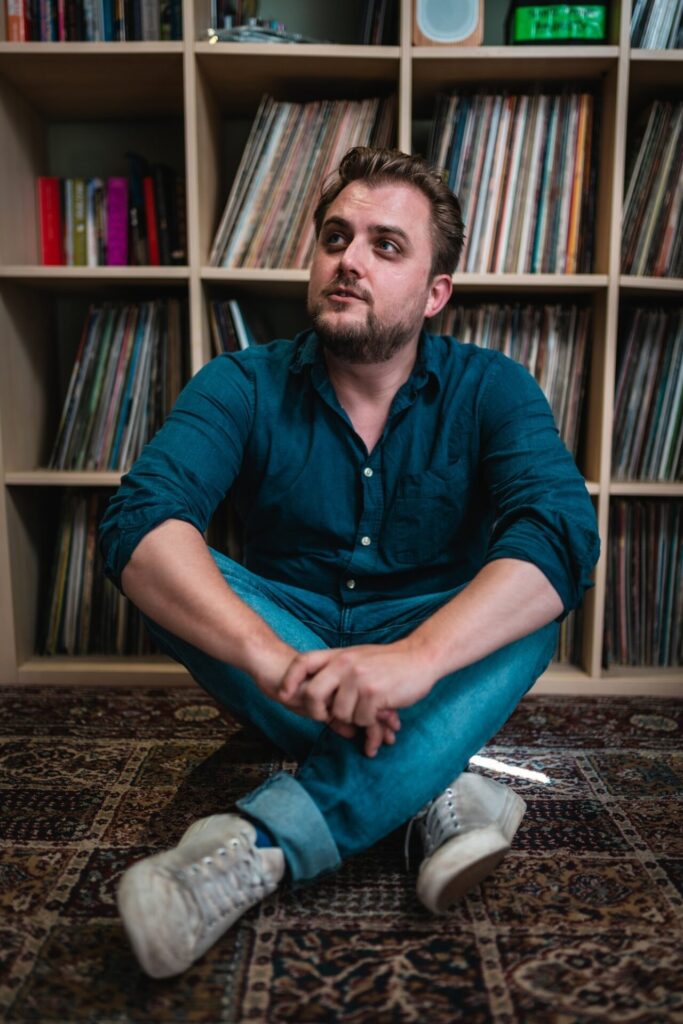 6. What's your view on the role and function of music as political, cultural, spiritual, and/or social vehicles – and do you try and affront any of these themes in your work, or are you purely interested in music as an expression of technical artistry, personal narrative and entertainment?
THE TIMPANIST:
I mean, wow, that is a question! Honestly, I think music has a valid role in all of those things you've mentioned, no? I personally don't tend to write about much else than the relationships in my life. I guess sometimes I worry that people are going to stop wanting to hear about all the times I got dumped! But I'm not sure my style would lend that well to the bigger subjects. Plus, I have friends, people I consider proper writers, who will write about politics or whatever and do it very well. I don't really want to be trying to compete on a level where I know I don't stand a chance.
Music, perhaps more than any other art form, has a role in any aspect of society. I do get pretty annoyed when people go after bands for writing something overtly political or tell people to 'stick to the music'. You write about what you experience, or at least that's all I can do. I guess the only example you've given there that I find it hard to get on board with is the technical artistry aspect. I tend to switch off when songs or production gets too technical. There are exceptions to the rule obviously, but largely if someone is trying to shoehorn a display of technical prowess into a song, that's when I switch off.
7. Do you feel that your music is giving you back just as much fulfilment as the amount of work you are putting into it, or are you expecting something more, or different in the future?
THE TIMPANIST:
That's a great question. Do I think music gives back what I put into it? Pretty much no! I mean, it can do I suppose, but like any piece of art, you're constantly chasing those moments down and they are fleeting. But the thing with art is that those moments are so special and probably more fulfilling than anything else you've ever done, so you keep chasing it for those little snippets of achievement. I'm only ever wanting to create something that didn't exist this morning and that I think is good. That's about as much as I can personally hope for right now.
8. Could you describe your creative processes? How do usually start, and go about shaping ideas into a completed song? Do you usually start with a tune, a beat, or a narrative in your head? And do you collaborate with others in this process?
THE TIMPANIST:
Actually, every song is completely different for me. There is usually some kind of catalyst that has made me want to sit down and write a song though. So that could be a phrase I think would make a good lyric, or a sound on a synth, a melody on the piano, even just a subject that I think is a good idea to explore. It's always different but there will always be that little starting block that's made me want to pursue the task. After that, writing a song is like doing a really complicated crossword without any clues. You just keep filling in the blanks until things start to fit and make sense. Sometimes it's really quick and sometimes it takes absolutely fucking ages.
9. What has been the most difficult thing you've had to endure in your life or music career so far?
THE TIMPANIST: Breaking down a band that already has a history, back catalogue and at least something of a following and then starting again completely by yourself is a tricky one. Being a parent is hard but massively rewarding. Leaning that not every piece of work you put out has to be the very best thing you've ever done took me years to come to terms with. One of those probably.
10. On the contrary, what would you consider a successful, proud or significant point in your life or music career so far?
THE TIMPANIST: I mean, the time that Twin Falls recorded a Maida Vale session, we were in the John Peel Sessions room. There are Peel Sessions from certain bands that are some of my favourite recordings ever. That was quite special. I don't know if anything I do with The Timpanist will quite match up to that. I'm trying to think what possibly could match up to that…maybe to hear my song played in a scene in the cafe in Eastenders. You have to have a dream don't you.
KEEP IN TOUCH:
Photo credits: James Harvey