MY SLEEPING KARMA HAS SET A JULY RELEASE DATE FOR THE ATMA ALBUM; MUSIC VIDEO "PREMA" HAS BEEN POSTED
The previous two years have been difficult for the whole music and entertainment sector, as many artists have discovered. My Sleeping Karma, on the other hand, has genuinely confronted the abyss. The band has amassed an incredibly successful back catalogue of five highly acclaimed records and a live album in 2017, as well as extensive touring performances at sold-out venues and prestigious festivals, that have marked them as one of the most well-respected instrumental post- and hypnotic rock bands within the heavy music community.
My Sleeping Karma have announced the release of their most emotional, deep, and darkest record to date, inspired by sad occurrences, on July 29 via Napalm Records, closing a seven-year gap since their last studio album, Moksha.
The (absolute) self, the indestructible, everlasting substance of the spirit, is sometimes translated as the "soul" on the new album, Atma. Sickness, mortality, and existential anxiety had led the band to the brink of disbandment in both music and life. But their drive to live is captured on Atma, an album the band wasn't sure would see the light of day when they began work on it in 2017, and even if it did, it wouldn't have been for industry sales, celebrity, or success. Atma narrates their tale, digesting the trauma of personal catastrophes, deepest agony, and dread of four best friends who have been through their darkest days since the beginning of their band.
My Sleeping Karma have released the first single from their upcoming album Atma today. "Prema" succeeds with a wide sound spectrum that bridges majestic texture and fast-paced dynamics, spanning from hard-hitting rock moments to ambient feelings and synth post-rock grandeur. Johanna Amberg and Gabriel Sahm developed a spooky music video for "Prema," which you can watch here.
"Back in 2018, we started working on the video material." "The world is full with hatred, envy, fear, and greed, and it appears that the competition never ends," the band observes.
"Society is becoming increasingly lost in a dog-eat-dog jungle, and we would never have predicted that it would be even worse in 2022." Aside from the recent pandemic and the Russian-Ukrainian conflict, so many people face tremendous conflicts on a daily basis.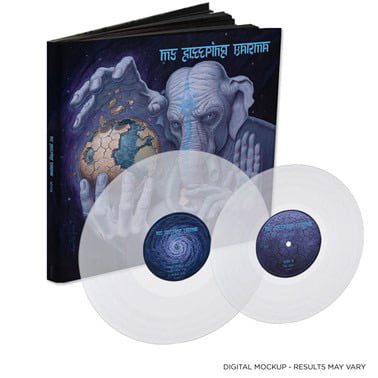 Finally, there is always hope that the world will improve once humanity realizes. Love is the key, and peace begins within each of us. That tale is told in the video tune 'Prema,' and the entire album is about it. "Atma" is dedicated to our loving families, friends, and fans. Thank you for your continued support, especially during these trying times."
The majority of the six new album tracks are over 10 minutes long and shine in the My Sleeping Karma tradition, with crystal clear, otherworldly intros breaking into melancholy melodies of fragile beauty to imposing soundspheres of captivating weight with entrancing undercurrents. From the first note, it's clear that Atma isn't simply another new My Sleeping Karma album – it's an endless darkness, sorrow, and sadness that ferociously propels the German four-piece on their sixth studio album. My Sleeping Karma is ART, as Dave Wyndorf once stated, and their latest, cathartic album not only reflects the zeitgeist of the times, but also provides a ray of hope, love, beauty, and power despite all the ugly aspects of our delicate lives.
Drummer Steffen Weigand produced, recorded, and mixed Atma at New Life Studios, and Andreas Balaskas mastered it at Masterlab Studios in Berlin. Sebastian Jerke, an immensely gifted artist, designed the album artwork. The pre-sale for Atma has recently begun.
The album will be available in the following formats:
– Digisleeve CD Edition
– 1LP Gatefold Black & 12 Page Booklet
– 1LP Gatefold & 12 Page Booklet Gold LTD 300 Copies
– 1LP Gatefold & 12 Page Booklet Transparent Turquoise Purple Splatter LTD 500 Copies
– Vinyl Hardcover Book (1LP Gatefold CLEAR plus 10″ Vinyl Clear (2 Bonus Tracks) – 48 Page Booklet LTD 500 Copies
– Digisleeve CD Edition & Canvas Edition (Napalm EU Only)
– Digisleeve CD Edition & Shirt (Napalm EU Only)
– Digital
Tracklisting:
"Maya Shakti"
"Prema"
"Mukti"
"Avatara"
"Pralaya"
"Ananda"
"Prema" video:
Lineup:
Matte – Bass
Seppi – Guitar
Steffen – Drums
Norman – Soundboard
(Photo – Ingo Spörl / Hard Media)