"Next Time You Break My Heart" by Elital Rychter is a musical journey that combines sonorous soprano theatrical vibes with a lush orchestral composition, creating an enchanting and whimsical heartbreaking atmosphere.
 From the song's beginning, it carries the listener into a world reminiscent of classic ballads, where emotion flows freely through every note. The song's orchestration is rich and evocative, featuring a delightful ensemble of instruments, including piano, cello, violin, and fretless bass. Together, these elements create a tapestry of sound that envelops the listener in a warm embrace.
Elital Rychter's vocals center stage with her musical melancholic and slow soprano. Her voice is a powerhouse of emotion, carrying the weight of the lyrics with passion and depth. As she sings about the stages of grief following the departure of a loved one, her delivery is both haunting and heartrending.
Lyrically, the song explores the aftermath of heartbreak, a desire for a reunion and the longing for a gentler parting in the future. The lyrics convey a sense of vulnerability and a desire for the next heartbreak to be handled with care and tenderness. The musical arrangement beautifully complements the lyrical theme.
"Next Time You Break My Heart" is a masterfully crafted piece of music that takes listeners on an emotional journey. With its theatrical charm, heartfelt lyrics, and exquisite orchestration, this song leaves a lasting impression and invites you to step into its world of musical enchantment.
KEEP IN TOUCH:
FACEBOOK | INSTAGRAM | SPOTIFY | TIKTOK |  YOUTUBE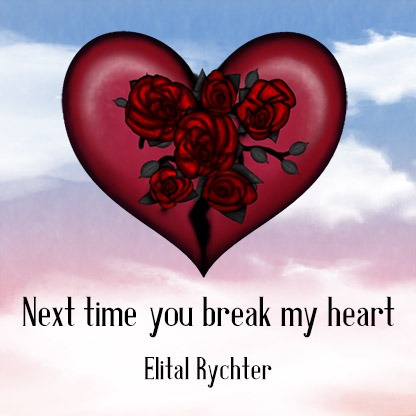 Review By: Naomi Joan