The Lost Horse by STEIN: Album Review
A lonesome cowboy rides his trusty steed towards the departing sun on the horizon. He considers abandoning the outlaw life for a much more peaceful one on the farm, but where's the fun in that? Drawing on inspirations from spaghetti westerns and surf rock blues, STEIN arrives with their exceptional album, "The Lost Horse." It's a tasty mix of guitars and lovely percussion that is equal parts chill and groovy.

Tal Rubinstein, the brainchild behind STEIN, is a master at creating instrumental bliss. That sole essence is captured in the opening numbers, "The Lost Horse" and "Navajo." Both are excellent blues numbers that have cowboy spirit hidden within. The first one is a slow descent into an emotional melody where symphonies and a guitar piece shine. As for the second one, well it's a tornado of melodies coming together. The fast-paced rhythm sections amount to something incredible and pertain to the idea of a gunslinger settling a debt at dusk. Moving forward, we arrived at the soothing aura of "Caravan" and "El Dorado." These two are pretty laid-back with elements of country and a surf-rock guitar at the helm. Speaking of which, the instrument's tone and phrasing are simply out of this world and enchanted me to the very core.

While Tal led the charge on this mighty spaghetti western record, Udi Koomran along with Hod Sarid recorded, mixed, and mastered it. With that said, if you're a fan of the aforementioned genres, why not give STEIN's music a listen?
KEEP IN TOUCH:
FACEBOOK | INSTAGRAM | SPOTIFY | BANDCAMP | YOUTUBE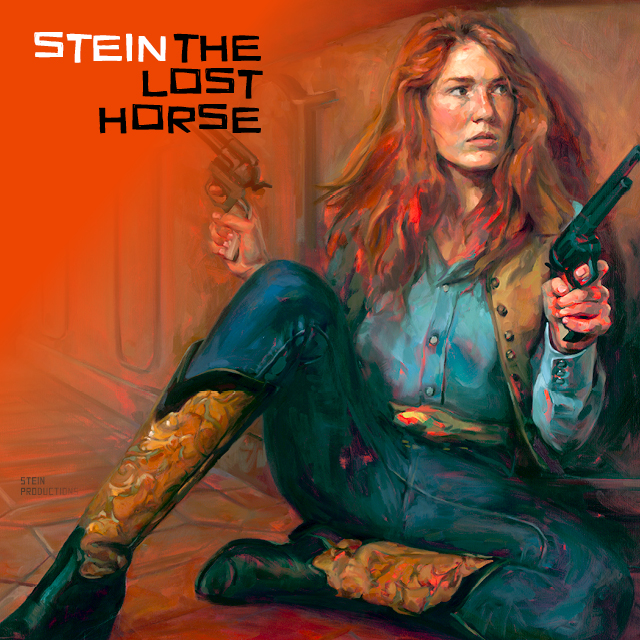 Photo credits: painting by Felice House
Review by: Damien Reid