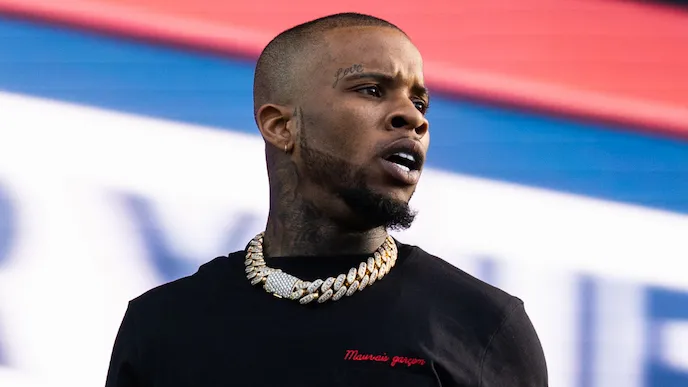 After rolling out his controversial new diss track "Cap" on Friday (March 11), Tory Lanez added fuel to the fire by stepping into the courtroom for the single's visual accompaniment.
As the Canadian crooner's pending court date against Megan Thee Stallion creeps closer, the Justice-directed music video finds Lanez playing the role of the butcher, getaway driver and defendant as he spits venomous lyrics aimed at Meg and her boyfriend Pardison Fontaine.
The lyrics themselves emerged before the actual track did last week, with Lanez using the song to call out Meg for dragging his name through the mud and to slam her boyfriend Pardison Fontaine for being unable to pen a hit record without the help of Cardi B, whom he frequently collaborates with.
Before the track dropped, Tory took to Twitter to offer his own disclaimer and said he was not insulting Offset or Cardi on the song.
"Before my new song #CAP even drops TONIGHT… there's one thing in the song I don't want no one getting confused… I am not dissing @OffsetYRN or @iamcardib That's family," he tweeted.
Tory also used "Cap" to briefly address another legal battle he's currently involved in. Earlier in March, a company called BH 4908 filed a foreclosure lawsuit on the rapper's Miami condo, saying the 29-year-old hasn't paid rent in months. Tory's 2,182 square-foot penthouse was initially purchased for $1.8 million, which the rapper partially paid for with a loan from BH 4908 for $1.26 million. Tory agreed to pay $11,057.40 every month and agreed to make another deposit on the property in December 2021. However, the LLC now claims he owes a total of $1,237,456.06 plus interest.
"Taboo in Miami, I'm too rich for booby traps," Tory spits in the track's hook.
Check out the music video below.