Almedal, a former lead singer for the indie band Velvet Belly, offers skillfully crafted songwriting and comforting lyrics wrapped in a recently discovered (clearly dancey) electronic sound. The 10-track album is orchestrated by chill-step producer EvenS and features atmospheric soundscapes with saturated beats and synths. Nicholas Sillitoe, Almedal's partner and a film composer, contributed piano musings and shoegaze electric guitars.
Following the release of the teaser single "Breathing in Breathing Out" earlier this year, the Norwegian vocalist releases a moving comeback album. With stunning vocals and rolling melodies harkening back to her earliest "art-pop" era, she draws on the best of her nearly 30-year musical career in this most recent release.
It is unmistakably different from earlier 'female Nick Drake' folk-pop releases and harkens back to her dream-pop days. The project effortlessly flits between happy and sad emotions through captivatingly emotional lyric delivery. The shocking breast cancer diagnosis that Almedal received at the start of the recording process for "We Dance Alone" had a profound impact on the album's rousing, upbeat, and brilliantly inspirational songwriting.
According to Almedal, the songs are about surviving, never giving up, dreams, and hopes. She continues by stating that the messages are "unmistakably female" due to the traumatic experiences of breast cancer treatment and recovery. While she continued to write a number of songs that might have been her last, the album is the perfect soundtrack to the movie that is her recent life. Mercifully, she was given the "all clear" by doctors after the project was finished. Check out the video &the exclusive interview below: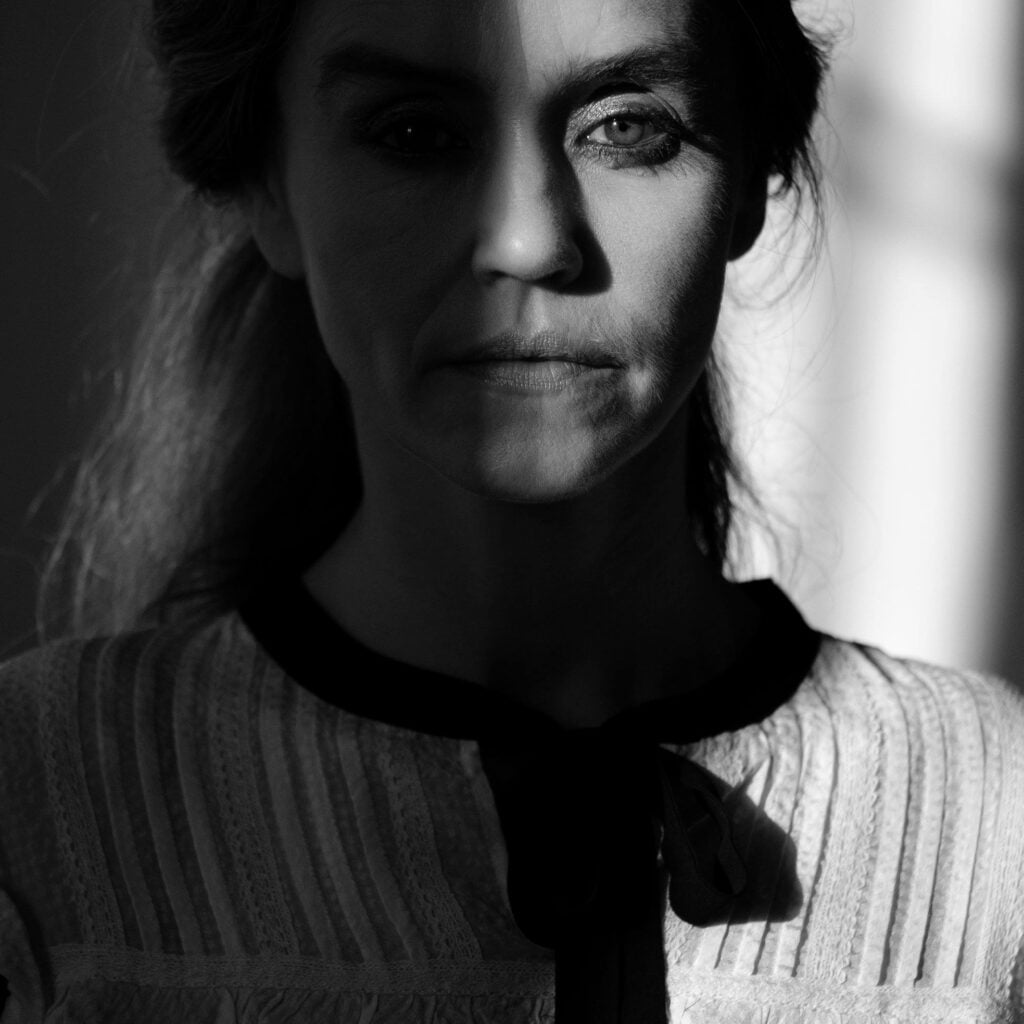 1. Can you tell us a bit about where you come from and how you got started?
ANNE MARIE ALMEDAL: Hello, Illustrate! Anne Marie Almedal here, from Kristiansand, the southern coast of Norway. I'm a well-seasoned singer with a background fronting the dream-pop indie band "Velvet Belly". Now releasing and promoting my latest (fifth) solo album, "We Dance Alone".
2. Did you have any formal training or are you self-taught?
ANNE MARIE ALMEDAL: Formal to some degree. I studied "rhythmic" music at the Music Conservatory in Rotterdam, around the same time as I started as a vocalist in "Velvet Belly". But the interesting self-taught bit is learning how to be the only female band member in an indie-band full of guys throughout the 1990's, touring, releasing records with all the highs and lows of a fairly long career in the Music Business. I guess you can call me a patient, slow burner… but thankfully far from burnt out☺
3. Who were your first and strongest musical influences?
ANNE MARIE ALMEDAL: The obvious. Growing up in a fairly conservative part of Norway (the so-called "bible belt"), one had to make a strong effort to find your friends, identity, and sense of freedom. Alternative music, and strong female artists/vocalists have always been the main inspiration, be it Elizabeth Fraser (Cocteau Twins), and like generations of music lovers, before her Stranger Things renaissance, a certain Kate Bush!
4. What do you feel are the key elements in your music that should resonate with listeners, and how would you personally describe your sound?
ANNE MARIE ALMEDAL: Over the years most music journalists and casual listeners have maybe focused on my «dream-pop» vocals, but I do feel the lyrics are often underestimated, not just the delivery. I do really mean what I sing about, be it lonely, longing, melancholy, and at the same time hopeful, warm and giving:-) As to the sound, I suppose in my previous band Velvet Belly it was all about the shoegaze, jangly guitars and the ambience, but in my solo career I have been more varied on each new album, from acoustic folk-pop to fairly upfront electronica. On the new album I feel I have managed to bridge these two opposing forces, the melody and the machine!
6. What's your view on the role and function of music as political, cultural, spiritual, and/or social vehicles – and do you try and affront any of these themes in your work, or are you purely interested in music as an expression of technical artistry, personal narrative and entertainment?
ANNE MARIE ALMEDAL:
As a female artist, and someone who actively works with gender balance in the music business, my female-ness is always something close to my heart. But politics as such, no… my songs if anything try to transcend such grounded issues and here my concern is emotions, reaching out to the listener, and the pureness of the music. There is enough negativity to cope with day by day, just swiping on your newsfeed. Music can liberate us from all of that, for fleeting moments!
7. Do you feel that your music is giving you back just as much fulfilment as the amount of work you are putting into it, or are you expecting something more, or different in the future?
ANNE MARIE ALMEDAL:
  The new album «We Dance Alone» was written and recorded in a particularly tough time in my life. Not just the mind-numbing lockdowns, I had to deal with breast cancer, chemo and recovery. It was the will to make a healing, powerful statement full of life-affirming goodness, and a find the voice inside to keep on keeping on! Thankfully, with good doctors, and wonderful musicians to play with, I could get this new album out! A massive amount of love and suffering went in to it, and an overwhelming celebration of the «now», the moment…
8. Could you describe your creative processes? How do you usually start, and go about shaping ideas into a completed song? Do you usually start with a tune, a beat, or a narrative in your head? And do you collaborate with others in this process?
ANNE MARIE ALMEDAL:
  No rules here. It could be a twisted synth pattern, some felt-piano tonalities, a drum machine loop, a scattering of words and thoughts. On «We Dance Alone» Nicholas and I started working with some amazing sketches from a talented young chillstep producer in Norway, EvenS. We found similar references from Beach House, Boards of Canada, Nils Frahm, and also returned to some classic «me» references like Heaven or Las Vegas-era Cocteau. The creative process just snowballed from there! The strange thing that I also noticed, while under treatment and facing pretty low moments, I found solace in harsher sounds, pulses which kept me strong and focused. I'm very happy with the results, and the deep journey behind the album. Nothing feels better than stamping a work or art, from the heart, and thankfully the good response I have had so far to the new «sound» of Anne Marie Almedal!
9. What has been the most difficult thing you've had to endure in your life or music career so far?
ANNE MARIE ALMEDAL: Going through cancer treatment was pretty damn awful. All the lockdowns too, but on an everyday level being an uncompromising female artist can present it's problems in a very male-dominated industry. Thankfully I have been in the game long enough, and been able to make the artistic decisions I wanted to make, whether right or wrong, without feeling pressure to make hits, or compromise my ambitions. I have a few years in the major record company sausage machine, but now so glad to be making the records I want to make!
10. On the contrary, what would you consider a successful, proud or significant point in your life or music career so far?
ANNE MARIE ALMEDAL: There were times during recording the new album we weren't sure what the outcome would be with my illness, but one particularly good feeling was hearing Tim Bran's mixes (remote from London) on headphones. Just closing my eyes, breathing in, breathing out, knowing we had made a great record! Over the years, many gigs, festival appearances, and even sessions with amazing musicians like Danny Thompson (bassist for NIck Drake/John Martyn) has to be up there as a highlight. What a spine-tingling good double bassist! But, I am humble. Just making music and releasing albums for almost 30 years is my best achievement, and constantly surprising myself. Every new fan, each new listener I can reach out to is just the best feeling!
KEEP IN TOUCH:
FACEBOOK | INSTAGRAM | SPOTIFY | YOUTUBE