Clyde Syde is a musician that creates pop punk/alternative rock indie songs. He has been interested in music since he was 14 years old, playing in various bands and performing at renowned locations such as the NEC. So far, his music has been heard on BBC national radio, in magazines, and on various podcasts. See you again is his most successful song to date. He presently has a small production team assisting him in the creation of music videos, with two being accessible for viewing on YouTube.
"I'm okay" is the title of his most recent single. He really wanted to write a song about loneliness and anxiety, and how difficult it can be for individuals to speak up about it. He has lost friends to depression, so this song is very personal to him.
Check out the exclusive interview below:
1. Can you tell us a bit about where you come from and how you got started?
CLYDE SYDE: I'm from Leicester, Iv been in and out of the music scene since I was 14, my love of music started very young and I just gradually fell in to it playing in various bands until going solo.
2. Did you have any formal training or are you self-taught?
CLYDE SYDE: I had a very inspiring music teacher who pushed me hard to bring out the best in my music abilities. I self taught my self to sing and create beats. Iv also had a lot of very talented people around me along the way who Iv picked things up off over the years.
3. Who were your first and strongest musical influences and why the name 'CLYDE SYDE'?
CLYDE SYDE: My first musical influence was Elvis Presley my family are huge Elvis fans so growing up his music was always being played, my strongest musical influence would have to be guns and roses They really kicked started my love of music, rock n roll style and the intensity of good performance. The name Clyde Syde came from a band name generator I wanted something that had some rhythm to it when spoken I entered a few bits of info in the search bar and up came Clyde Syde ! I considered changing it but then I started getting recognition for my work so it stuck
4. What do you feel are the key elements in your music that should resonate with listeners, and how would you personally describe your sound?
CLYDE SYDE: I always try to write from a personal perspective with things that have happened to me, in the hope that it reaches people that have had similar experiences and can pick up relate and find some comfort in. People have said my sound is emo rap mixed with alternative rock. I love country music so I always try to be cheeky and add a twang of country here and there to my sound.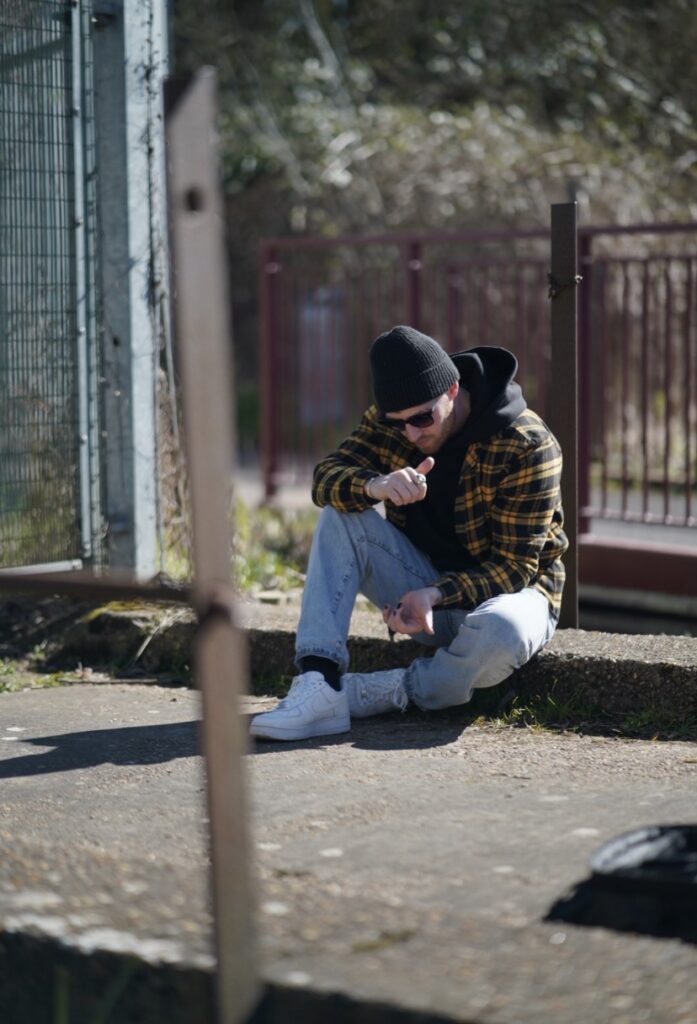 6. What's your view on the role and function of music as political, cultural, spiritual, and/or social vehicles – and do you try and affront any of these themes in your work, or are you purely interested in music as an expression of technical artistry, personal narrative and entertainment?
CLYDE SYDE: I really try not to make my music too political these days I wrote one or two songs that really didn't do great so I used that feedback as that my listeners don't want to hear that from me. I write about emotions and getting through difficult times mainly. I just want to help others with my music whilst giving them plenty of entertainment.
7. Do you feel that your music is giving you back just as much fulfilment as the amount of work you are putting into it, or are you expecting something more, or different in the future?
CLYDE SYDE: I get so much fulfillment from my work. Then thing I want more is to keep putting more music out there for people to enjoy and doing great interviews like this.
8. Could you describe your creative processes? How do usually start, and go about shaping ideas into a completed song? Do you usually start with a tune, a beat, or a narrative in your head? And do you collaborate with others in this process?
CLYDE SYDE: it's hard to describe the creative process, sometimes I can write a song in 5 minutes other times it takes me 5 months. I can get a random beat in my head or a melody and next thing I'm in the studio laying it down taking the thoughts out of my mind and in to the DAW. I collaborate all the time I'm very lucky to work with some very talented producers.
9. What has been the most difficult thing you've had to endure in your life or music career so far?
CLYDE SYDE: In my personal life, losing friends has been hard. Musically dealing with trolls and negative comments on my work have been tough to over come but I have learned to not to retaliate now.
10. On the contrary, what would you consider a successful, proud or significant point in your life or music career so far?
CLYDE SYDE: Having recognition for my work in music has been a very overwhelming for me. When I started the Clyde Syde era I had a lot of people who didn't take it seriously and to have my work win track of the week on bbc radio, do live interviews on radio, do magazine interviews and photo shoots and music videos is jut the most amazing thing and I thank every single person who has stuck by my Syde 😉 x
KEEP IN TOUCH:
FACEBOOK | INSTAGRAM | SPOTIFY | YOUTUBE