When someone is trying to handle very delicate material, you can say, "Easy does it!" He is more than capable of playing sensitive roots music. Cris Mantello is an American singer, guitarist, composer, and producer with roots in traditional country music from the 1950s and 1960s. His signature blend of hillbilly and country includes elements of Rock'n'Roll and Italian-Latin "caliente" swing, which he learned from his mentor Raf Montrasio, the world-renowned Maestro Renato Carosone's guitarist.
He truly lives his music, and this is what gives it such an authentic feel. Cris tunes are authentic and respectful of the tradition while fusing the old and the new, the black and the white. For more than 20 years, he has traveled with his guitar through Italy, Switzerland, Spain, Austria, Germany, and the UK to bring rhythm and bop into the home.
The lead single from the eponymous album is called "Dirt." For his single "Dirt," which could be categorized as "alternative country," the Swiss rocker who is passionate about American music opts for a distinctly alternative sound.
"Dirt" means dirty; people and life make us dirty; perhaps we should all be stricter and more selective. Cris Mantello, who has a diverse musical background rooted in American tradition, informs us of this in a perhaps slightly rude manner. The music has a traditional "Honky-Tonk" sound, but despite appearing gentle in the verses, the choruses are sufficiently coarse for the song to fit easily into a neo-punk repertoire. A gospel choir could easily interpret the finale, which is based on the obsessive repetition of choruses. All of the instruments are played by the artist, with the exception of the rhythm section, which is composed of two seasoned professionals in the field; Paolo Pizzi recorded the electric bass, and Mauro Florean played the drums. Check out the song and the exclusive interview below:
1. Can you tell us a bit about where you come from and how it all got started?
CRIS MANTELLO: I come from Italy and Switzerland, in between. I'm Italian but I feel more Swiss and I live most of the time there. Everything started a long time ago, but, to be quick, I've been playing the last 33 years, the last 23 as a professional.
2. Did you have any formal training or are you self-taught?
CRIS MANTELLO: Both. I started in school, then I took care of my own learning process, than back to school for a while, and now I have quite the experience for organizing my study time as I never end to learn.
3. Who were your first and strongest musical influences and why the name 'CRIS MANTELLO'?
CRIS MANTELLO: I definitely say: Hank Williams, Buck Owens, Merle Haggard, Ray Price, Renato Carosone, Redd Volkaert, Merle Travis, Grady Martin… I better stop here.
Mantello is my real surname, and Cris is just an abbreviation of Cristiano, which is my real name.
4. What do you feel are the key elements in your music that should resonate with listeners, and how would you personally describe your sound?
CRIS MANTELLO: Authentic with a modern touch. I do love and respect traditional music, but, in the meantime, I like to add some personal seasoning to the original recipe. This is my way to try to be original and to reach all that audience who are not familiar with Old Country Music and its peculiar sound.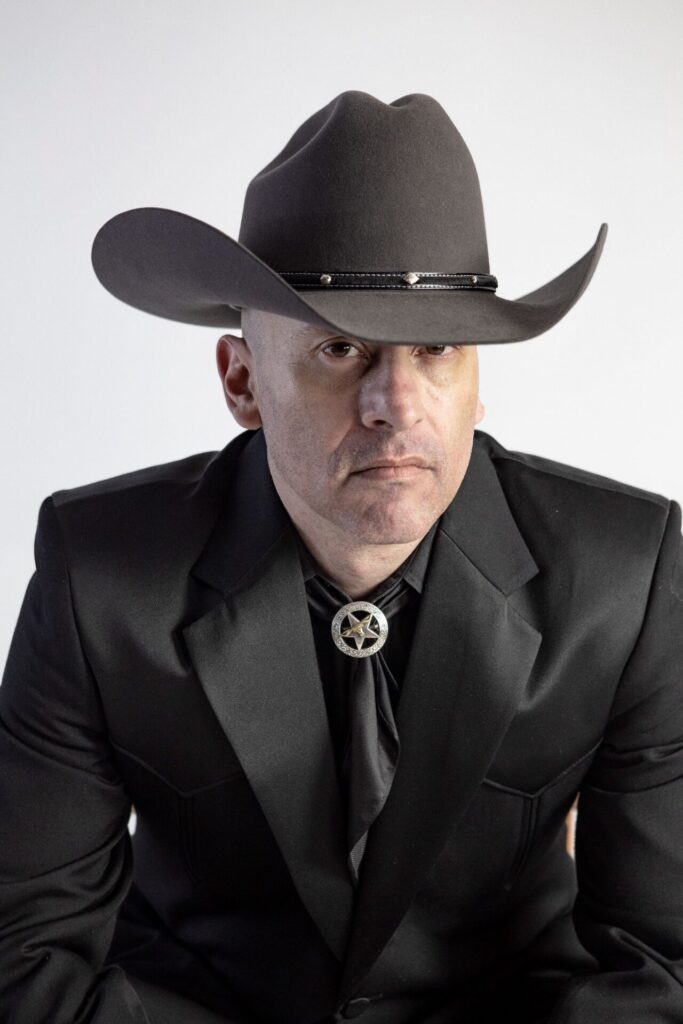 6. What's your view on the role and function of music as political, cultural, spiritual, and/or social vehicles – and do you try and affront any of these themes in your work, or are you purely interested in music as an expression of technical artistry, personal narrative and entertainment?
CRIS MANTELLO:
Well, music, as all the arts, has to challenge the status quo, being positive to cultural and social changes, suggesting better way of living and behaving. In my opinion music does not have to provide answers, but questions. There is also a spiritual aspect, because music is perceived in a different way by different listeners, depending of their state of mind in that specific moment. This is the reason of its intangibility. In my works, I tell stories, I share feelings, I am more focused on a personal side and I avoid to take sides, especially about politics, which I think doesn't deserve the art. The art is pure, and pure it should stay. Entertainment and technicalities are also an important part, but I think they have to be a means, not a scope, to help reaching as much people as possible. Better is the the song (in terms of ideas and quality) higher is the chance to spread its message.
7. Do you feel that your music is giving you back just as much fulfilment as the amount of work you are putting into it, or are you expecting something more, or different in the future?
CRIS MANTELLO:
If we are talking about artistic and personal satisfaction, yes. I don't count the hours I spend, but the result I reach. If we are talking about financial returns, the amount of time employed, is surely much more than the money earned; but this is the rule of this game and this specific period is not the best for making money with music. My management and I are currently developing the project in order to expand our business, if we are executing the right strategy in the right way, we could expect some results by spring/summer 2023. If you want different and better results, you have to think different and work better (my2c).
8. Could you describe your creative processes? How do usually start, and go about shaping ideas into a completed song? Do you usually start with a tune, a beat, or a narrative in your head? And do you collaborate with others in this process?
CRIS MANTELLO:
The idea comes by itself, in my head as a melody, or in my hands as a guitar riff. Being day or night, I immediately record the idea, wherever I am, then I take time to structure the song. When the draft is done, the music itself suggests me the topic of the lyrics. Sometimes I need to deal with a specific topic, so I write the music in function of what I have to tell. Anyway, once that the draft is done I play the guitar solo (it's important as I am mainly a guitarist) and I start the production.
I take care of the majority of the process, playing guitars, steel guitars, banjos, mandolins, double bass, sometimes drums, etc. I also collaborate with my drummer, my manager (who plays electric bass and mixes the final product), and my associate in the recording studio, who helps me in the quest of the right sound. Sometimes I have guests in my recordings, they are friends, artist who share the stage with me, basically people with the same artistic DNA.
9. What has been the most difficult thing you've had to endure in your life or music career so far?
CRIS MANTELLO: Survive. Records are not selling anymore as I back in the days, the pandemic let us 2 or more years without a single decent show, studio productions have shrunken dramatically, every musician is settling for teaching…well, a mess! The digital era brought a lot of benefits, but I guess we are not taking the technological advantage in the right way. I would say, we are more used by the technology, rather than using it. In any case, I'm still working on new singles, doing some shows, teaching (of course), and I don't need to find me another job. So, at the end of the day I'm not sucking that bad.
10. On the contrary, what would you consider a successful, proud or significant point in your life or music career so far?
CRIS MANTELLO: I produced several records with different labels, I played thousands shows, I played with hundreds artists, taught how to play guitar to hundreds kids. I think this is the accomplishment to tell to family and friends; but what I consider real success is being  able to convert an idea into a song that everyone can listen.
KEEP IN TOUCH:
FACEBOOK | INSTAGRAM | TWITTER | SPOTIFY | WEBSITE | YOUTUBE