Singer, composer, and founding member of the post-punk band Mary Bleeds, Guilherme Cosme is known for his avant-garde and experimental music. Guilherme turned to art as a young child for comfort. Brazilian-born and -raised, the self-taught musician started writing songs in his teens. He developed his vocal technique by studying the music of legends like Andy Bey and Nina Simone. Cosme was inspired by the work of Layne Stanley (Alice in Chains) and Mark Lanegan (Screaming Trees) in addition to his early jazz influences. Rock and roll helped him find his voice. He started out as one half of the duo Eçá in Ireland before switching to his current position as singer and songwriter for the band Mary Bleeds. Guilherme's deeply personal writing style is on full display in the band's debut album, which incorporates biblical imagery and childhood memories into their nuanced Post-Punk sound. A new solo EP titled "Demon" was created by Guilherme Cosme in addition to his work with the Mary Bleeds. Five songs for voice and piano make up the album, which is a dark and contemplative collection where the singer delves deeply into his own battle with mental illness. He wrote these songs as a form of catharsis while battling bipolar disorder, anxiety, and depression. With the release of the new album, Cosme aims to connect with people who experience comparable problems and bring attention to the suffering that many people go through in silence.
The experimental play "Into a Boy" explores mental health issues, childhood trauma, and religious brainwashing. Check out the music video and the exclusive interview below:
1. Can you tell us a bit about where you come from and how it all got started?
GUILHERME: I was born in the South East of Brazil, in Rio de Janeiro. I was always musical I guess, but I kept it for my self until my early 20's. To tame my hunger for creating I started to write poems in my early teens. That was my way of doing it silently not to disturb the intolerant surroundings, but soon I couldn't contain it anymore, there was too much sound in my head that had to come out at some point.
2. Did you have any formal training or are you self-taught?
GUILHERME: I'm self-taught. I attended piano lessons for 4 months to familiarize my self with the instrument, but I couldn't keep on unfortunately. I started to play it on my own and found my own way around to express my musical ideas through the keyboard.
3. Who were your first and strongest musical influences and why the name 'GUILHERME'?
GUILHERME: Guilherme is my actual name. It's Portuguese for William. Cosme is my last name. I'm aware it's not the easiest for English speakers. I live in Ireland and all my recent work is in English, but I wasn't comfortable with the idea of making up a stage name. It didn't feel me. Some of my music influences are: Iggy Pop, Andy Bey, Mark Lanegan, Joni Mitchell, Tom Waits, Layne Stanley, Nina Simone…
4. What do you feel are the key elements in your music that should resonate with listeners, and how would you personally describe your sound? 

GUILHERME: I think my music is quite organic. You can hear that in their structure, I don't always see the need for a hook or a chorus. Most of my work comes from improv. As for elements that resonate with the listeners I'd say rawness. When I write my music and lyrics I refuse to step back and I try to get my message across in the purest way possible.
5. For most artists, originality is first preceded by a phase of learning and, often, emulating others. What was this like for you? How would you describe your own development as an artist and music maker, and the transition towards your own style, which is known as POP?
GUILHERME:
Well I think I learned to sing by studying the voices of Mark Lanegan, Nina Simone and Layne Stanley mostly. I used to hate my voice, but I remember discovering Tom Wait's music post- Blue Valentine and the quirky way he manipulates his voice. I understood that you can do whatever you want with your instrument and it's a shame not to explore it. I owe this to Tom Waits.
Regarding style, I'd say my work is quite diverse because I'm a restless person. My first album I released with the post-punk Band Mary Bleeds. In this one you get a lot of screaming, vocal drive, etc. Then I released my debut "Persephone and The Ghost Brother" where I tried to explore wider vocal horizons. Now I'm working on my 2nd solo album "They Call Me Names" which explores themes of child abuse, neglect and trauma. In this project I adopted a total different vocal approach, "flatter" and softer. I don't know where I am going to, but I enjoy exploring possibilities. My music is far from pop though, you hear a lot of dissonances and a free form style that usually doesn't fit in the contemporary pop universe.
6. What's your view on the role and function of music as political, cultural, spiritual, and/or social vehicles – and do you try and affront any of these themes in your work, or are you purely interested in music as an expression of technical artistry, personal narrative, and entertainment?
GUILHERME:
To me all the aforementioned go hand to hand. I want my music to intrude wether I'm singing a lullaby or a punk song about politics. Mary Bleeds debut for example explores themes of anti-misogyny, homophobia, societal issues and religious brain wash. My solo debut "Persephone and The Ghost Brother" explores themes of mental issues based on my own experience with bipolar disorder, depression and PTSD. I like to use my art to comfort people with human issues. My follow up album is about childhood neglect and trauma as I mentioned. My work process is based on picking an idea resulting from my restlessness and create a musical environment for it  cohesive with my aesthetics not just musical but visual. I want to comfort and touch people even in their darker places.
7. Do you feel that your music is giving you back just as much fulfillment as the amount of work you are putting into it or are you expecting something more, or different in the future?
GUILHERME:
I don't have as many platforms to showcase my work live as I'd like to. People call it niche. I work in my music every single day. I'm working on developing a body of work as solid as I possibly can and looking out for opportunities. I'm not bragging at all, but I know the elements that make me different and some of these are not compatible to music industry demands. I keep doing my thing regardless all though.
8. Could you describe your creative processes? How do usually start, and go about shaping ideas into a completed song? Do you usually start with a tune, a beat, or a narrative in your head? And do you collaborate with others in this process?
GUILHERME:
Sometimes I start with the instrumentals, then I improvise a vocal melody to be refined later. Lyrics usually come last. Firstly I work with vocal sounds and then, later, I translate them into words.
9. What has been the most difficult thing you've had to endure in your life or music career so far?
GUILHERME:
Well it's recurrent to me: "We find your music original but unfortunately we don't know what to do with it". I was turned down by every single PR agency in Ireland. It's as bad as "you're cute, but I'd rather date Jake instead". Yet I keep going. I think it's also a matter of getting to meet the right people at some stage, someone who may see something special in your work and facilitate the journey, sometimes just by sharing your music with someone who can give you a hand. If someone says they've done everything on their own they're lying. Even Bowie and Kate Bush needed a hand.
But you know I'm not gonna sit and wait for a fairy God Mother. I remain committed to my path and let see what happens.
10. On the contrary, what would you consider a successful, proud or significant point in your life or music career so far?
GUILHERME: Every time someone tells me they're touched by a song I wrote. I feel like I'm in Heaven and that the last stage of my work is done.
11. With social media having a heavy impact on our lives and the music business in general, how do you handle criticism, haters, and/or naysayers in general? Is it something you pay attention to, or simply ignore?
GUILHERMER: I usually ignore them, but I tend not to delete comments. Most of the negative comments I receive are from people who barely listened to the music. You hear the lack of consistency in the comments as shallow as their own behavior. I love making fun of stuff I see that makes me laugh, but I do it in my home within my inner circle. Why would I leave a comment to demean or insult someone? Some people absorb this negativity in such destructive ways that haters should think twice before spilling their bitterness onto them. Some people are extremely fragile.
12. Creative work in a studio or home environment, or interaction with a live audience? Which of these two options excites you most, and why?
GUILHERME: Interaction with live audience. I like the unpredictability of live performances.
13. Do you think is it important for fans of your music to understand the real story and message driving each of your songs, or do you think everyone should be free to interpret your songs in their own personal way?
GUILHERME: Some of my songs are rather metaphorical, so some contextualization is a good thing. Although I like when people confront me with ideas that never crossed my mind when I was writing the pieces. It's very exciting. So I'd say moderate contextualization is healthy.
KEEP IN TOUCH:
FACEBOOK | INSTAGRAM | SPOTIFY | BANDCAMP | WEBSITE | YOUTUBE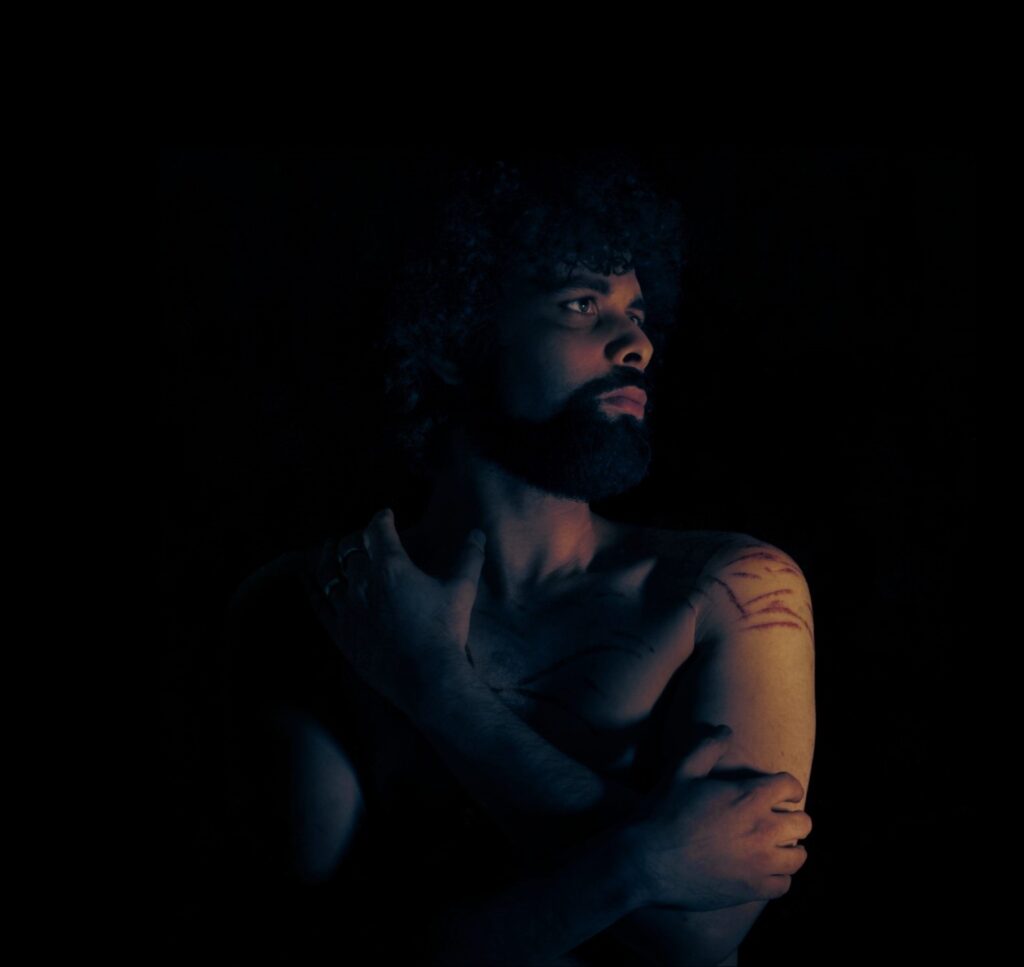 Photo credits: JP Hofmann