"The ouroboros is an ancient symbol of a snake or serpent eating its own tail, variously signifying infinity and the cycle of birth and death." – dictionary.com
James Myhill is a British composer and producer. Cinematic Inspired 1 – Ouroboros is his latest creation. This album was created in honor of his father John Myhill and for his son Jasper Myhill. Thoughts on life, death, and the philosophical connections between religion, science, and the unsolved mysteries of existence served as the inspiration for the album's concept. In April 2021, just a few months after his son was born, his father passed away, further supporting the idea of the "cycle of life."
The phrase "cinematic inspired" refers to the fact that each song is a soundtrack and that the entire album can be thought of as a life's soundtrack with a specific visual film or movie for each song (which is up to the imagination of the listener). The final track, which signifies the return to the head, ends with the theme from the opening piece (beginning of the cycle again)
He has attempted to depict this through instrumental music, which evokes ethereal feelings, powerful cinematic hybrid orchestral sections, moments of tension/sadness, and a building "journey-like" progression in the music, both throughout the album as a whole and from track to track. Check out the album and the exclusive interview below:
1. Can you tell us a bit about where you come from and how it all got started?
JAMES MYHILL: I grew up with music around me as both parents were/are musicians. The primary influence here was classical and jazz. Through my teens and early adulthood I became interested in rock, especially the early 90s grunge & metal scene, and I performed in a number of bands, evolving into other genres including funk and soul into my mid-late 20s. All of this has given me an arsenal of musical exposure which is reflected in my compositional output.
2. Did you have any formal training or are you self-taught?
JAMES MYHILL: Degree level education in music, guitar, piano and percussion tuition during my teens.  
3. Who were your first and strongest musical influences and why the name 'JAMES MYHILL'?
JAMES MYHILL: If we are going right back to the start then probably the music of Michael Jackson when I was a kid. My strongest influences now range from industrial electronic artists such as Trent Reznor, through the minimalism of composers like Philip Glass, and also pretty much anything I hear that I like, in almost any genre.
I chose to use my own name after experimenting with releasing under pseudonyms, but it just didn't ultimately feel right for me, so I just used my own name, perhaps partly to brand myself chiefly as a 'composer' rather than an 'artist'
4. What do you feel are the key elements in your music that should resonate with listeners, and how would you personally describe your sound?
JAMES MYHILL: I would say my music can be un-apologetically awash with layers and ideas, so perhaps for some people there is a lot going on in some of my tracks. I think the core of my sound is the blending of guitars, bass and electronica with orchestral instruments, especially in my latest release Cinematic Inspired 1 – Ourorobos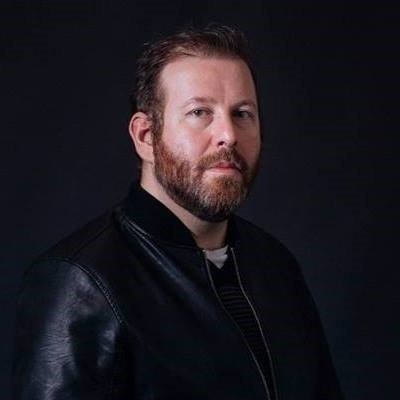 6. What's your view on the role and function of music as political, cultural, spiritual, and/or social vehicles – and do you try and affront any of these themes in your work, or are you purely interested in music as an expression of technical artistry, personal narrative, and entertainment?
JAMES MYHILL:
I do ascribe themes to my music, although this is quite often after the music itself is written and I can associate it with some idea etc. I think I am influenced by current events certainly at times. For instance the track 'The Edge of Chill' from my latest album is directly inspired by the crisis of climate change. At other times I just write music for the sake of it being music, but of course all music evokes some sort of mood. It's up to the listener to experience it in their own personal way I think.
7. Do you feel that your music is giving you back just as much fulfillment as the amount of work you are putting into it or are you expecting something more, or different in the future?
JAMES MYHILL:
I am hoping very much to refine my material and get it into production libraries, and much of next year I am going to focus on that. I've already had some success with this but there is much much more I want to do. I think I enjoy making albums for the sake of them as well, but to be frank it is hard sometimes to find the time and resources to get it out there as much as I would like.
8. Could you describe your creative processes? How do usually start, and go about shaping ideas into a completed song? Do you usually start with a tune, a beat, or a narrative in your head? And do you collaborate with others in this process?
JAMES MYHILL:
I have collaborated with others in the past, which has been fun, and I'd certainly be open to it again. Sometimes I imagine or write a track in my head, literally almost the whole thing on a top down level, and then I will translate it to the composition and sounds, which will inevitably then take on new characteristics as it develops. Sometimes I could just be messing about on a keyboard or guitar and come up with something I like.
9. What has been the most difficult thing you've had to endure in your life or music career so far?
JAMES MYHILL: Handling rejection and criticism is very hard I think, but it's an essential process if you are going to be worth your salt as a composer. You have to be ready to be told politely that something sucks in order to progress sometimes.
10. On the contrary, what would you consider a successful, proud or significant point in your life or music career so far?
JAMES MYHILL: I'm very proud of the last band I played in called 'The Layers'. We did some great material and played some cool London venues. I'm also proud of the small portfolio of work I have and the fact that piece was used in an indie Russian film, and that I was commissioned to compose for a computer game (which unfortunately didn't get released, but I still got some good compositional material out of it to use elsewhere)
11. With social media having a heavy impact on our lives and the music business in general, how do you handle criticism, haters, and/or naysayers in general? Is it something you pay attention to, or simply ignore?
JAMES MYHILL: I think I tend to just ignore things that piss me off these days. Social media for me, has become so saturated with stuff that people often don't pay much attention (unless you are a well established artist), and it's littered with opportunists posting messages like 'DM me now!' from Hip Hop Bunnies Daily or some nonsense that has absolutely nothing to do with my music. I like the relationship I have formed with some indie radio stations and also I think repost exchange and soundcloud is still very relevant for the indie and underground artists. Facebook is essentially dead really.
KEEP IN TOUCH:
FACEBOOK | INSTAGRAM | TWITTER | SPOTIFY | BANDCAMP | WEBSITE | YOUTUBE