Doug MacGowan and Emma Semple are both solo artists under the moniker mUmbo.
Doug enjoyed a successful career in the late 1990s and early 2000s on the UK folk and blues scene, releasing the critically acclaimed albums "Diving For Pearls" and "A Slight Remove," touring, and performing with musicians like Wizz Jones, Bert Jansch, John Renbourn, Robin Williamson, and Kate Rusby. Additionally, he was a guitar workshop instructor across the nation. He lost a decade due to a severe back injury in 2007, but he is now back writing and performing as mUmbo, a new duo.
Emma participated in a variety of bands and musical ensembles while studying visual and performing arts in Brighton. Additionally, she wrote music for a number of theatrical productions. She received classical training and studied with renowned Hungarian virtuoso Professor Nicholas Roth as a singer, violinist, and violist. Emma is a gifted musician as well as a skilled visual artist and multi-media professional.
The bittersweet country-tinged rock ballad "Don't Even Mind The Rain," from mUmbo and Italian-based master drummer Antonio Dalé, is their third single of the year and explores themes of hope, love, regret, a quiet optimism, and a bright sadness. A very individualized song with a strong universal appeal. Check out the single and the exclusive interview below: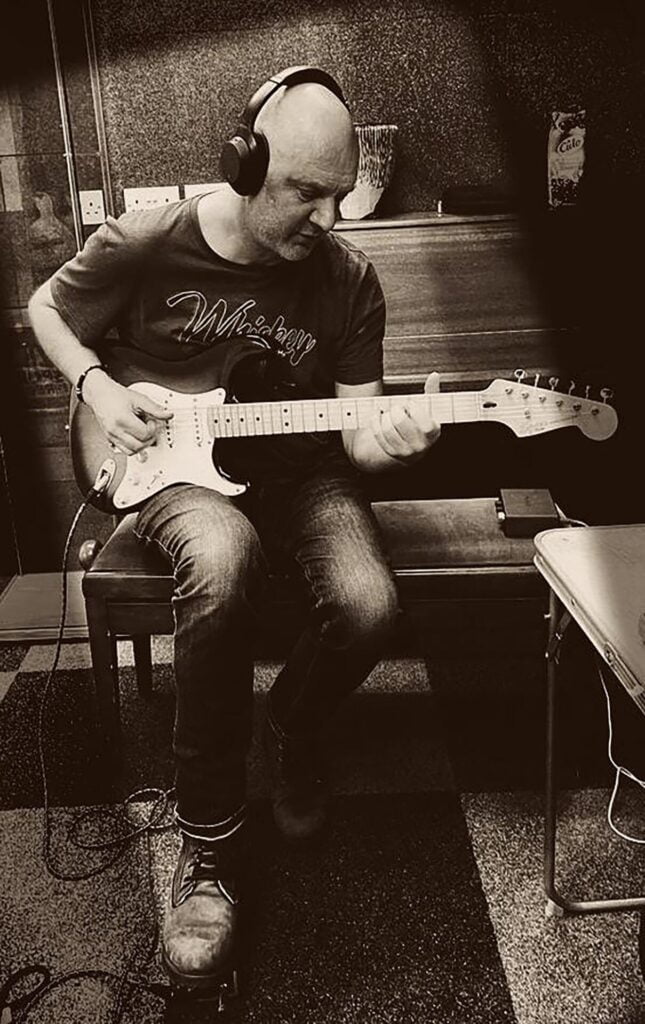 1. Can you tell us a bit about where you come from and how you got started?
MUMBO: Emma and Doug are from London and met through collaborating on other musical projects before forming mUmbo in 2021. Drummer, Antonio Dale from Lake Garda in Italy, has joined the band recently and the single 'Don't Even Mind The Rain' is the first released recording of the band as a trio.
2. Did you have any formal training or are you self-taught?
MUMBO: Emma Semple (vocals/violin/viola) and Antonio have formal training and Doug MacGowan (electric and acoustic guitars/banjo) is self-taught.
3. Who are your strongest musical influences and why the name 'MUMBO'?
MUMBO: mUmbo's influences encompass a diverse range incorporating folk, blues, indie pop and alt rock. Liked artists include: Widowspeak, Mazzy Star, Kelly Joe Phelps, Mark Knopfler, Jenny O, Goldfrapp, Little Feat and Ry Cooder.
The name mUmbo alludes to the madness of our world!
4. What do you feel are the key elements in your music that should resonate with listeners, and how would you personally describe your sound?
MUMBO: Sonically the music has a lyricism and a somewhat wistful, retro romanticism with a sense of hope woven through it! The present world seems to have created a lot of very harsh sounding music, the band has tried to create an alternative aural landscape with an emphasis on melody and harmony.
6. What's your view on the role and function of music as political, cultural, spiritual, and/or social vehicles – and do you try and affront any of these themes in your work, or are you purely interested in music as an expression of technical artistry, personal narrative and entertainment?
MUMBO:
We are all passionate about music and feel it to be something that is primal and all encompassing and certainly music resonates in many areas of life. In our music we try to create songs that operate on several levels, they might be both personal whilst alluding to wider social, global and political issues at the same time. How art is received always depends on the audience so if someone connects to our music personally or reads into it other agendas that is fine!
7. Do you feel that your music is giving you back just as much fulfilment as the amount of work you are putting into it, or are you expecting something more, or different in the future?
MUMBO:
Our musical creative process gives us a great deal of fulfilment on it's own. mUmbo is a relatively new venture and we have been pleased with the initial response we have had to our songs, especially our recent single "Don't Even Mind The Rain', as it is the first release with us as a trio. We are excited to develop our sound further and hope to also progress into live gigs and sync music.
8. Could you describe your creative processes? How do usually start, and go about shaping ideas into a completed song? Do you usually start with a tune, a beat, or a narrative in your head? And do you collaborate with others in this process?
MUMBO:
Doug and Emma have improvised together a great deal in the past, although mainly with instrumentals, and this has made it very easy to develop our mUmbo songs when we are not always together in the room. Our process for the recent songs is a little strange: Emma builds up layered samples to create a vibe, then creates a melody first, usually with vocals, and lets the words float to the surface. The vocal harmonies are then added before the samples are stripped away and Doug works on adding his guitar layers. We then do a rough mix together before sending off to Antonio in Italy for his drum ideas. We then all work together sending mixes backwards and forwards between the UK and Italy until we are all happy everything is just right.
9. What has been the most difficult thing you've had to endure in your life or music career so far?
MUMBO:  It's an extremely difficult thing to make a career in music, no matter how good or determined you may be. So much depends on timing, who you know and your music being the 'right' thing at a specific time. Any musician would probably agree with this view.
With this in mind, I guess the hardest thing is just keeping going and continuing to have faith in what you're doing. It takes a lot of work and love. We feel things are really beginning to pick up for us at the moment, and an interview like this is really appreciated, as it helps to introduce us and our music to a much bigger audience. So … thank you so much Illustrate Magazine!
10. On the contrary, what would you consider a successful, proud or significant point in your life or music career so far?
MUMBO: (Doug) Many moments, but I remember playing a support gig to the late, great Bert Jansch in London a few years back, and him coming up to me in the dressing room afterwards and saying, "You have something really great in your playing. Keep going, don't give up." That was lovely and a great encouragement and I'm still here!
KEEP IN TOUCH:
FACEBOOK | INSTAGRAM | SPOTIFY | BANDCAMP | WEBSITE | YOUTUBE